One of the UK's leading wetroom manufacturers, Impey, has launched a ground-breaking new Tiled Insert drainage grate for its best-selling Aqua-Dec Easy-Fit™ floor former range. The new Tiled Insert drain top will be available in July at retailers and merchants throughout the UK.
According to Impey, the company revolutionised the wetroom market with the introduction of its best-selling Aqua-Dec EasyFit™ floor former in 2004. Now the wetroom brand has released a new drain grate alternative to accompany the Aqua-Dec EasyFit™, in the form of a Tiled Insert option.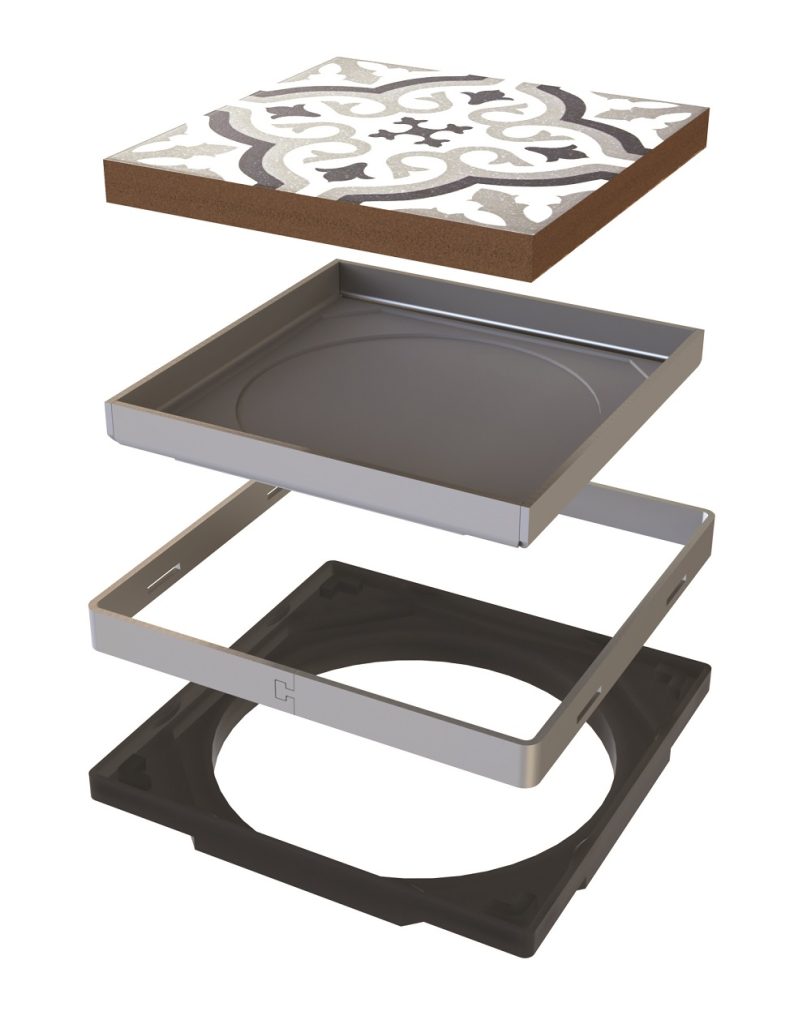 The new Tiled Insert option allows the installer to co-ordinate the drain top using the same tiles as the rest of the wetroom floor, creating a truly seamless aesthetic. The launch represents a new addition to the variety of drainage grate designs currently available for the Aqua-Dec EasyFit™,
Impey says the award-winning Aqua-Dec EasyFit™ has become a go-to wetroom floor former for installers and specifiers alike, due to its versatility, durability, and easy-installation benefits. With a unique 360-degree rotating drain plate, installers can easily avoid underfloor obstructions like joists or existing pipework, which speeds up fitting times substantially. The EasyFit™ has revolutionised the wetroom installation process, by offering a fully-trimmable solution which can be fitted successfully onto timber and concrete floors and a lifetime warranty is available for peace of mind.
Personalisation options
This new addition to Impey's portfolio offers yet more options for personalisation of the wetroom space. The Tiled Insert drain top boasts ease of adjustment, the frame and tile tray are both manufactured from high-quality stainless steel; with a frame measurement of 130mm x 130mm. For tilers and wetroom fitters, market-leading fine-tuning and adjustment options ensure versatility and ease of installation throughout the tiling process, with suitability for both 8mm to 10mm tiles.
WaterGuard clamp
The new product also includes a new WaterGuard clamp, specifically created to work with the sheet membrane and ensure a complete watertight installation. In addition, the Tiled Insert has been thoughtfully designed with a tiling aid, which assists in marking the centre of the drain top, saving time, and aiding in the simple creation of the perfect finish.
Said Clare Cranston, Design and Development Manager: "The new Tiled Insert drain top is a very exciting additional offering for our Aqua-Dec Easy-Fit™. We have focused on honing the functionality of the product to ensure it offers the best possible fitting experience for installers and tilers, as well as creating the streamlined, modern look that consumers are eager to achieve."
The new Aqua-Dec Easy-Fit™ Tiled Insert will be previewed for the first time at the Women Installers Together conference, in London on 6th July. It will be available thereafter from all Impey partners including bathroom showrooms and merchants.
For more information visit: www.impeyshowers.com or contact your local Impey business development manager via the sales office on 01460 256 080.