A few years after the completion of a residential building designed by the famous architecture firm Tsimailo Lyashenko and Partners, the architects of Blockstudio – led by the two siblings Natalia and Ivan Trofimov – have put their stamp on a nearby pavilion, commissioned by the same owner and dedicated to housing a swimming pool area with some spa facilities.
The dialogue between the two buildings is very close and the house elevations are an interplay of opaque and transparent glass, with fixed and openable portions, and a flat white roof. The new addition is detached from the house and positioned perpendicularly with large full-height windows and almost imperceptible uprights. Thin chrome-plated steel pillars support a clean white slab to create a feeling of lightness.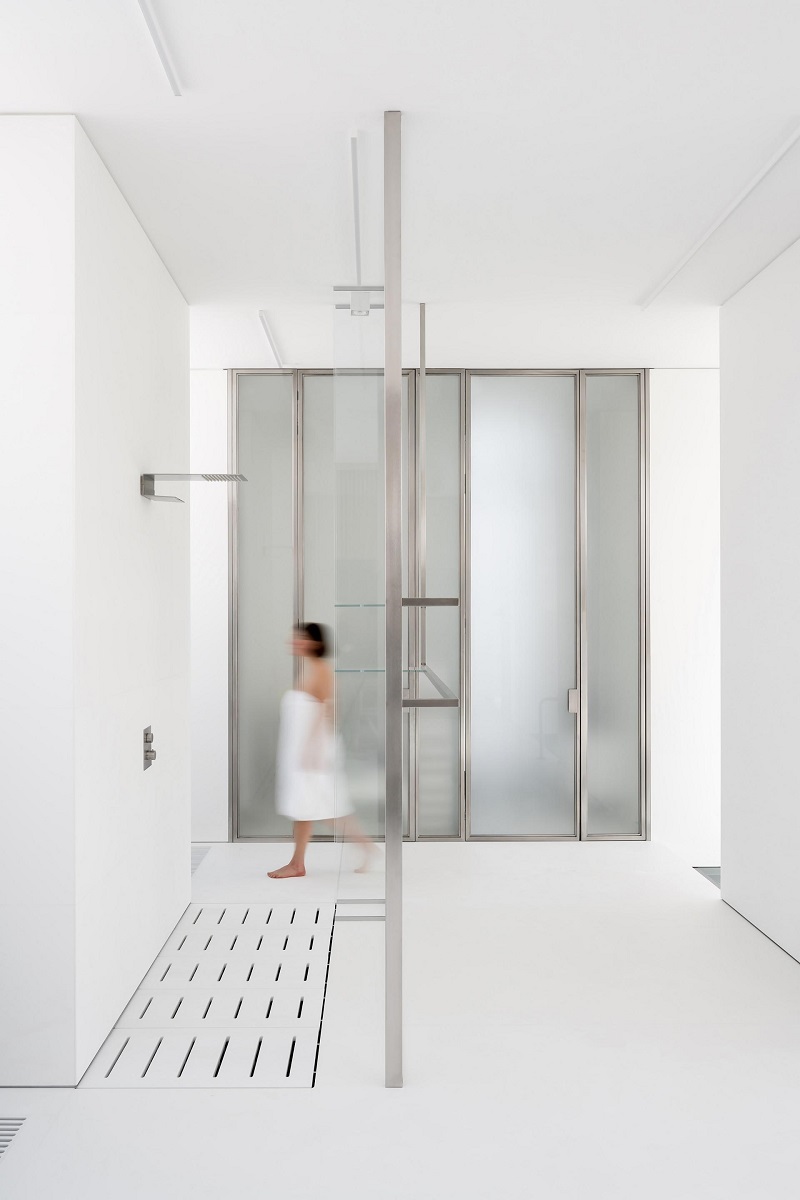 An area of about 95 m2 has been carved out for the new stainless steel-clad pool, it is deliberately narrow but a generous 18 metres long, meaning users can swim while observing the outdoor garden and nature.
It is surrounded by functional blocks, dedicated to the sauna, shower, changing room and toilets, and a floor made entirely of Lapitec in the Lithos finish and Bianco Assoluto nuance, which, thanks to its high friction coefficient, provides maximum safety after exiting the pool or shower. The latter is also made of sintered stone: flush with the floor, it features a few thin cuts that allow water drainage and give a glimpse of Lapitec's full-body composition, identical in every point and used in the 12 mm thickness for this project.
Non-porous on the surface, usable in direct contact with water and unalterable (resistant to atmospheric agents, temperature changes, knocks and scratches), Lapitec is also used for the pool coping with slabs that – as in the case of the shower tray – are cut to accommodate the water recirculation system.
The optical whiteness of the material, the result of a mixture of 100% natural minerals, free of crystalline silica, inks or petroleum derivatives, defines the project and together with the rigorous geometries creates a precise continuity between horizontal and vertical planes, resulting in an essential envelope, where Blockstudio wanted to enhance the relationship between the inside and outside.