Arranged like a Japanese lunchbox: the new Bento Starck Box bathroom series from Duravit and designer Philippe Starck represents the latest Duravit Artisan Lines addition. Inspiration is drawn from a traditional Japanese bento box – which is subdivided into several internal compartments by separators.
The new series includes a washbasin, toilet sets, plus bathtub, featuring a clear-cut design that is perfectly matched to different variants and dimensions of the bathroom furniture. The spacious Bento Starck Box washbasins offer practical and convenient storage areas. All personal care products and accessories can be placed within easy reach.
Washbasins
The Bento Starck Box single washbasins are made from DuraCeram®, and the double washbasins from DuroCast UltraResist. Enabling Duravit to demonstrate how a range of different materials can be used to produce unconventional designs.
Alongside the 650 mm-wide washbasins, the Bento Starck Box collection comprises above-counter basins
in a range of sizes, all available in White and White Satin Matt: round variants with a diameter of 460 mm, and rectangular versions with a width of 550 mm as individual basins or, for two faucets, in widths of 1140 mm and 1340 mm – made from DuroCast UltraResist. The faucet is mounted inside the inner basin on all models.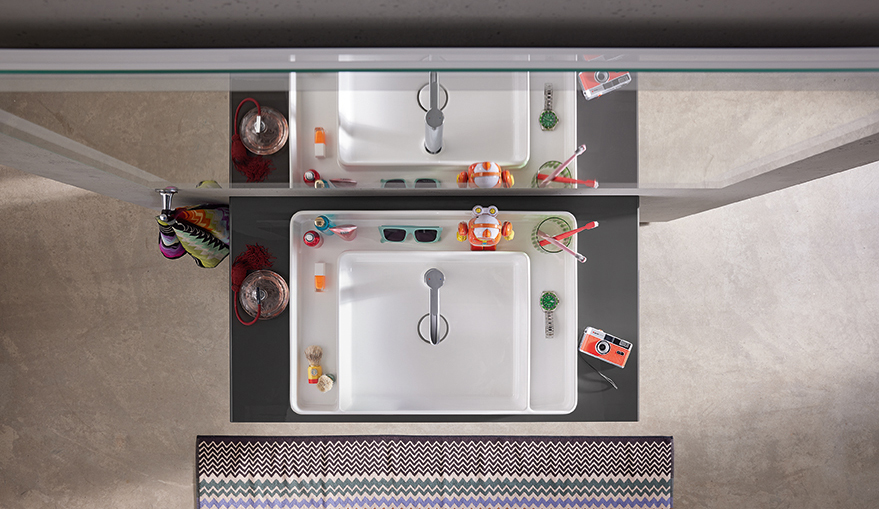 Bathtub
The freestanding acrylic infinity bathtub, sized 1800 x 900 mm, is ideal for a spa-like experience in your home bathroom. A tapered water channel prevents a build-up of water and can be used as a storage area for accessories.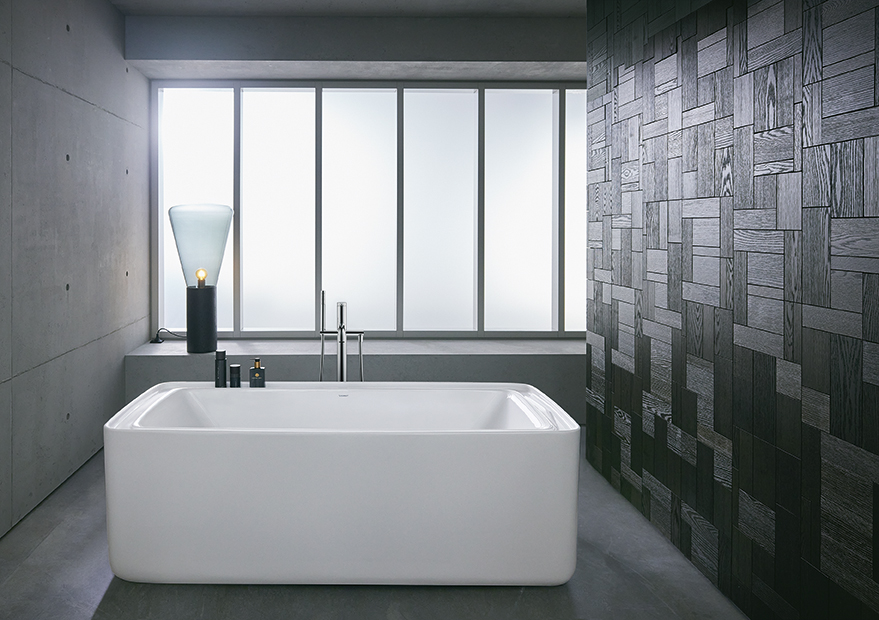 WC
Bento Starck Box toilet sets harmonize with the design of the ceramic and bathtubs, including a compact model with a projection of just 480 mm and the HygieneFlush version with a projection of 570 mm. The range includes a floor-standing, close-coupled toilet and matching bidets. The integrated push buttons on the seat with the gentle, silent lowering mechanism means it can be easily removed and cleaned.
"The Bento Starck Box collection is the start of an elegant serenity," said Starck, describing the washbasins and bathtubs. "With intelligently divided wet and dry areas, the clean, clearly structured washing areas and bathtubs enable countless options for personal design."