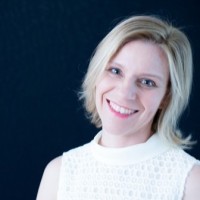 Features by Diane Larner founder and editor of Bathroom Review & Kitchens Review.
Diane Larner launched both titles over 12 years ago and has been writing about the bathroom and kitchen interior design industry ever since, publishing regular features across the two sectors.
---
According to new research released this week by Readly, one in ten Brits report using smart home technology every hour of their day. The latest stats indicate a wholesale shift towards a connected home lifestyle, with a third (37 per cent) of UK households owning at least one smart home device to manage tasks such as security, lighting and heating, and kitchen appliances.
Unsurprisingly, the home technology industry is moving apace when it comes to new, innovative smart design. Consumers are keen to save water and energy whilst personalising interior spaces by integrating music and lighting into every room. This opens up opportunities for bathroom manufacturers.
Lee Robinson, product manager for residential fittings at Ideal Standard agrees, "Bathroom trends are continuously evolving and when it comes to today's 'smart bathrooms', that's no different. End-users are increasingly looking to technology to help make their bathroom space work harder for them."
Statement lighting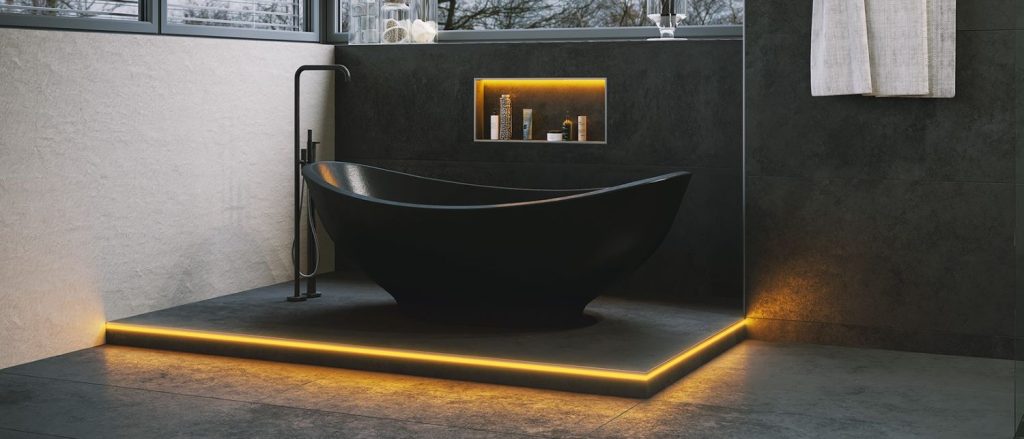 Lighting is no longer simply a practicality, and the trend for customisable mood lighting is emerging as a key consideration when designing a bathroom. In 2024, we expect to see an increase in innovative lighting displays that interact with the bathroom design to deliver on-trend accent lighting.
Encompassing the latest LED technology, Schlüter's LIPROTEC-LED creates restful lighting for relaxing spaces or bright, colourful lighting for busy family bathrooms. Enabled with Bluetooth/wireless receivers, light colours are selected via remote control or Bluetooth-compatible smartphones and tablets. Specifically designed for the bathroom, Schlüter-LIPROTEC-EASY is the company's simple plug-and-play version, which comes with matching power supply units up to 100W.
Comfort & cleanliness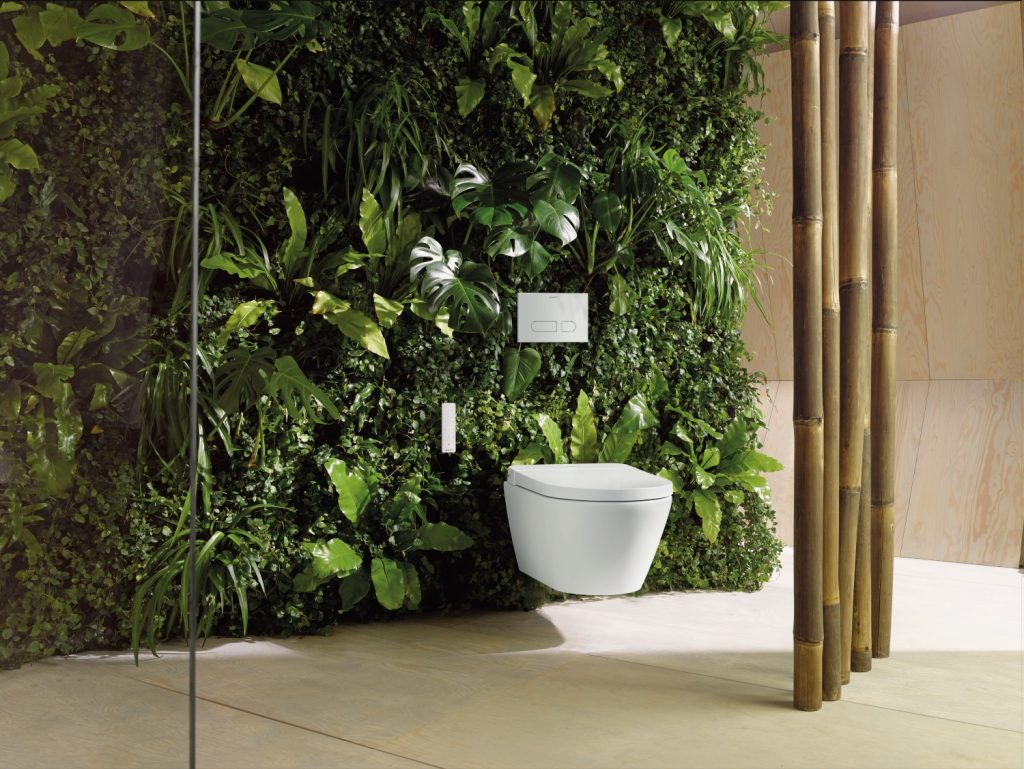 Shower toilets are increasing in popularity in the UK. A recent report by the European Bidet Seats & Shower Toilets Market study predicts sales of shower toilets will grow by 8% and indicates a cultural change in hygiene habits.
Martin Carroll, managing director for Duravit, agrees and comments, "Shower-toilets in combination with rimless technology are the next big idea for bathrooms. The open design of the WC rim enables an innovative and effective flush even at low water volumes (4.5 litres) and makes for transparent, easy cleaning. Despite not being a traditional market for bidets, shower toilets are growing in popularity in the UK for reasons of age, culture and general enhanced comfort."
Duravit's SensoWash® D-Neo lets users configure options via remote control for three shower flow types through a user ID in the seat. Timings for seat heating can also be individually configured. Its attractive price point means it is ideally suited to the requirements of the project sector and price-conscious developers.
Spa-light, spa-bright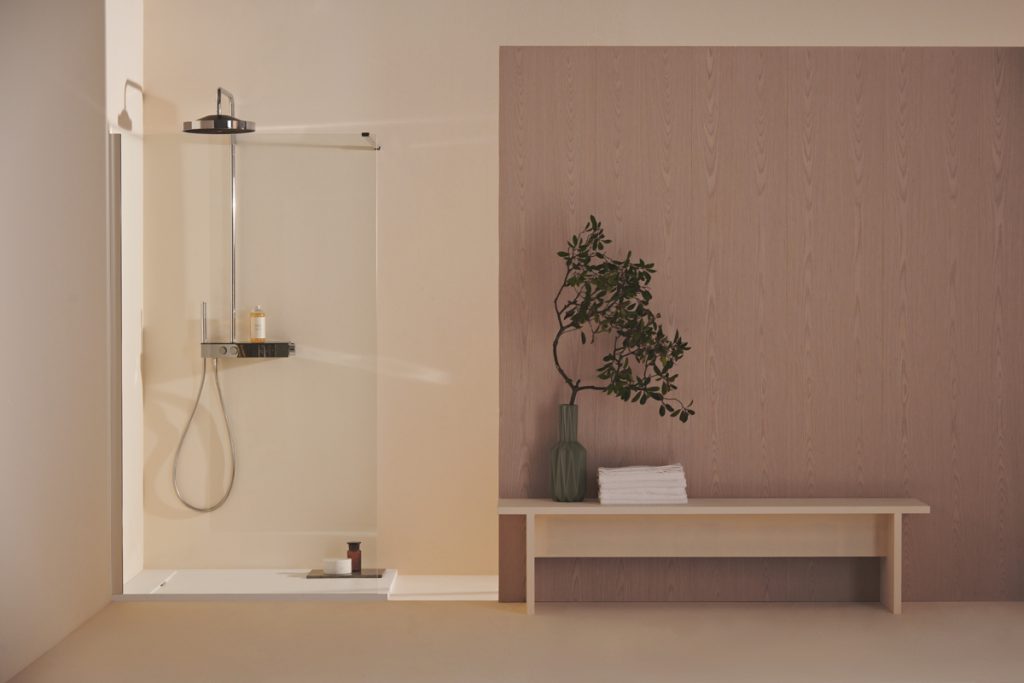 Bringing light and colour into the bathroom, Ideal Standard's Solos shower range features an integrated colour-changing ambient light in the overhead shower, which creates a relaxing atmosphere for the ultimate spa-like shower experience. Users can customise the colour and brightness of the LED to match their mood, thanks to built-in smart technology that integrates with any smart home app, such as Philips Hue or Amazon Echo.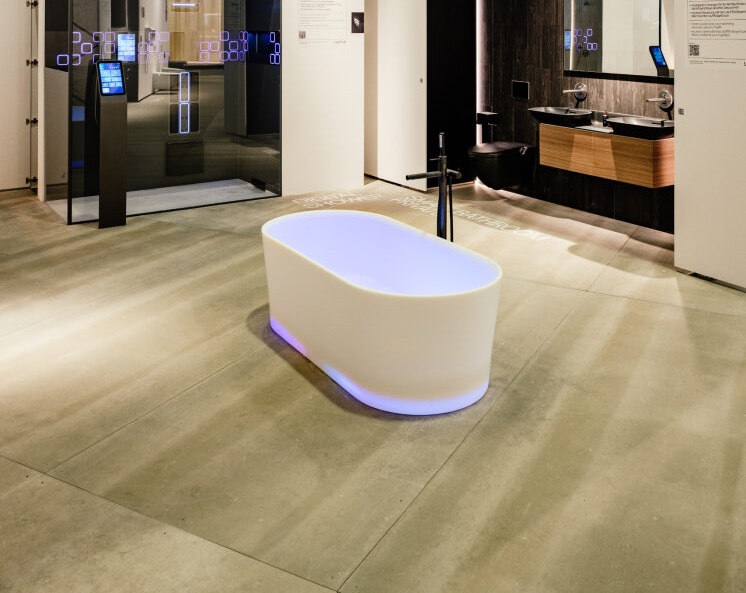 Lee Robinson, product manager for residential fittings at Ideal Standard comments, "Smart technology is key to home evolution, giving people the ability to personalise their environment – from showerheads with integrated ambient LED lighting like our Solos range to wireless speakers and shower settings that can be controlled with the touch of a smartphone button."
Bathroom brand Laufen is also embracing smart technology and has launched a new version of the Val bath (pictured left) that harnesses the power of light and colour to promote well-being and bring chromotherapy – traditionally offered by hotel spas – into the guest bathroom to enhance the user's experience.
The redesigned model was recently on display at HIX and has a translucent structure through which an LED panel projects different light settings according to mood.
LAUFEN also presented its new shower system prototype. Designed in collaboration with Andreas Dimitriadis of Platinum Design, the shower system offers the ultimate spa experience to hotel guests thanks to a 12-inch touchscreen display integrated into the shower for the first time.
Taking remote control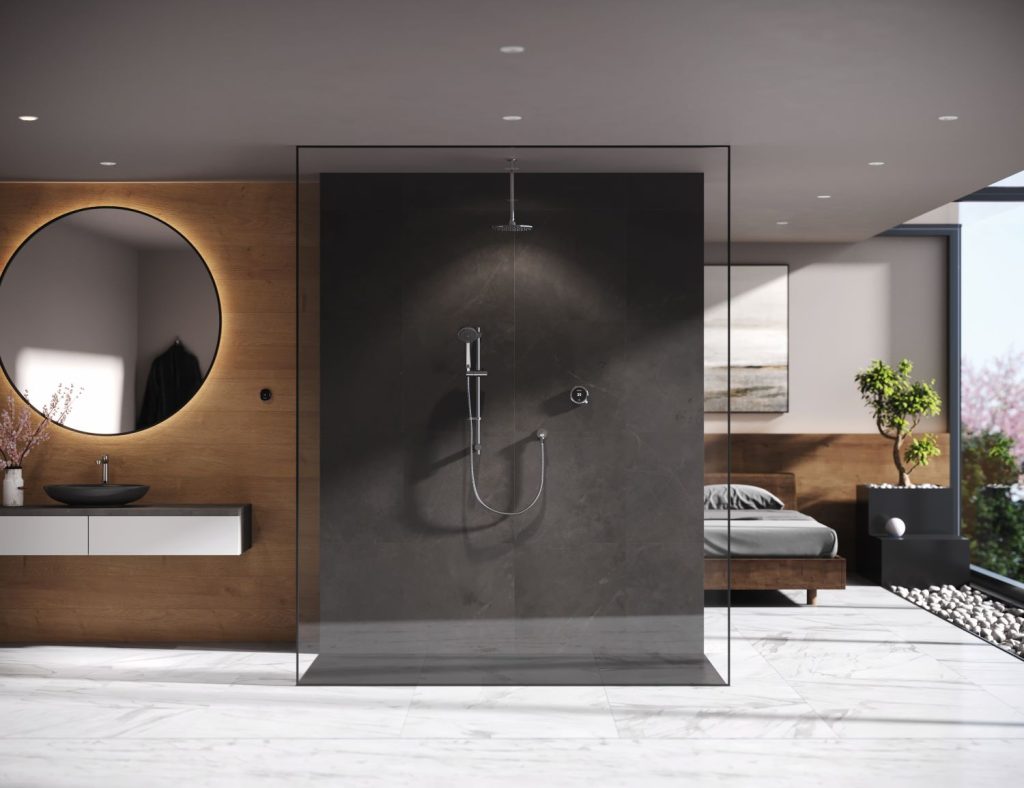 Dialling in your requirements is one of the most celebrated aspects of the smart home and brings luxury and convenience to daily life. Aqualisa's Quartz Smart Showers combines personalised showering with a range of advantages that enhance the user's experience. For example, users can start their shower remotely using Alexa or Google Assistant or the remote control via Wi-Fi. A clear LED display indicates when the shower is ready – there's no need to lean in and test the water. A bath fill option allows remote selection of the water temperature and level.
Jessica Clarke, head of channel marketing at Aqualisa, reasons, "With more than 30 million smart meters installed in the UK and nearly half of all adults under 65 owning a smart speaker (Alexa or Google Assistant), the understanding of smart technology and the benefits it brings to our lives is increasing rapidly. There is now an opportunity for bathroom manufacturers and installers to deliver the next generation of connected bathroom solutions to enhance not only showering functionality and performance, but also wellbeing and sustainability."
END
You can see more on our site if you enjoyed this Bathroom Review feature. Alternatively, if Kitchens are your thing, please visit our sister site, Kitchens Review.