Ideal Standard, best known as a manufacturer of bathroom and commercial washroom solutions, has launched ProSys®, a complete on-stop, three-step installation system for wall-hung toilets, basins, urinals and accessories.
Designed to make life easier for specifiers and installer the ProSys includes frames, cisterns and flush plates. The new range is the perfect match for Ideal Standard's collections of toilets, washbasins and urinals and works across all of Ideal Standard International's brands – including Armitage Shanks products.
The ProSys collection of WC frames comes in a variety of depths and heights. Full frames are available in 1150mm and 820mm heights. The 820mm frames are perfect for use in furniture applications or under windows and have the choice of either front or top flush plate installation. Half-wall frames, which exclude the cistern, are also available and are ideal to use when replacing a floor-standing WC with a wall-hung toilet, but wish to use an existing concealed cistern.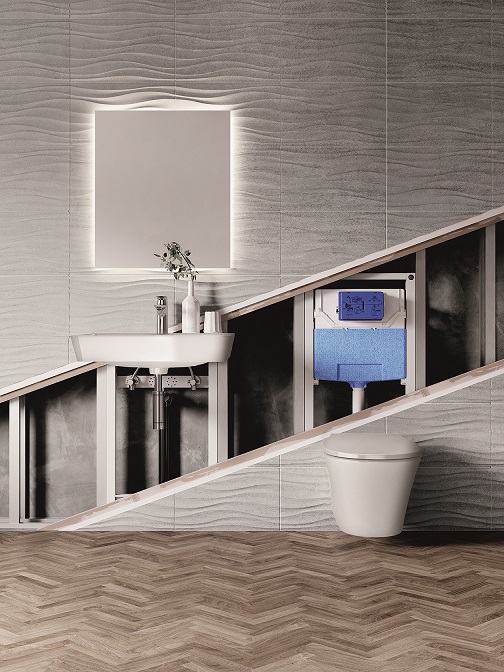 Ideal Standard offers specifiers a collection of 50 flush plates in a wide range of shapes, colours, functions. They are available with either mechanical, pneumatic, or electronic actuation and are compatible with most WC ranges from Ideal Standard International.
ProSys was developed to be easy to install, with a straightforward three-step fitting process.
Maintenance typically proves more difficult with in-wall frame systems. This range has been made simpler and easier with tool-free access to the ProSys cisterns.
All cisterns come with an Ideal Standard SmartValve, a unique water-reducing innovation which can save up to 63 litres of water every week. This corresponds to a 12% reduction in water bills*, reducing costs for end-users and contributing to overall sustainability.
Leanne Martin, Head of Product for Ideal Standard UK, said: "The system has been developed specifically to meet the needs of installers, building owners and end-users. The in-wall frame technology represents the ultimate in flexibility and versatility, with sophisticated features that work seamlessly with fixtures in front of the wall, guaranteeing superb levels of performance.
"The ProSys® system supports Ideal Standard customers in creating better bathrooms and washrooms, with easy installation, low maintenance and running costs as well as an enhanced user experience. ProSys is a great example of how we can all work together to shape the future of modern bathrooms."
All products in Ideal Standard's range have been built to last, with corrosion resistant frames tested to the highest noise, stability and build standards. All come with a 10-year warranty and 25 years of spare parts availability.
For more information, visit www.idealspec.co.uk or visit the product page. You can also view Ideal Standard's interactive guide for specifiers using ProSys, here.
*: Estimated 12% of total water bill in metered homes based on 4 person household.