We expect a great deal of the once humble shower room. It goes without saying shower spaces should offer multi-generational accessibility, and in the wake of COVID-`19, hygienic features and easy-clean surfaces. However, we are also looking for a sense of spa-like luxury, a space to relax and rejuvenate.
Shower hardware combines all these elements, offering a practical solution that is included throughout the shower area to match bathroom accessories for a cohesive design-led feel.
Simon Boocock, CRL Managing Director agrees: "The shower enclosure has evolved into more of a wet-room, easy access and almost open-plan area, low-level trays coupled with frameless enclosures create a minimalist appeal. With very little on show, the shower hardware, including hinges and U-channels, as well as the brassware, has a chance to shine. Creating a cohesive look is important here, with hardware very often now chosen in keeping with shower brassware and available in a range of finishes to suit."
Frameless style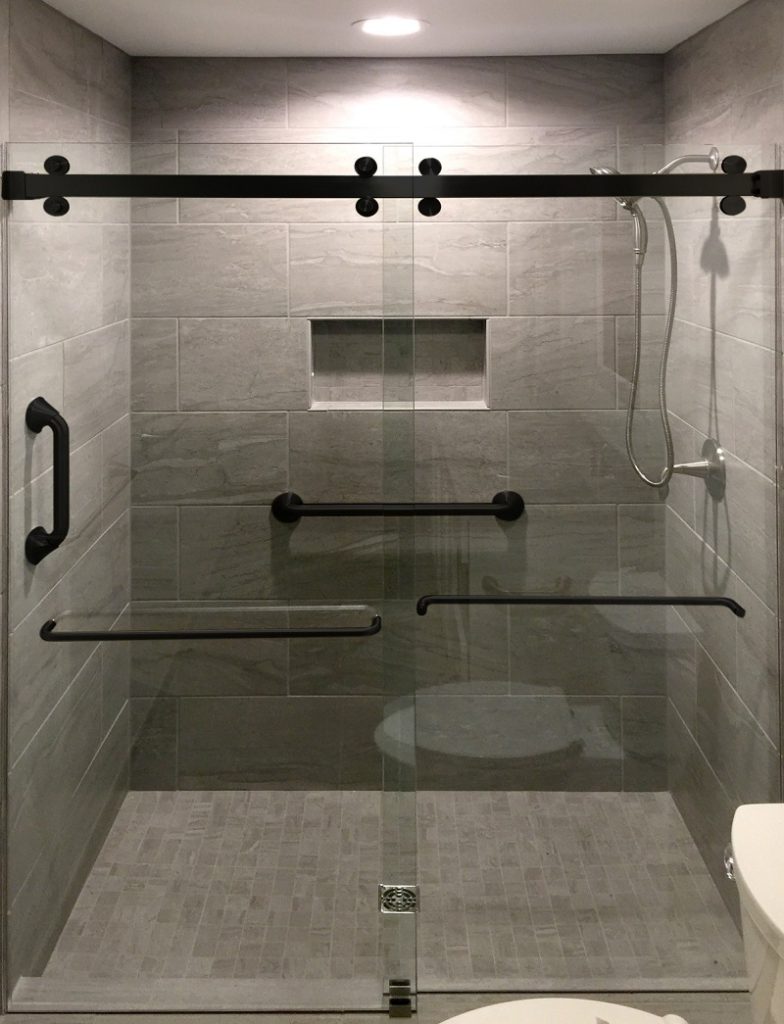 CRL's Frameless designs such as the Cambridge maximise accessibility and deliver a clean, streamlined look. This range is designed to match CRL shower hardware with colours and styles to suit all décor schemes.
Access all areas
HEWI's System 900 is also a response to the complex requirements of accessible bathrooms. The products boast long-lasting quality, clever installation solutions and a hygienic design. Matching accessories open up versatile design options in the bathroom and HEWI also offers practical toilet roll holders and new towel rails or toilet brush sets in stainless steel, chrome or with a powder-coated finish in white, shades of grey and black.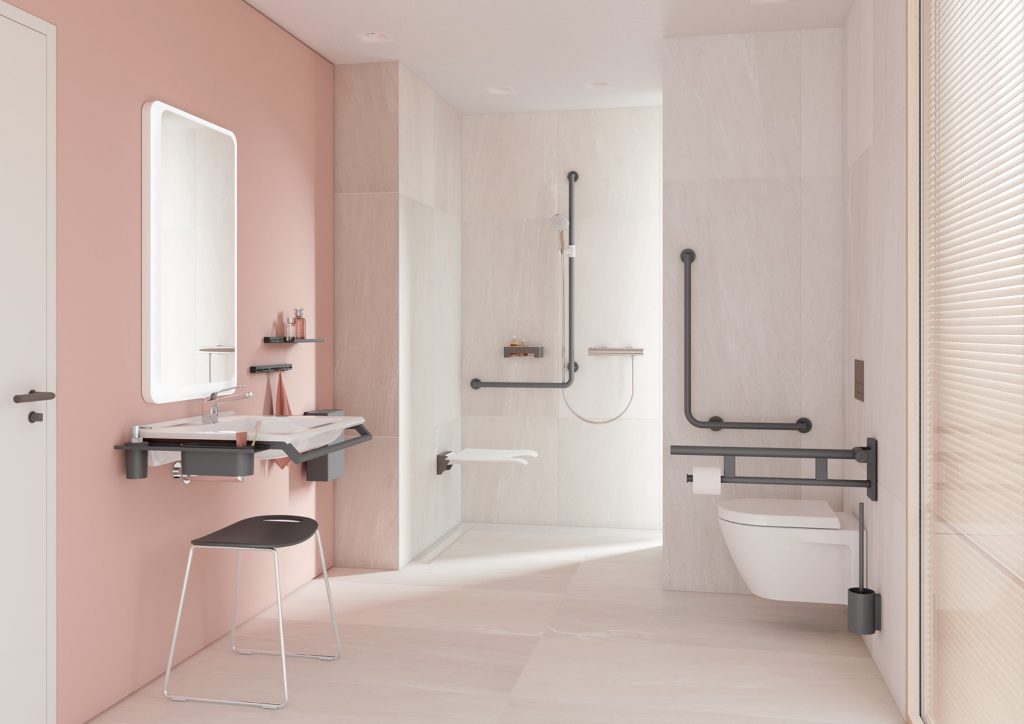 Staying grounded
Some of the most serious accidents happen in the bathroom and we expect a high proportion are caused by slips and falls whilst getting in and out of the shower. For hoteliers, keeping bathrooms safe is a priority and the health and safety checklist requires handrails and slip-proof surfaces. For the home, an efficient anti-slip surface keeps all the family safe without having to include rails for open plan designs.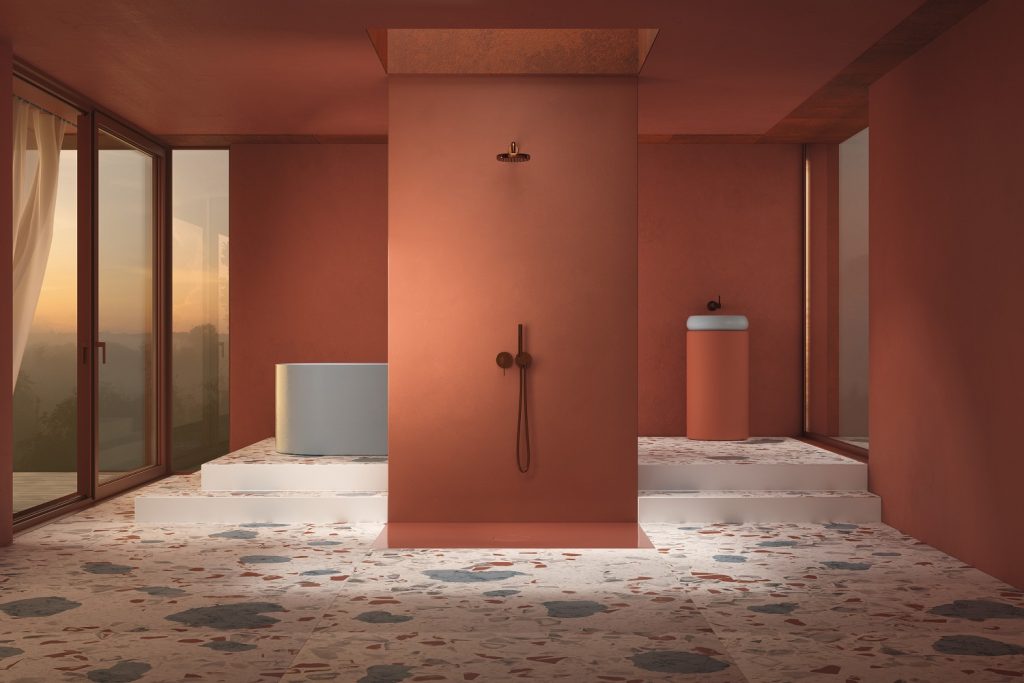 The Bette-Anti Slip Sense surface is a new type of surface treatment for maximum slip resistance (in accordance with evaluation group C of DIN 51097) and claims to provide the highest level of slip protection. This surface is available on Bette's new BetteAirshower tile for perfect level-access integration.
Smooth operator
Another key aspect when it comes to safe design is not having to fight with your amenities. Lakes Antigua Slider features an easy-glide door that closes effortlessly at the touch of a finger to a near-silent stop. Concealed wheels ensure easy cleaning and a cooler look plus a low threshold for easy and safe access, and a solid cast handle with smooth, rounded edges for a touch of elegance.
Let's get personal
Lockdown gave us time to get creative and in the UK it fuelled a trend in home improvement, as life imitates art, art imitates life and so, the hospitality sector is creating bathroom spaces that feel like home. In our homes, we still want to emulate that luxury hotel feel. Personalisation delivers the best of both worlds.
Richard Eaton, Product Manager, RefleXion Enclosures by PJH comments: "The desire for personalisation is causing designs to evolve, for example, the black-framed or panelled look that we've seen of late is great for the industrial-inspired or monochrome look."
"More patterns, colours and unusual finishes are now appearing, such as our botanical themed RefleXion Iconix 'Black Leaf' 8mm Panel and the use of materials other than polished chrome frames and clear glass will really grow in the next few years – such as gold or brass frames, and frosted or fluted glass."
Just relax
Keely Greenhalgh, National Sales Manager at Mermaid Panels tells us: "We want our bathrooms to replicate the spa experience. Bathrooms are increasingly being treated as a treasured area of the home to truly relax and refresh so bathrooms that can capture that spa-like serenity at home will continue to be a standout style for 2022."
Pursuing tones that give a sense of tranquillity and reflect the natural environment certainly feels like a trend that's here to stay and using contrasting materials is a simple way to achieve this. However, we can expect a switch back to lighter shades for 2022, for example, greens and blues will still be popular but sage green and sky blue may lead in popularity.
Keely agrees: "Whether it's a Swedish wood effect or a more traditional yet decadent marble, there is an increasing number of surface options on the market to create a hidden retreat in the home. Calming tones and colours are a perfect way to create serenity within the bathroom. Designers can look at muted tones combined with one stand out wall to create a relaxing, soothing area."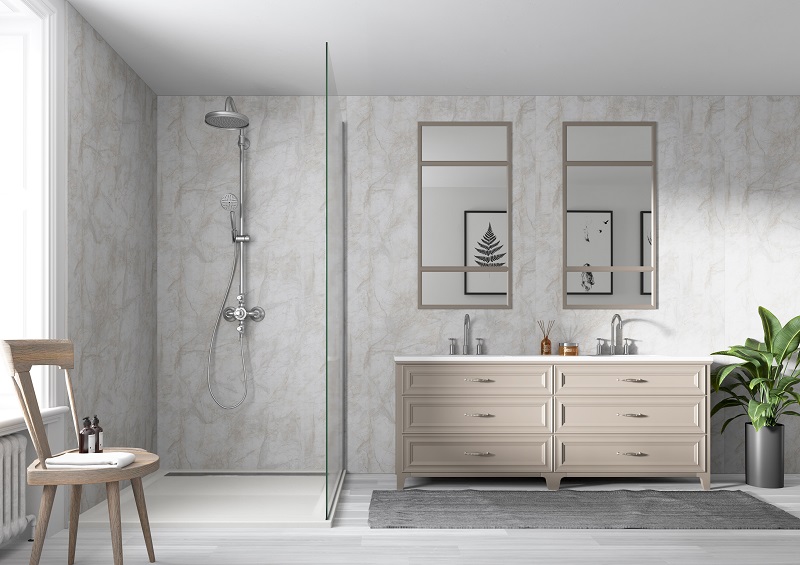 Mermaid Panels has introduced 28 new décors to its premium Elite collection of bathroom panels.  Offering an alternative to tiling, Elite has a 100% waterproof core and helps create a completely seamless, premium look and finish. The artistic post-formed edges add unique design detail that removes the need for trims or grouting.