PJH's own brand of shower enclosures and trays, RefleXion, as featured in its Bathrooms to Love Collection, has evolved to become a popular choice with both the retailer and the consumer.
The collection is manufactured and designed to a high specification and includes a comprehensive choice of enclosures, wetrooms and trays to suit a wide range of bathroom projects. The RefleXion brand offers three enclosure families – Iconix, Flex and Classix – each offering a range of USP's and price points to suit varying styles and budgets.
Richard Eaton, Product Manager, RefleXion Enclosures by PJH comments: "Over the last two years, sales for walk-in and wetroom enclosures have increased steadily as the demand for larger and more accessible showering areas continues to rise. Whether this is for easy access, perhaps in a multigenerational household, or simply for the desire to create a spa-inspired wetroom environment, there are more and more innovative designs being launched to a highly captive audience.
"Whilst the minimalist frameless plain glass screen look is still popular (see image below), it seems that less is no longer more. The desire for personalisation is causing designs to evolve, for example, the black-framed or panelled look that we've seen of late is great for the industrial-inspired or monochrome look.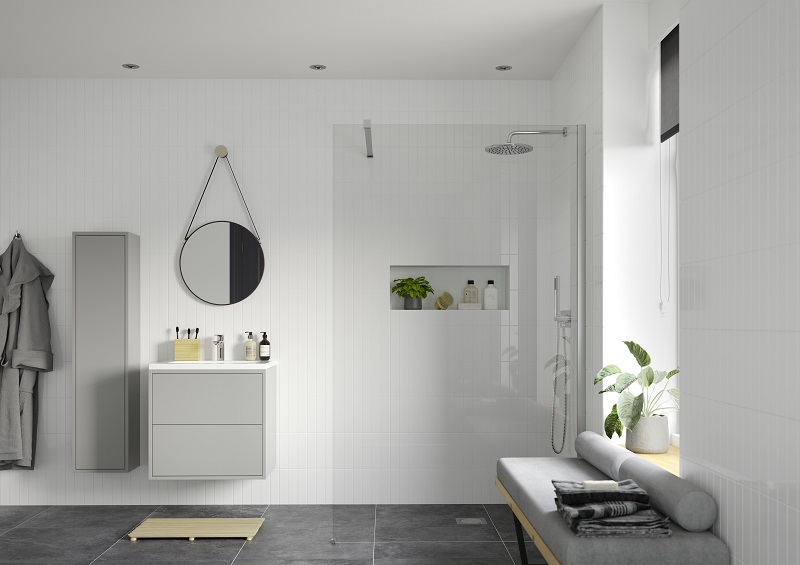 Richard continues "More patterns, colours and unusual finishes are now appearing, such as our botanical themed RefleXion Iconix 'Black Leaf' 8mm Panel (see very top) and the use of materials other than polished chrome frames and clear glass will really grow in the next few years – such as gold or brass frames, and frosted or fluted glass."
For further information visit Bathrooms to Love