Vasco has reported a significant increase in demand for innovative electric radiators and electric heating solutions.
In recent years the demand for more economical and environmentally friendly heating solutions has been rising and electric heating has evolved into an energy-efficient, user-friendly and durable solution. This is especially true when used in combination with a heat pump and solar panels.
Just 1m of the UK's 27m homes have low carbon heating but this is changing with increased interest in climate change and the government's current policy to ban gas boilers in new builds from 2025. The result is electric radiators and heaitng solutions are a key option.
A market leader in designer radiators, Vasco is committed to providing electric heating solutions by designing and manufacturing a wide range of innovative systems, to create an optimum indoor climate.
Vasco app Climate Control – Wi-Fi module
Vasco's design radiators can now be controlled in 3 ways: manually with an RF thermostat, via home
automation or via Vasco's Climate Control app.
Vasco's Climate Control app enables you to control your indoor climate with ease. The new E-Volve Wi-Fi module, controls electric radiators via your home Wi-Fi network as well as under floor heating and ventilation, so all work together as efficiently as possible The compact module communicates via Bluetooth; you place a small temperature sensor in the room and away from any drafts that may alter the temperature reading. The configuration takes place via the Climate Control app on your smartphone, the system takes into account current weather conditions, plus previous measurements and settings. This allows the user to set 4 standard custom scenarios: Get up, go away, go home and sleep mode.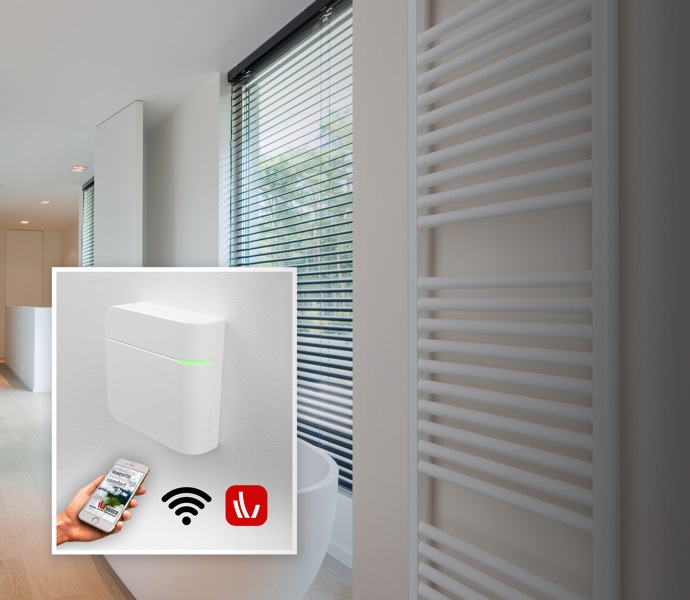 E-Volve Wi-Fi is available for All Vasco's electric bathroom radiators including: Iris, Agave, Aster,
Carré Bad, Zana Bad, Viola and Niva.
Electric heating with aluminium radiators Oni-EL and Beams Mono-EL
In addition to being energy efficient Vasco offers environmentally friendly options with the Oni-EL
and Beams Mono-EL both are produced from recycled aluminium and are available in the extensive
Vasco colour range. On both radiators, the electrical resistance is completely eliminated thanks to a
cover plate at the back, which is the same colour as the front. The receiving module is also
completely invisibly integrated in the rear.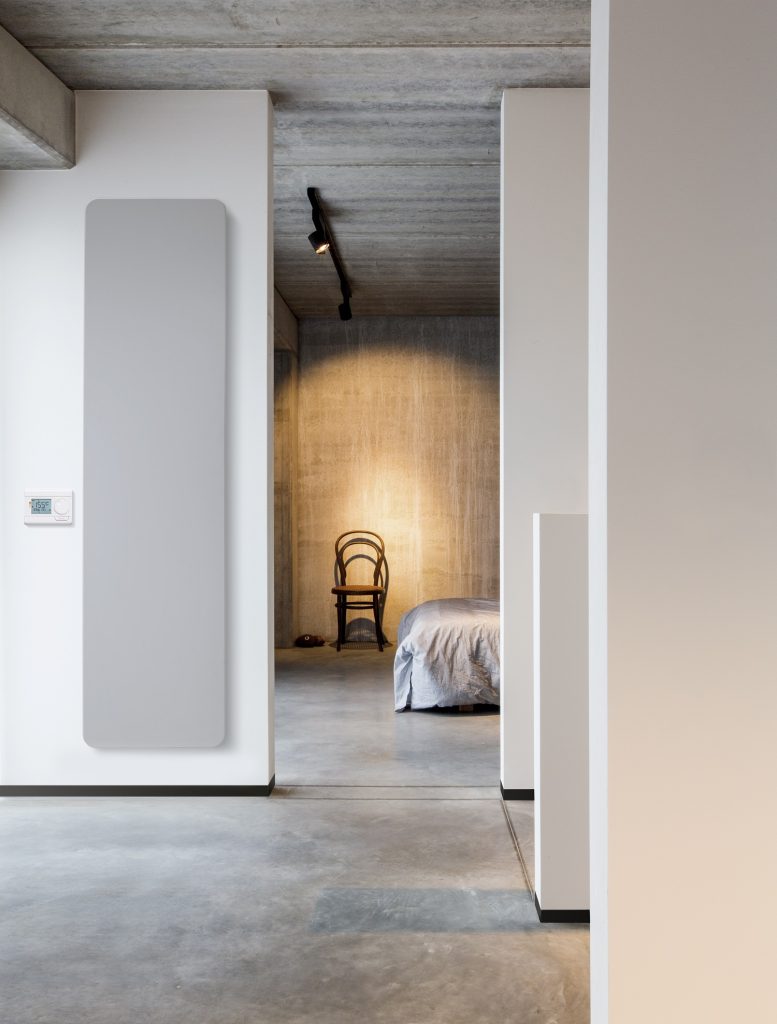 • Pictured here, Oni-EL is the electric variant of the water-carrying Oni, the thinnest Vasco radiator ever (only 8 mm); along the side you can only see the butterfly-thin radiator profile. It has 2 variants: type O-NPEL with a 'closed' flat front plate and type OP-EL with 2 recesses; which are convenient for drying towels. With its fast response time, Oni-EL combines all the benefits of electric heating comfort with a refined design. Thanks to the multifunctional thermostat, the radiator can be set completely as desired.
• Beams Mono-EL, combines all the benefits of electric heating with its sleek design and fast reaction time. The tight vertical profiles (150 mm wide) are fitted with additional fins to increase heat dissipation. The resultant minimalist look also enables you to choose from one or more vertical elements. The plug & play concept of the electric radiator ensures easy installation and the multifunctional thermostat guarantees stress-free operation.

About Vasco – www.vasco.eu
Vasco offers a wide range of innovative and sustainable total solutions in the field of heating,ventilation and cooling for an optimal indoor climate. For example, Vasco delivers high-quality and internationally acclaimed design radiators that are characterized by the combination of top design and functionality. The quality brands for panel radiators are Superia in Belgium and Brugman in Germany, France, Poland and the Netherlands. In addition to radiators, Vasco is also an important player in the field of ventilation and underfloor heating. Vasco radiators are guaranteed with a quality guarantee for a period of 10 years on waterproofness and lacquer. The production companies are located in Belgium, the Netherlands and Poland. Vasco, headquartered in Dilsen (BE), has approx. 500 employees and is part of the Swiss Arbonia Group.