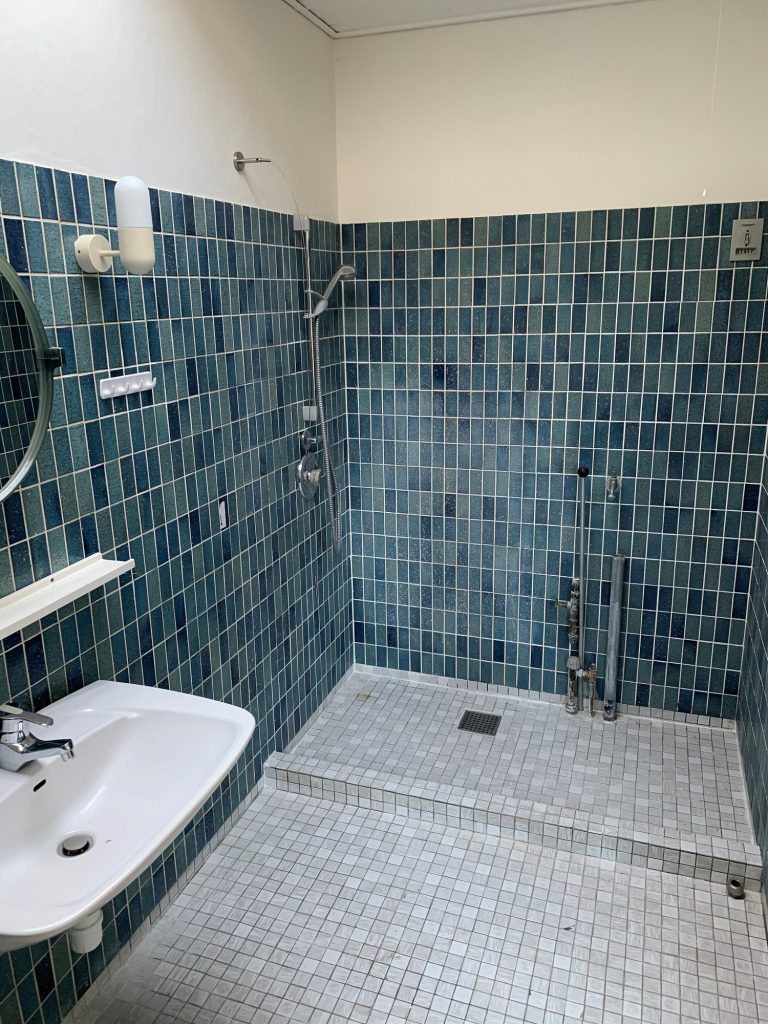 It has often been said that the 1970's was the time that style forgot; but not everyone agrees. To the north of Copenhagen, in Vedbæk you will find a large number of architect-designed classic homes from the 1970s. The transformation started in the late 19th century when the wealthy citizens of Copenhagen started to construct summer villas along the coastline. Vedbæk was just a small fishing village then; location was ideal close to the city yet surrounded by forests, fields and water.

Today the 1970's designed houses with their beautiful yellow bricks and sharp, yet functional shapes line the leafy suburban roads. Among the lucky home-owners in Vedbæk, is 34-year-old Mads, a self-taught handyman, his wife and their daughter.
As well as working hard to get their holiday home at Rørvig into shape, they have now thrown themselves into doing up their house and they are documenting the changes in their blog.
The bathroom in his 1970s house in Vedbæk, it's the most recent transformation – one of the largest of its kind the bathroom has had the full treatment. Everything has been replaced with new, exclusive materials crating a hotel style bathroom. The floor-standing toilet has given way to a wall-mounted model, the old skylight has been replaced with an electric roof window and Unidrain takes pride of place on the floor and on the walls.
Unidrain raises the bar
The shower cubicle, like the rest of the room, has changed dramatically. The shower area itself is enclosed by our GlassLine shower screen, which ensures that the water does not splash out into the rest of the room: "Unidrain has made an elegant glass wall for the shower; the glass is recessed into a frame so the joins to the floor and the wall are as invisible as possible. A really nice result and a high quality solution," Mads writes in his blog.

Unidrain's HighLine Custom drain was used; here the tiles merge with the drain, separated only by a narrow groove: "I think Unidrain's Custom tile drain is an impressive feature in the shower, the drain is almost invisible and blends in perfectly with the tiles," Mads continues.
The final touch to the bathroom is the Unidrain Reframe soap shelf, the attached shower scraper is held in place by a small invisible magnet.
Mads wanted to change this into a room that people wanted to spend time in and he definitely achieved his goal.
About Unidrain
Established in 2003 this design company has gone from inventing the linear floor drain to creating a leading international brand, spreading Danish design ethics and Nordic minimalism to the rest of the globe.
From five star hotels in the Maldives, to the Award winning Herman K in Copenhagen Unidrain products and accessories play a key role in the look and feel of the most stylish bathrooms on the planet.
More news from Unidrain