The Schlosshotel project has been signed by aledolci & co. studio of architect Alessandro Dolci, based in Egna (BZ). and focuses on an external duplex villa.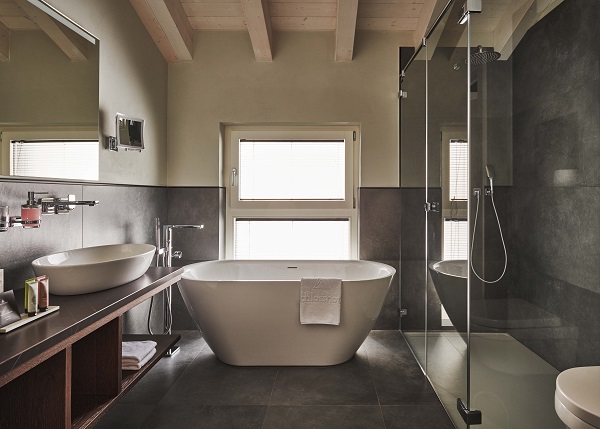 The villa is connected to the hotel but features an extra level of privacy.
The contemporary design of the facades and interiors are built from high-performance materials.
The interior of each apartment has been designed as a flexible space, various configurations are available according to the customers' need. Each floor houses a single apartment with a living room, kitchen and three bedrooms that can be used by large families or groups of friends.
The moodboard interiors, as required by the clients, is far from the typical alpine folklore that is very common in the nearby hotels. Ton sur ton, smooth surfaces and an urban spirit characterises the choices of colours and materials while maintaining the warmth of the hospitality.
Outdoor spaces, balconies and loggias, are important while staying in the mountains for either drying equipment, or for relaxation after a day of climbing. For this reason, part of the design of the facade is made up of wooden screens among the balconies to guarantee greater privacy.
The Spa
The new Spa of the Schlosshotel, the first CBDSpa in Switzerland, was also built by studio aledolci & co. This paradise uses natural products based on hemp derivatives for the treatments reserved for guests.
In a generous and elegant space with a large area of 350 square meters, guests can enjoy privacy and comfort. On the lower floor, there is also a new fitness area and a room reserved for training and yoga. The area is equipped with cutting-edge innovation and features hot spa-baths and an ice room.
Alessandro Dolci comments "The owners, managers of the hotel, requested a space that could offer top equipment and an innovative concept for customers.
"The Spa (is) built in the surrounding structures, to create spaces with a more urban and linear language with refined surfaces, without the hints of mountain roughness, which have been trendy in recent decades ".
A Winter Garten connects the lounge and reception and is decorated with a palette of bright colors.
 CONCRETA
Also part of the project, Concreta is an interior contractor based in Postalesio (Sondrio) in Valtellina that delivers customized furniture for hotels and accommodation facilities, and more generally, in contract solutions at national and international level.