Roca's latest freestanding baths, Maui and Kauai, integrate sophisticated classic shapes and are manufactured from Roca's innovative design material, Stonex®.
The Maui freestanding bath (pictured top) recalls the shape of ancient bathtubs. Ideal for contemporary bathrooms, they are also suited for sophisticated options where the bath is placed in the bedroom.
Thanks to its slim Stonex® walls and its pure outline with rounded angles, Maui brings a chic twist to a modern bathroom design. The Round format, with a dimension of 1500×700mm, offers an oval shape with a slightly elongated backrest for better body posture.
Maul is also available in a Square version, which features subtle side curves that support the hands. In both options, the white finish delivers timeless design pieces, perfect for stylish bathrooms. For a vintage effect, choose a twin-lever tap with star-shaped levers like the ones found in Roca's Carmen and Loft collections. If a more modern aesthetic is needed, opt for the installation of a single-lever straight-angle brassware like the L90.
Also available is the Kauai freestanding bath with its timeless curved shape, reminiscent of the oval shape of a pebble, making it a perfect centrepiece for any stylish bathroom. These new baths provide a great solution for UK bathrooms due to the compact size offering, with no compromise on design.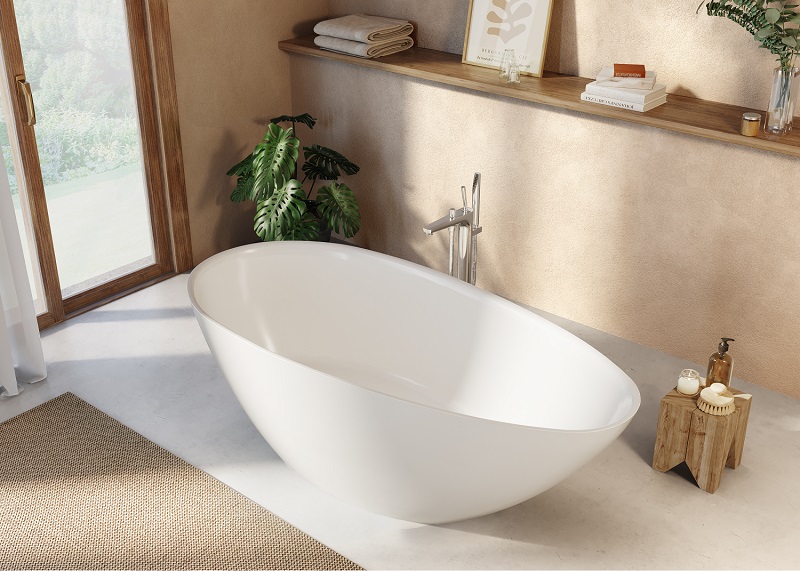 The Maui and Kauai baths are manufactured in Stonex®, which provides a natural and pleasant feeling across its entire surface. This material, made up of a selection of high-quality resins and mineral particles, achieves a smooth gloss finish during the production process, but with excellent anti-slip properties to ensure maximum safety while bathing. Its colour remains intact over time and does not discolour from exposure to UV light. It is also resistant to wear and tear including scratches and abrasions.
Roca's new freestanding baths are modern in design and performance with classic inspiration. The Maui and Kauai baths are perfect to provide those eternal occasions of peace and serenity that are only found whilst bathing.
RRP from £1,900.00 plus VAT.