Roca has introduced four new contemporary brassware collections to add to its impressive brassware portfolio, offering a wide range of solutions that complement every style of bathroom.
Pals
Straight, minimalist lines and different geometrics come together in Pals, a modern collection with an array of configurations and originality as a distinguishing trait. The basin and bidet models in the Pals collection include a convenient joystick handle, in line with the latest trends, providing an elegant design. The combination of straight and round lines achieves a striking contemporary aesthetic. The Pals collection features Roca's exclusive Evershine, an electrolytic coating which guards against corrosion, delivers brightness, a sparkling mirror effect and an anti-scratch finish. A long lasting and hygienic solution is guaranteed, thanks to the anti-lime scale deposition materials used. The result is a high-quality product, made from premium materials. The Pals collection includes brassware options for basins, bidets, baths and showers.
Carelia
Carelia (pictured top) is a smooth-body, contemporary design collection, which features a soft turn handle and pan handle lever in the elegant basin mixer model. Carelia offers a wide range of options, including basin mixers, deck-mounted bath mixers, and a choice of solutions for the shower. Available in chrome and also in a sleek powder-coated black finish (basin and bath mixers only), Carelia offers stylish design at a competitive price point.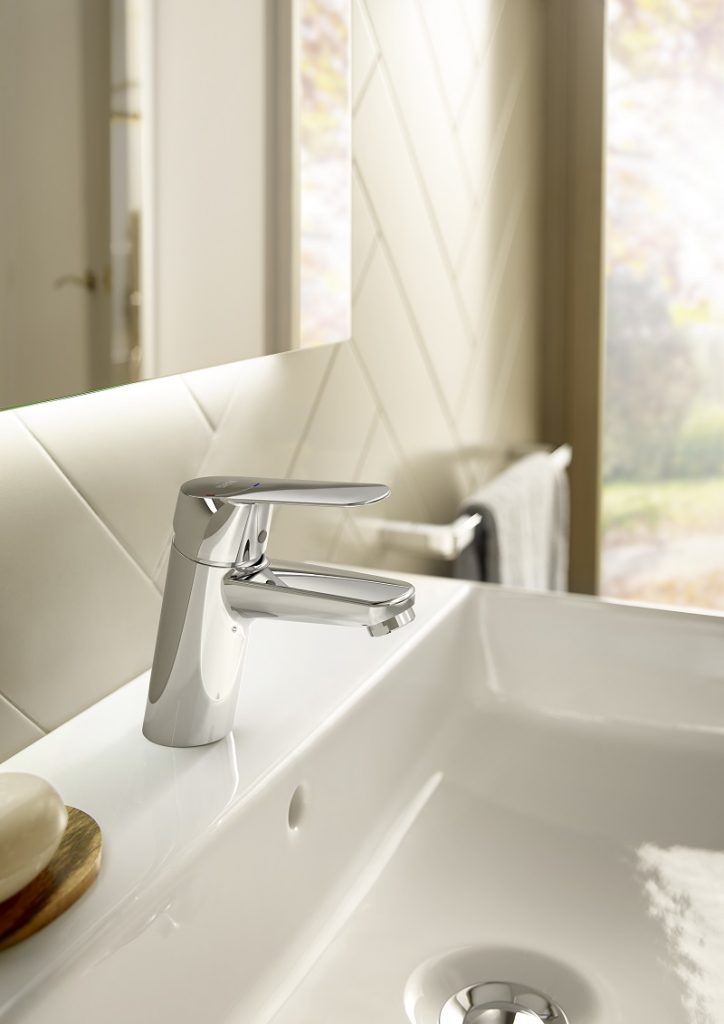 Alfa
Offering a gently angled, contemporary design, Alfa (pictured right) is available in a variety of matching options. The range includes basin, bidet and bath-shower mixers, all featuring a soft turn handle and full headed lever. All products in the range benefit from the advantages of Roca's Evershine finish.
Cala
Cala features a curved cylindrical body and a longer projection spout on basin mixer models, as well as several convenient options for showers and bath-shower mixers. Roca's exclusive Evershine coating guarantees a long-lasting, polished finish and makes for easy cleaning of these contemporary bathroom taps.
Water Saving
The new Pals, Alfa and Cala basin-mixers include a built-in aerator in the spout which limits the flow to 5 litres per minute. This allows water consumption to be minimised without reducing the level of functionality. Thanks to the air injection, the aerator guarantees a plentiful, soft and bubbling water flow that also prevents splashing.
Energy Efficiency
Thanks to Roca's Cold Start® technology, all taps in the new ranges open to the right, always starting with cold water – meaning daily rituals that don't require hot water can be carried out without unnecessarily activating the boiler, saving energy and cost. David Bromell, Head of Marketing at Roca comments: "Roca brassware is manufactured to the highest quality and we're exceptionally proud of our broad design portfolio, ensuring that we offer beautiful design and functional solutions for every bathroom and at all price points."