Interior design studio Goddard Littlefair has unveiled its latest creation with a luxurious design of Southbank Place's Spa. A joint residential development venture between Canary Wharf Group & Qatari Diar, London's South Bank has been transformed by a unique mixed-use development with the famous Shell Centre Tower at its heart.
Goddard Littlefair's expertise in designing spas globally sees Southbank Place added to their portfolio alongside the recent design of Chelsea Barracks Spa.
The ultra-sleek design of these lavish amenities was conceptualised with an experiential focus, creating a serene city oasis where residents can escape to relax, unwind and reinvigorate. A light and calming palette of sensitively selected natural materials paired with ambient lighting create a cocoon-like space within an uber-contemporary spa setting. Residents will be able to enjoy a luxury hotel-standard spa experience within their dynamic city-living environment.
Martin Goddard, Co-Founder of Goddard Littlefair comments, "When we started looking at the concept for this amenity we realised that there were very few spa and fitness spaces that addressed a luxury residential development. This gave us many questions that had to be answered. Through extensive research, we recognised that the facilities of top luxury hotels had the closest synergy with what we felt residents would want to have access to.
"Over the years we have seen the emergence of 'Wellness' as a trend that has resonated and, rather than being fleeting, seems to only increase in importance. Seven years ago, it wasn't really a prominent concept but, looking back, the essence of wellbeing and wellness was what we were trying to accommodate with the design of this space."
The project was developed over the course of seven years, with Goddard Littlefair appointed to design the entire spa which is centrally located underneath the Southbank Place development, and is available to the occupiers of the residential buildings. The final design of this generous 2,000 sqm spa is set across various zones. Key to the success of any spa layout is the guest journey and the recognition that while some users will want to be energised through a hard-hitting workout, others want to relax and the two elements should be accessed separately and without overlap to heighten the experience.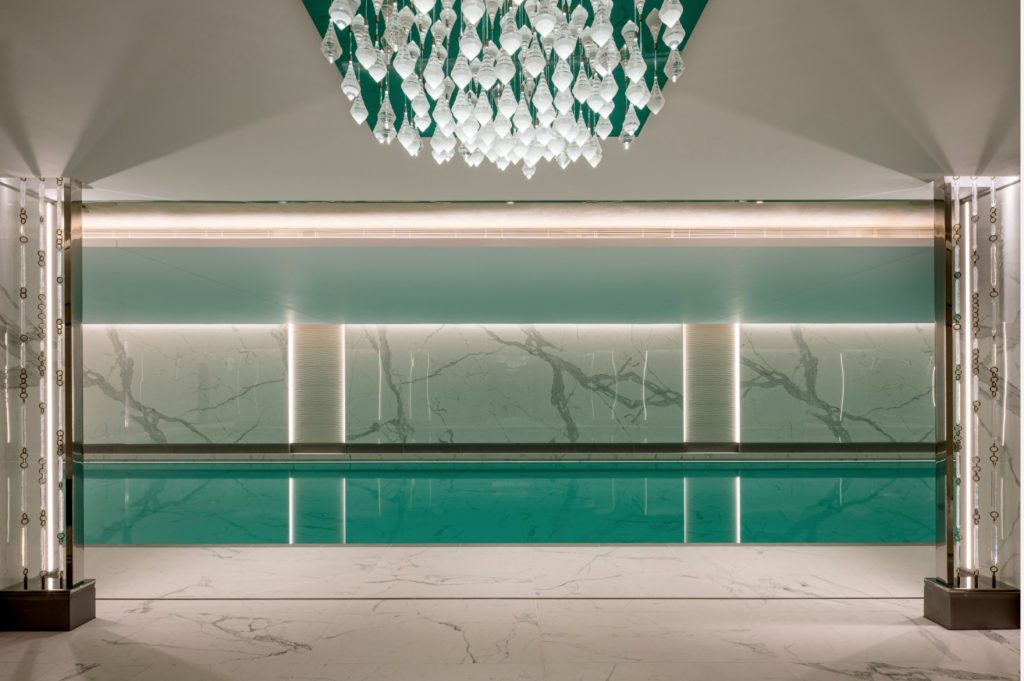 Martin Goddard continues "We wanted to ensure that a series of experiences were available to the users to excite and encourage the spa to be fully utilised. The experience of decompressing and unwinding is a key consideration in the planning and design stages of a world class spa facility."
The spacious reception area acts as a hub and a social area for residents to meet with each other, or with therapists or trainers. One fully equipped gym is available along with two separate studios which can be heated for a hot yoga workout or cooled for a dynamic spin class. The alternative wet and relax route takes residents through plush changing rooms, the men's area includes a sauna and the female area has its own vitality pool, sauna and steam room.