EDITION 90 is a new collection of bathroom furniture and accessories designed exclusively for KEUCO by renowned German design agency Tesseraux & Partners. The theme and design element that is prevalent throughout the collection is the merging of the circle with the square, creating a distinct 90-degree angle.
EDITION 90 washbasins
The wall-mounted washbasins are available in white or slate grey and can be mixed and matched with all the Edition 90 furniture. The collection is uniquely adaptable and can be placed wherever you wish; this flexibility enables you to create a uniquely personal design for your bathroom. The wide range of sizes and finishes allows you to express your style with an eminently practical result.
Bathroom Furniture
The furniture within the EDITION 90 range can be wall-mounted and also includes two styles of free-standing units, either with a base or legs. The finish is available as a wood veneer or textured lacquer in matt or high gloss. If you wish to create a very distinctive look, additional coverplates for the side units are available in glass or ceramic with a marble or slate finish.
Illuminated Mirrors
The EDITION 90 collection of mirrors are Illuminated by two parallel LED light sources arranged laterally at either end of the mirror. This positioning provides shadow-free illumination, ensuring perfect lighting for the application of cosmetics or a close shave. The lights are controlled via a panel that has been integrated into the frame and are easy to operate.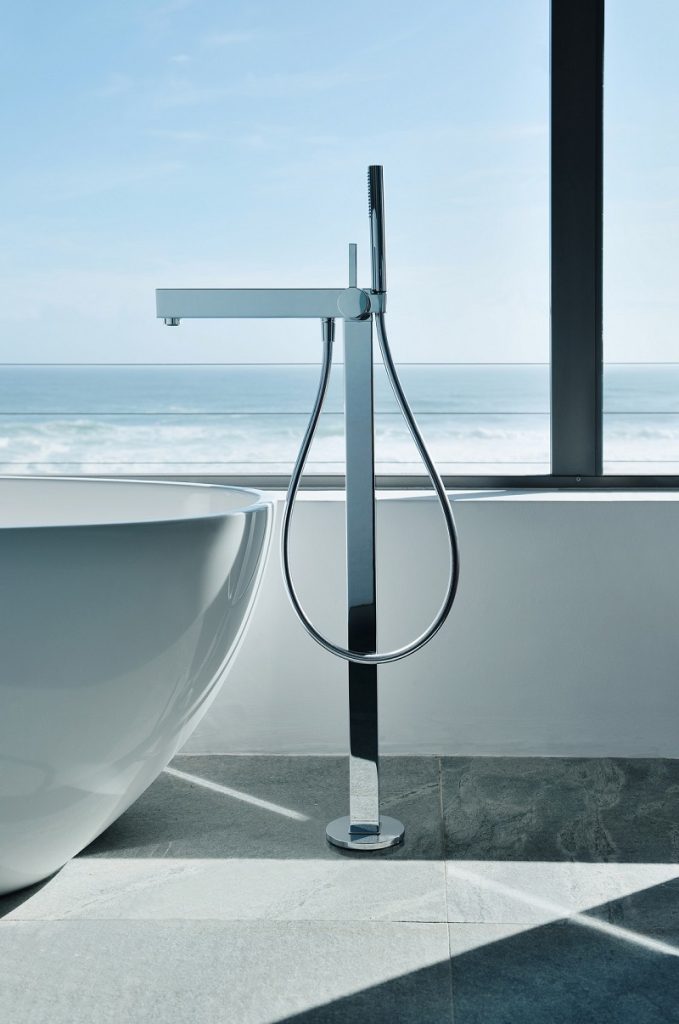 EDITION 90 Fittings
The design language and visual statement of EDITION 90 is best exemplified by the fittings; here the square on circle is precise and extremely visible on the brilliant chrome surfaces. The range includes single-lever, three-hole and wall-mounted options for washbasin and for bathtubs, an elegant freestanding mixer fitting or wall-mounted spout with separate built-in thermostatic flow controls.
The functionality for switching from the bath tap to the shower is integrated into the fitting, enabling it to be easily
operated whilst maintaining it's clean lines and symmetry. When in a vertical position the lever is set to off, the further the lever is pulled back the hotter the water gets. Moving the lever forward regulates both the water flow and temperature.
The design details of circle meeting square continue through to the shower fittings, the wall-mounted shower arm has a clever flexible joint detail that enables the installer to easily adjust it to the perfect horizontal position.
EDITION 90 Accessories
The accessory collection is stylish and extremely easy to install; most of the EDITION 90 accessories are available with glue-set, so no drilling is required to fix them to any surface. The chrome-plated accessories continue the elegant theme of circle on square and are a chic addition to any bathroom.