Danish designer Cecilie Manz's minimalist design language invokes the Scandinavian concept of living for a brand-new sense of wellbeing. Carefully conceived materials that appeal to the sense of touch emphasise the gentle forms and exacting geometry. Perfectly harmonized colour combinations complete the overall picture.
Recently Duravit interviewed Cecilie Manz and asked about Luv, life and bathrooms…
D: What emotion do you associate with the bathroom range Luv that you designed for Duravit?
CM For me, Luv is about sheer cosiness for the perfect feel-good factor – natural, uncomplicated, and
unobtrusive.
D: What's most important to you in a bathroom?
CM: The bathroom is one of the most intimate rooms and what matters to me are qualities like "clean, "functional", and "comfortable". Everything should be hygienic and low-maintenance, it should work well and at the same time, I want the materials, colours, and the overall ambience to exude a sense of wellbeing. In the bathroom, I enjoy my "every day spa moment".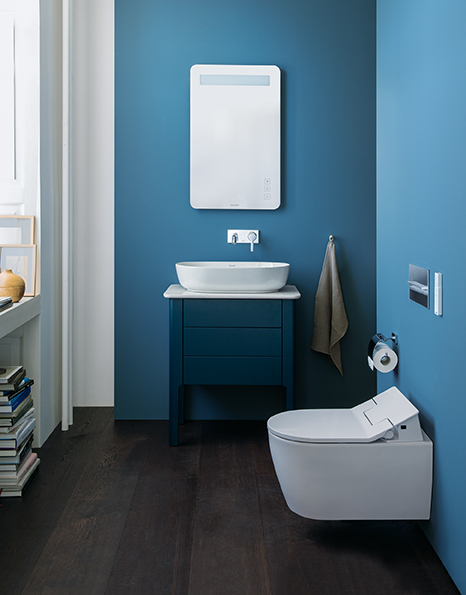 D:The colours and surfaces that you've selected for the bathroom series Luv radiate natural warmth while simultaneously managing to appear contemporary. Where do you get your inspiration?
CM: In the bathroom, you often find cool and clear colours. Because Luv has a very pure design, it was important for me to create a cosy and welcoming component using subtle, natural tones. I often find inspiration for colours in nature – I always have a couple of pebbles in my bag.
D: What were the biggest challenges for you in designing furnishings for the bathroom?
CM: I'm not sure if it makes such a big difference whether you're designing a piece of furniture for the bathroom, the living room, or the kitchen. The design process involves the same approach and we go through the same mechanisms. At the same time, you have a greater responsibility to a certain extent: for me, it feels as though each individual object that I design in the bathroom is tailor-made for the specific person buying it. That might be because each object in this room is so important. For instance, you might have various chairs in your home and can choose which one to use at any given time.
You arrange your home how you want and are constantly moving things around. That's not so easy in the bathroom. That's why I also think that people's decisions are a lot more conscious when selecting bathroom furniture.
D: Do you believe that people's wishes in terms of bathroom furniture are changing?
CM: It seems that bathrooms are constantly getting bigger. On the other side, there is also a need for tiny, highly efficient bathrooms. In any case, we expect the level of comfort enjoyed in the rest of the home to be part of the bathroom, too: more warm colours, natural materials, cosiness alongside inventive solutions for keeping it clean and using less water.