Glazed titanium-steel baths and shower trays from German manufacturer, Bette, were chosen by The Standard, London, for its uniquely styled rooms.
Housed in the former Camden Town Hall Annex, in London's King's Cross neighbourhood, the 1974 Brutalist building has been meticulously restored and sets the perfect stage for The Standard's first hotel outside America.
It has 266 rooms, in 42 unique styles, ranging from Cosy Core rooms to terraced suites.
Shower Trays and Floors
Bette provided shower trays and shower floors in a wide range of different sizes and shapes from 80 x 80cm to 180 x 90cm. All are made from Bette's durable, hygienic and easy to clean, glazed titanium-steel, in matt white colour, 'Snow', and feature Bette's almost invisible Anti-slip Pro finish. The shower trays and floors are Bette's award-winning BetteFloor flush to floor shower floor and the BetteUltra shower tray in rectangular and corner versions.
Baths
Bette also provided freestanding, semi-recessed and fitted baths in white gloss finish, all manufactured from its glazed titanium-steel, which is easy to clean, retains its shine and comes with a 30 year warranty.
The baths are the freestanding BetteLux Oval Silhouette in 180 x 80cm, the semi-recessed BetteLux Oval Highline in 180 x 80cm, and the fitted BetteForm bath in 150 x 70cm.
For further information on Bette see www.my-bette.com/en or telephone 0844 800 0547.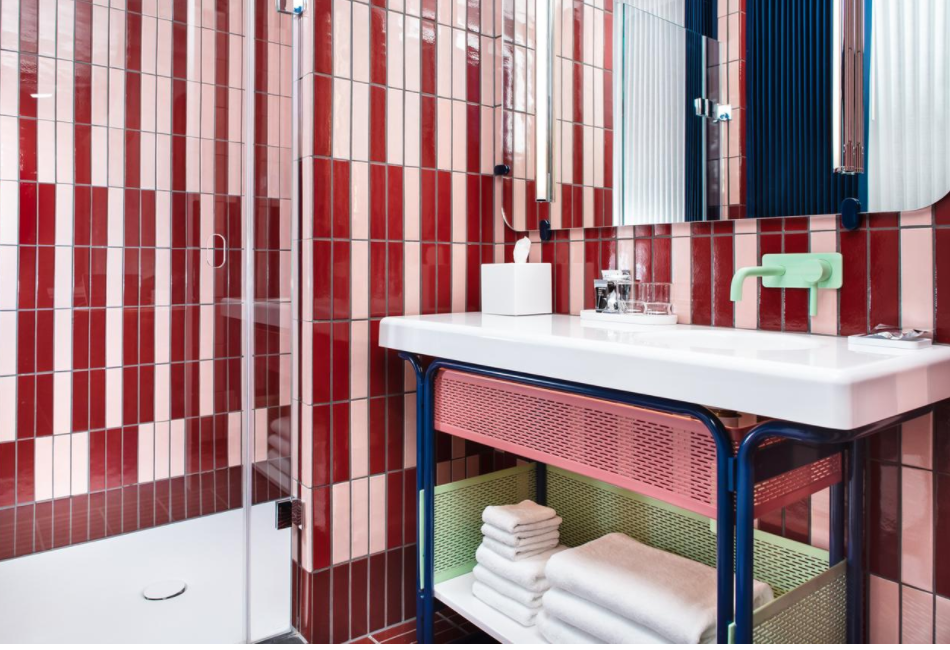 (Please credit images: @timcharlesphoto)
About Bette
Bette is a specialist in bathroom products that are made of a special metal in a unique manufacturing process: titanium steel sheets are shaped under high pressure and then finished with a thin coating that is related to glass – hence the name "glazed titanium steel". This composite material is perfect for the bathroom (it is skin-friendly, hygienic, durable and robust), and Bette uses it to make its baths, shower areas, shower trays and washbasins.
The Bette family company was founded in Delbrück in North-Rhine Westphalia in 1952, and specialises exclusively in this manufacturing process, because it allows the products to be shaped smoothly with the maximum skilled precision. The manufacturing and administrative headquarters employs around 385 people. The CEO, Thilo C. Pahl, is a member of the owner family.
The range includes baths, shower areas, shower trays, washbasins and bathroom furniture, all made in Germany. Unique items that can be made in various colours and dimensions and open up inspiring interior design ideas for the bathroom. Bette's assembly processes combine high-tech industrial production techniques with tailor-made manufacturing where it benefits the customer. More than half its products are customised to customer preferences. The company offers over 600 different baths, shower trays and washbasin models in a tremendous range of colours.
The natural raw materials glass, water and steel are used to manufacture high-quality products that are completely recyclable. They are verified to the Environmental Product Declaration (EPD) as per ISO 14025 and to LEED (Leadership in Energy and Environmental Design).