The Audo is a unique design hybrid which now marries elegant design with work, hospitality and community in one sophisticated setting including a restaurant, café, concept store, material library, work and event area, plus hotel.
There are 10 suites in total and each of the bathrooms is equipped with Unidrain's HighLine Custom solution, providing an almost invisible drain that blends elegantly with the large bathroom tiles. Stylish, discrete with a slight industrial air, Unidrain was the only choice for this project.
After a devastating fire almost destroyed the building, leading brand design agency, MENU teamed up with Norm Architects to restore it and create The Audo. It was the perfect platform for their new concept, at the start of the 19th century Copenhagen was moving on from beautiful neo-classicist architecture and embracing the dawn of early modernism. The original building was elegant on the exterior but internally it was an industrial concrete structure which willingly lent itself to this transformation.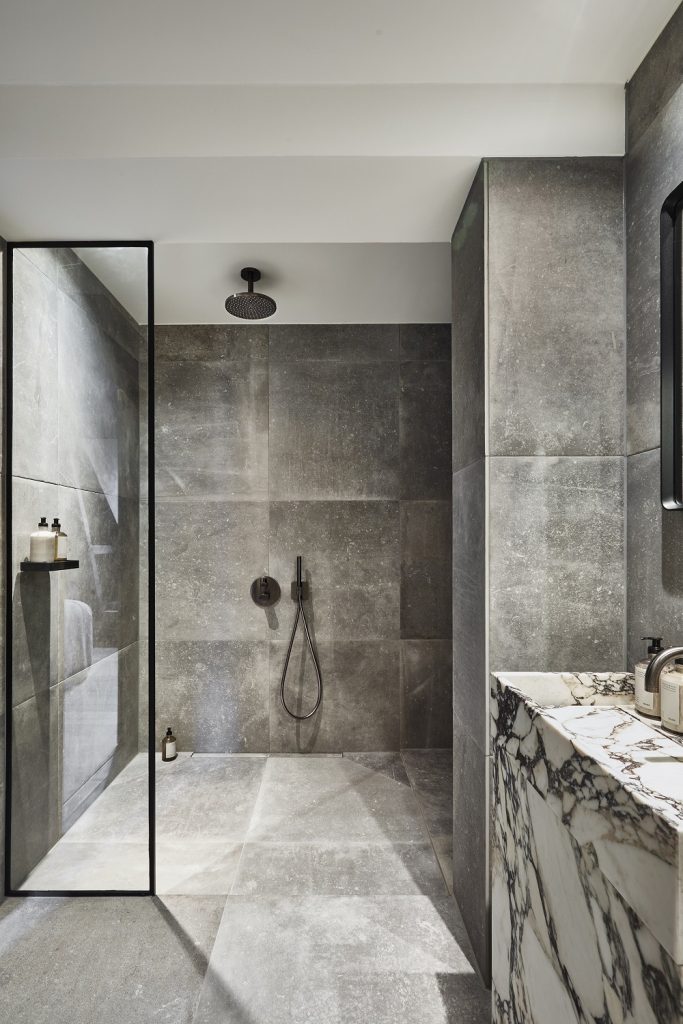 Not only is the Audo MENU's headquarters, but a hotel, whose cosy, earth-toned rooms double up as show spaces for MENU's new furniture and homeware collections. "We wanted Menu to take a new approach to running a design business through openness, knowledge-sharing and collaboration," explained Joachim Hansen, director of MENU. "By showing our collection in different contexts within hospitality we will make the collection become more alive,"
To create the event area and showroom space most of the pre-existing partition walls were knocked through, forming a vast, open-plan ground level with concrete tile floors and perforated black metal ceilings. Adjacent to this is the hotel store, a small cafe and restaurant.
A large circular staircase leads to the Menu offices and communal workspace, which are hidden by glazed black-framed panels. Guests take a lift up to their rooms, which tucked away in the building's former attic and situated underneath the original timber ceiling beams.
Unidrain: Established in 2003 this design company has gone from inventing the linear floor drain to creating a leading international brand, spreading Danish design ethics and Nordic minimalism to the rest of the globe. From five star hotels in the Maldives, to the Award winning Herman K in Copenhagen Unidrain products and accessories play a key role in the look and feel of the most stylish bathrooms on the planet.