Showerwall, designer and manufacturer of stylish wall panelling, has exclusively launched its latest collection of trend led designs for 2022, bringing its range to over 100 vibrant designs.
Reflecting the latest interior trends, its popular Laminate Collection includes four new marble designs, with each decor created to replicate organic materials. Also new is the Compact Collection, while the Acrylic range provides a unique offering with colour customisation available in a variety of colourways and solid coloured panels, which can be matched to a colour of choice.
The range draws inspiration from nature with delicate tiling details and some fun, funky and quirky designs. The range is also ideal for homeowners looking to create a sanctuary.
Taking inspiration from nature, Showerwall's Acrylic Bromelia, Escape, Flower wall, Foliage, Plant Wall and Savannah prints create an outdoor haven indoors and Geometric designs, Deco tile, Grafito, Square Parquet, Starlight and Vertical Tile create a real wow-factor in the home. Finally, Showerwall has revealed its modern take on vintage designs with its Fern, Victorian Floral and Vintage China panel designs. Each of these designs come in a number of colours to ensure they complement a variety of styles and settings.
Showerwall also exclusively unveiled its new Compact Collection at the show, which is made from a strong solid composite material, embossed to create a tile effect wall. The range offers 3mm solid laminate panels that are quick and simple to fit and offer hygienic benefits as they are easy to clean and maintain.
The full Showerwall collection offers a comprehensive range of decors to suit all tastes, with panels available in sizes 600mm, 900mm and 1200/1220 x 2400/2440mm, backed by a guarantee of 30-years.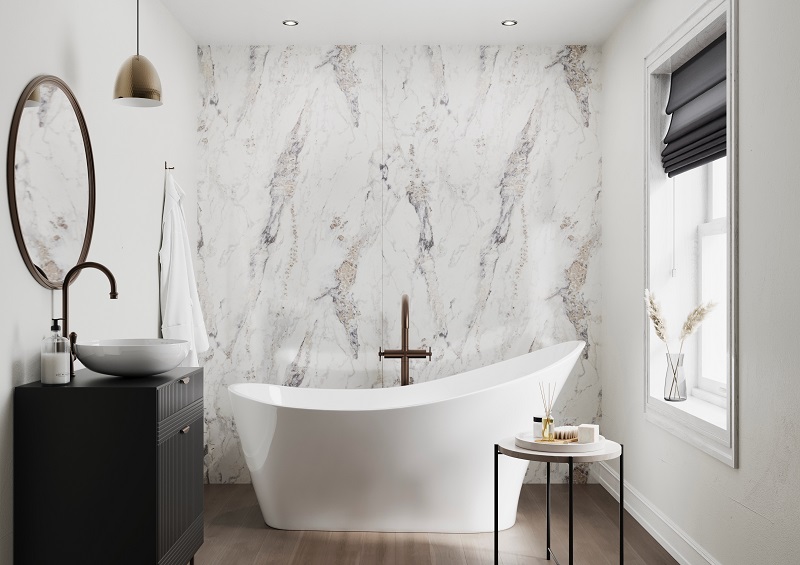 For further information visit: https://www.showerwall.co.uk/