The Gap range from Roca is specifically designed to optimise the bathroom space. Delivering practical and customisable bathroom furniture, The Gap is introducing a new broad extension to the popular range.
Designed for a wide range of different users, The Gap furniture offers a contemporary and varied combination of shapes, finishes and dimensions with Roca's outstanding level of quality, comfort and resistance.
Wide range of models to choose from
Whether it's a compact vanity for a small bathroom that is needed or a family model that meets the storage needs of several people, The Gap now offers an even wider range with 31 different models. There are no less than 24 options of base units with basins available and 7 alternatives of vanity units with over countertop basins to choose from.
Finishing touches
To meet the needs of modern bathroom designs, The Gap offers real versatility with different finishes to suit a wide range of preferences and decor. Available in an extensive range of colour choices including Gloss White, Anthracite Grey, Arctic Grey, Nordic Ash and textured City Oak, the look can be perfectly finished with a handle in Matt Nickel or in Gloss Aluminium to complete the look.
Different dimensions to suit all bathroom spaces
The Gap offers cabinets with a width ranging from 500mm to 1200mm, so the right dimension can easily be found for every bathroom space. There is a choice of a standard depth of 460 mm or a compact version with a reduced depth of 380 mm. Designed to make storage easier regardless of the available space, the lower drawers of The Gap are also higher than conventional ones, allowing users to store bulkier objects and make the most of their capacity.
Configurations for every preference
In order to adapt to the needs and preferences of every person or household, The Gap offers the choice of different storage configurations and ways of installing the basin. Customise the cabinet with two or three drawers or by combining drawers and one side door. Homeowners can choose from an over countertop basin or a Unik vanity version, with the option of placing the bowl in the centre, on the right or left hand side or even have two bowls. Due to its great versatility, The Gap bathroom vanity is compatible with Roca over countertop basins, both in vitreous china and in Roca's innovative Fineceramic®.
Accessories for easy storage
To make it even more practical, The Gap bathroom cabinet can be finished with accessories such as a side towel rail or convenient organising boxes that make storage in drawers easier. Finally, for those homes that need additional storage space, The Gap base unit can be complemented with a 1500 mm high column unit featuring two folding doors in a modern and extremely functional ensemble.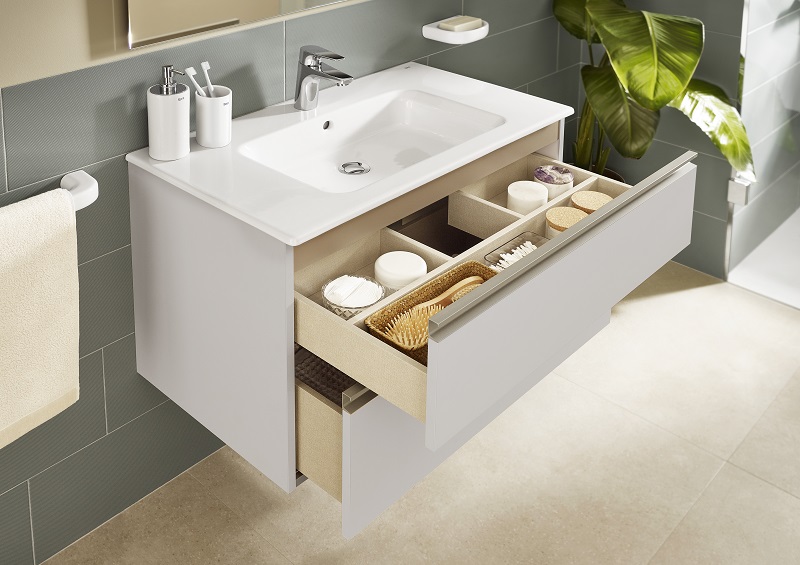 About Roca
Roca is a company dedicated to the design, manufacturing and marketing of products for the bathroom space, as well as ceramic floor and wall tiles for architecture, construction and interior design. The company operates in 170 countries with 84 production centers and a workforce of 24,000 professionals worldwide.
The family company is the market leader in Europe, Latin America, India and Russia. It also has a strong presence in China and the rest of Asia, the Middle East, Australia and Africa. Thanks to this, it is a world leader in its activity.