Family-run IPM Interiors of Radbourne is introducing the new Armani / Roca Baia collection at their exclusive Peak District showroom. The new collection includes washbasin options, new metallic finishes, brassware, furniture & storage, a bathtub, shower tray and WC options.
IPM Interiors of Radbourne is based on the edge of the Peak District and specialises in handcrafted bathrooms and kitchens and has more than 30 years' experience in designing homes in Derbyshire, Staffordshire, Leicestershire and Cheshire.
Giorgio Armani delivers luxury, comfort and wellbeing whilst combining elements that allow maximum flexibility and adaptability.
Philip Pearce, Director, IPM Interiors comments: "Whether you are looking for a showstopping bathroom or a total home redesign and renovation, we use only the finest quality materials to bring our superb designs to life. That's why the Armani / Roca Baia collection was the perfect fit for our showroom. We can't wait to showcase this remarkable collaboration to our customers".
The Armani / Roca Baia collection
The aesthetic intentionally references the past but the retro styling has been interpreted in a modern manner and incorporates avant-garde technology. The result is a new, versatile bathroom collection, which manages to be both contemporary and timeless, in accordance with Giorgio Armani's design philosophy.
New countertop & over-countertop washbasins
A wide range of countertop and over-countertop washbasins offers endless combinations of brassware to suit every style of bathroom. New metallic finishes have been introduced in two luxurious shades – matte gold and dark metallic. The resulting shagreen matte gold and shagreen dark metallic adds a touch of unusual elegance. The basin options now also include a new, stylish pedestal model, which complements the rest of the collection and can be fitted with integrated metal towel rails in various finishes.
Brassware
The range also includes a new line of classically inspired brassware which is showcased to full effect in the IPM showroom: deck-mounted and built-in basin faucets, a thermostatic shower column faucet and a thermostatic freestanding bathtub faucet. These are all available in three finishes: greige, brushed steel and chrome.
One of the unique features of this brassware range is that, in spite of its classical design, it is equipped with innovative technology; thermostatic technology has been incorporated into the freestanding retro-inspired bath filler and the retro-look shower column, delivering thoroughly modern efficiency.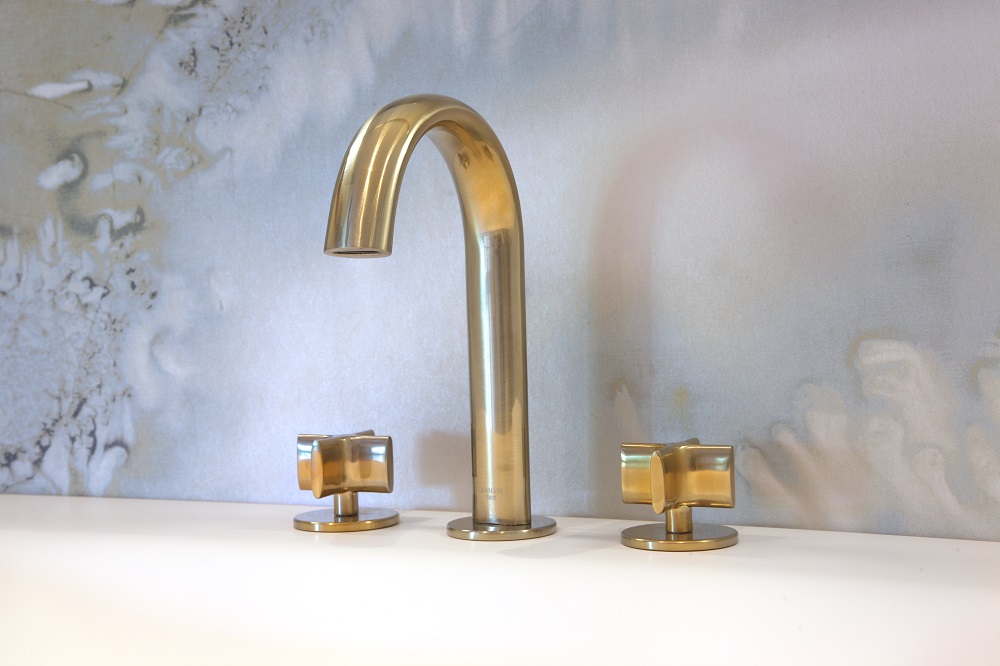 Furniture & Built-in Storage Options
The highlight of the collection is an elegant piece of furniture with built in storage, Surfex solid surface washbasin and an integrated metal towel rail, providing maximum functionality, while exuding a sense of comfort and convenience. Available both in off-white lacquered wood and greige oak-veneered wood, this piece will instantly endow any bathroom with an undeniably luxurious touch.
Freestanding Bathtub
To complement the beauty of this iconic piece, the freestanding bathtub (pictured top) also has a retro look, making it a perfect focal piece for any bathroom – as such it is one of the centrepieces of the new IPM showroom display. Updated with a contemporary appearance and paying special attention to ergonomics and comfort, the lines of this bathtub are soft and sinuous. It is also available in an elegant version embellished with four metal handles in three finishes – greige, brushed steel and chrome. These handles are beautiful and functional details which match the rest of the collection.
Shower Tray
The importance of flexibility is evident in the shower tray, which comes in an extra-fine resin in a multitude of sizes ranging from 1200 x 800mm up to 1600 x 1000mm, which are presented in a unique collection of textures and finishes.
WC's
A new line of WCs, both wall-hung and close-coupled, is now included in the collection to meet every design requirement. These are complemented with advanced technological electronic flush plates that feature unique glass finishes.
The wide-ranging collection also includes a line of accessories that incorporates towel racks and a wall mirror, both with rounded metallic profiles in various finishes. These recall the same design characteristics as the rest of the collection.
Showroom now open
The IPM team of specialists expertly manage each project providing an exceptionally high standard of service from conception to completion.
The stunning new Armani / Roca showroom is now open for private viewings at IPM Interiors. To book your exclusive personalised experience and view the latest Baia collection please contact the IPM Interiors team.
For more information visit http://www.armaniroca.com
About Roca
Roca is a company dedicated to the design, manufacturing and marketing of products for the bathroom space, as well as ceramic floor and wall tiles for architecture, construction and interior design. The company operates in 170 countries with 84 production centers and a workforce of 24,000 professionals worldwide.
The family company is the market leader in Europe, Latin America, India and Russia. It also has a strong presence in China and the rest of Asia, the Middle East, Australia and Africa. Thanks to this, it is a world leader in its activity.