The Modica Boutique Hotel is located inland on one of the most beautiful and expressive coastlines of Sicily. Compared to other hotels in the area, which choose to focus on more traditional regional aesthetics, the MBH focuses on a minimalist and elegant design that recalls the living-room-style concept.
Each project carried out by the studio is inspired by its Genius Loci. In this Boutique Hotel we find more of an uban, city-like atmosphere, and yet its colors still lead back to the Mediterranean—the intense blue of the reception area and the wood chosen for the floors are the best examples. Tradition and modernity come together in a place where nothing is left to chance. Every detail creates an enveloping and sensual atmosphere, particularly highlighted in the lounge area with the use of soft, velvet, pastel-colored seats.
Links with the hotel's native city are widely present in its decorative references: inspired by Modican architecture, the theme permeates in each stylized guestroom, and is also echoed within the general decorative elements of the hotel structure.
GUEST ROOMS
An old Sicilian saying says, "A nostra casa v'abbrazza e vi vasa:" "Our home welcomes and embraces you." This is the spirit with which the designers approached the interior design of Modena Boutique Hotel, creating a place that welcomes all guests with the same warmth as close family and friends.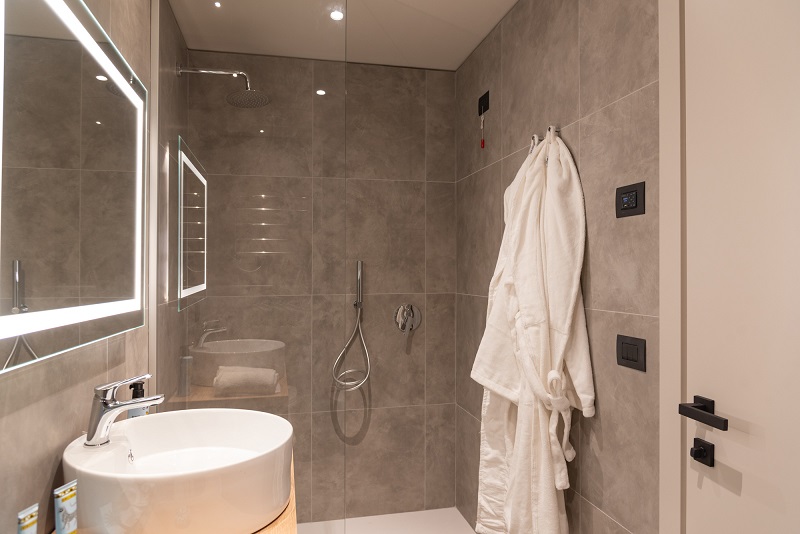 Each room is equipped with the most amenities for maximum comfort, and each pays homage to Modica with wall decorations depicting the city and symbols representing local traditions. The junior suites also offer a large terrace equipped with a personal hydrotherapy spa, allowing guests to spend hours in total relaxation and privacy.
The WELLNESS CENTER is Intimate and inviting, MBH also offers a warm spa with maximum comforts and high-end fitness equipment for guest use.