KEUCO Sanitiser Dispenser – a stylish way for everyone to sanitise their hands
Where the design of functional accessories is concerned KEUCO claims to have set new standards with its
sanitiser dispensers. They have a number of new models; each one is suitable for different areas
and locations depending on the environment and form of application required. All of the new
dispensers combine design with functionality to meet hygiene requirements, whilst incorporating
KEUCO's own sense of style; creating a distinguished design with state-of-the-art hygiene
properties.
Stable, high quality and always ready to use
Design object or functional accessories? In today's COVID climate sanitiser dispensers have
become a must for every property. KEUCO'S dispenser with its straightforward, linear design
language originates from the pen of the design office Tesseraux + Partner, Potsdam. These
simple elegant styles – with technical features that have been almost invisibly integrated in the
design – are typical for KEUCO. These dispensers make a stylish addition in an entrance or waiting
area, in fact, any location where people gather.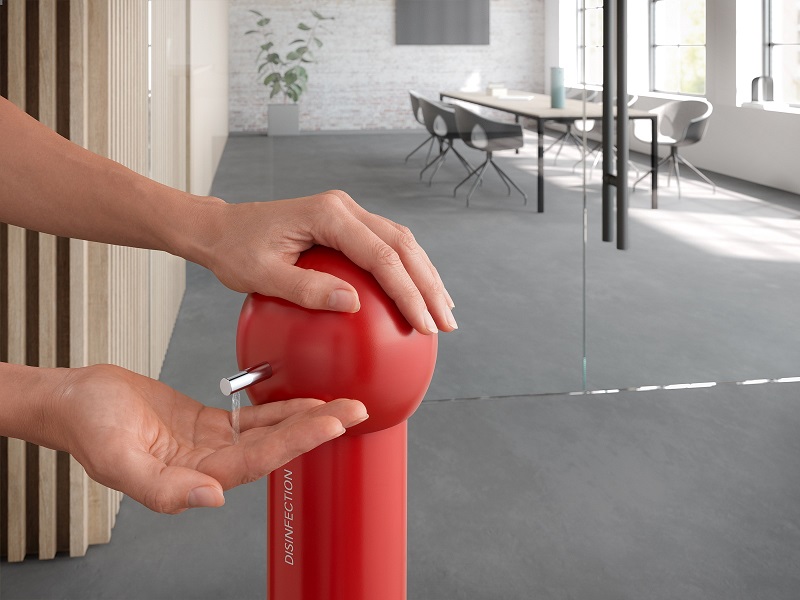 The dispenser's extraordinary appearance is a combination of high-quality workmanship and the best materials all combined within a strong, eye-catching design. They are easy to operate: just press the big, buzzer to dispense the sanitiser. The storage container is discreetly hidden inside the column and can be easily refilled with a liquid or gel sanitiser of your choice.
Variety in design
KEUCO sanitiser dispensers offer a wide variety of different colours and colour-combinations including plain coloured, multi-coloured, black and white or elegant metallics and for multi-site requirements, they can even create bespoke options with your own brand identity. From subtle to catwalk – this collection provides the perfect solution for every room, whether in a public building, office, boutique or hotel.

KEUCO makes a practical design statement in the entrance area
Pictured top: Slim, free-standing and stable; the sanitiser dispenser variant with shiny chrome head provides an elegant finishing touch whilst ensuring ease of use. The chrome top is simple to remove, just pull upwards and the supply bottle is revealed ready to be refilled. The large base plate ensures stability and catches stray drops of sanitiser during use.