The new IXMO shower series by KEUCO has been designed to offer flexible installation thanks to the ability to freely position fittings horizontally or vertically. IXMO's range of functions has been efficiently combined to enable specifiers, designers and consumers alike to create a stylish shower area with the minimum number of visible components.
IXMO Online Planner
One of the key details when designing a showering space is the ability to visualise the area and how all the elements will work together. With IXMO it is possible to combine up to three separate water outlets; so for example the main showerhead, a hand shower with shower rail or wall bracket, waterfall shower and a spa hose can all be combined.
This can be easily demonstrated via the brilliant IXMO online planner, a system that enables designers and consumers to create a personalised showering solution. The results can be saved in pdf format providing both a detailed specification with illustrations and an installation guide showing component placement and pipework routings.
IXMO Verstile Fittings
Round or square fittings are offered and each provides a unique combination of functions. For example, a 3-way diverter valve, a hose connection and a bracket for the hand shower, have been combined into one.
The adaptable fittings may also be freely positioned to deliver design flexibility. The versatile mounting rail enables an easy and precise alignment of the components; whether you want to position the valves horizontally or vertically, they will always align with the help of the mounting rail. The IXMO thermostat fitting is also designed to account for any installation option, for example, if the waterways have been crossed during installation the cartridges can simply be switched over inside the valve instead of the costly ordeal of accessing the pipework.
IXMO depth-conpensator
Another intelligent feature of IXMO is the depth-compensator which ensures fast and safe installation. The depth compensator makes it possible to install IXMO showers into walls with depths between 80-110mm allowing for building methods both new and old.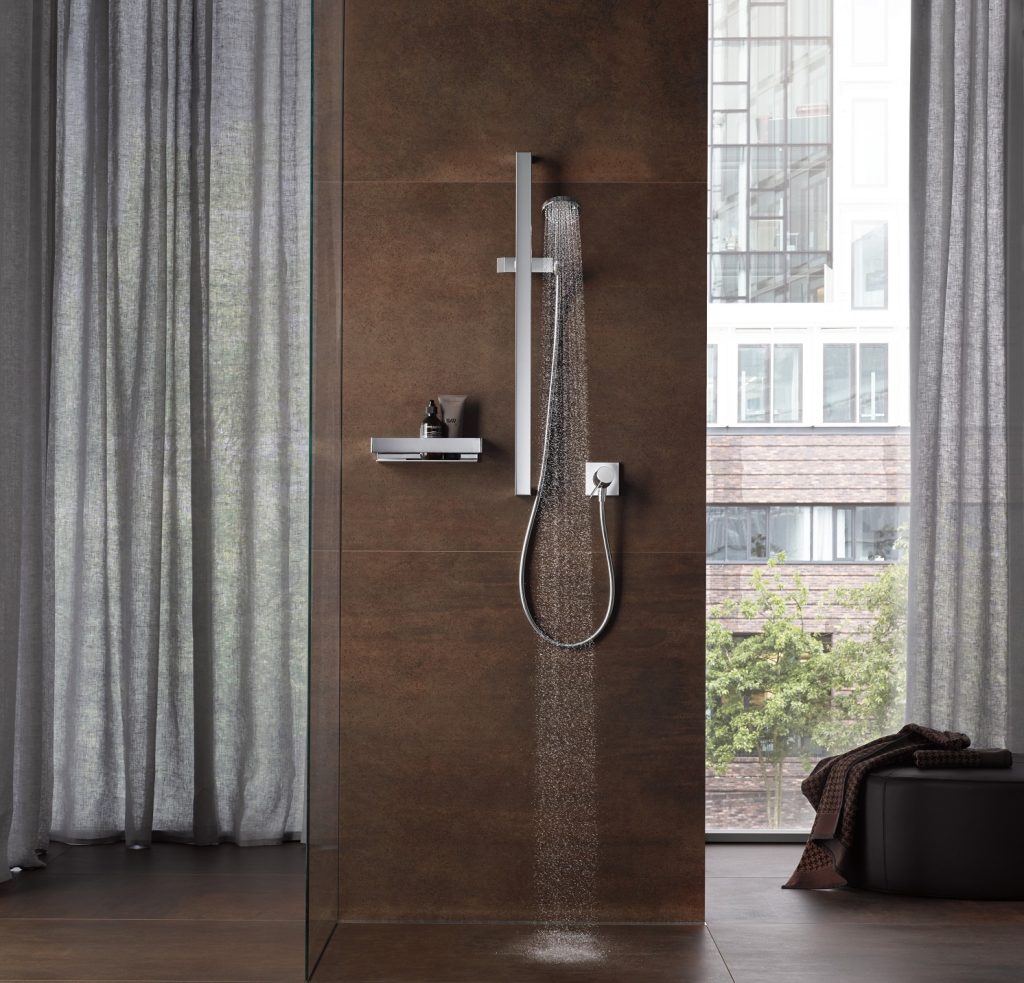 The star of the IXMO series is the IXMO solo thermostat (pictured here). Created for single-function showering it easily surpasses conventional thermostat solutions as they require two wall-mounted elements to adjust the water flow and temperature and a third element for the hose connection. However, the IXMO solo thermostat compresses the shut-off valve, thermostat and hose connection into one single element.
The IXMO_solo Thermostat and IXMO_solo Single-lever mixer created for single-function showering cleverly combines shut off, flow and temperature control and hose outlet into one single fitting allowing for ease of use and speed of installation.
IXMO shower fittings have an elegant minimalistic design, they are available in six different finishes including; chrome-plated, aluminium and PVD stainless steel, brushed bronze, brushed nickel and brushed black chrome.
IXMO shower accessories also provide innovation; an integrated yet movable soap dish; a height-adjustable shower rail with an easily adjustable bracket that can be turned by 180° so it is ideal for both right and left-handed persons and can be moved with just a single hand.
More news from KEUCO
Visit the website: KEUCO