The upgraded Eurosmart range from Grohe promises optimal comfort, contemporary design, and easy installation. New features include a redesigned Loop Lever improving grip for those with mobility needs, models with extra-long levers to allow 'elbow taps' for health sector workers, and safe stop technology for residential settings.
"Eurosmart evolves with every generation, which is crucial if you want to bring meaningful products to the market. Our environment is constantly transforming, and we need to react to changing needs with new product solutions", says Jonas Brennwald, Leader LIXIL EMENA and Co-CEO, GROHE AG.
"Right now, a global health crisis is forcing the world to rethink hygiene standards. Therefore, we have developed a hybrid version of Eurosmart, which combines hygiene-enhancing touchless and manual operation. Another example are the lever variants, which reflect the complexity of different living situations and the fact that every consumer has different requirements. Long levers simplify the daily work of doctors, while loop levers are perfect for children, the elderly and those with reduced or limited mobility.
"Eurosmart is the perfect proof that innovation is not limited to new lines. Innovating in a relevant way also means reinventing core products. Only these human-centric solutions enable us to create better homes."
Eurosmart Loop Lever
The Eurosmart Loop lever simplifies gripping thanks to the cut-out centre – ideal for those with limited or reduced motor skills and for care homes, allowing everyone to live as independently as possible for as long as possible.
Extra long levers
Models with extra-long levers are are ideal for serving the health sector. Doctors and health professionals are able to operate the tap with their elbow, minimising contact with surfaces. The different lever variants directly relate to people's lifestyles and needs and are a perfect reflection of GROHE's human-centric design approach.
Anti-scald safe stop
To make things even more convenient, especially for households with children and older generations, the Eurosmart line is now also equipped with a new safe stop technology. Thanks to an integrated thermostat, the temperature can be limited to help reduce the risk of scalding.
Water & energy saving
Water and energy-saving technologies integrated in the Eurosmart range support growing efforts to achieve a more sustainable lifestyle. GROHE EcoJoy, for example, reduces water flow while enriching the water with air, ensuring a voluminous flow while saving valuable resources at the same time .
The Eurosmart range has also been updated for the kitchen with a refreshed contemporary look; from models with pull-out hoses to unique wall-mounted taps for the ultimate space-saving around the sink area.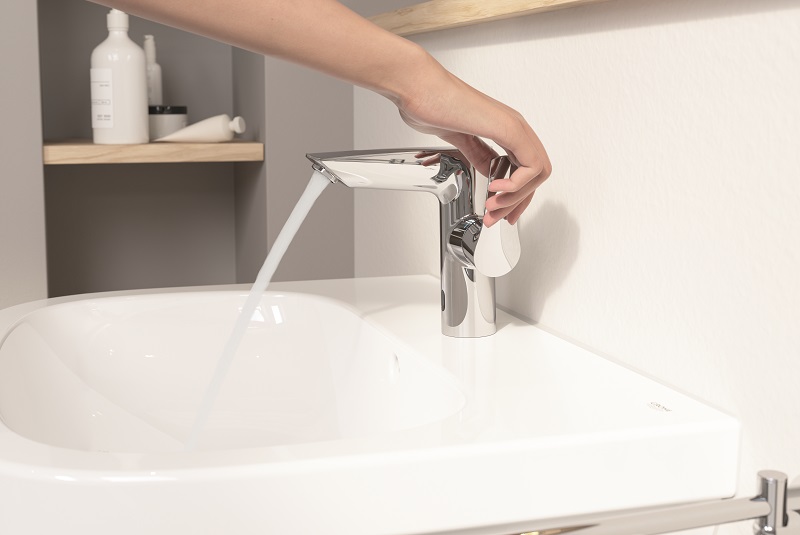 More news from Grohe.