Drummonds' bathroom ware has been selected for golf legend Greg Norman's 8-acre private estate in Florida. Bordered by water on both sides, stretching all the way from the Intracoastal Waterway to the beaches of the Atlantic Ocean the estate consists of seven buildings, including the main house.
Designed by Greg's wife, designer Kirsten Norman, the rooms take their inspiration from luxury yacht interiors. The couple love to travel and wanted to incorporate the memories of their favourite trips into the design of their home.
The bathrooms were to have a particularly elegant feel, reminiscent of tropical boutique hotels. However, having lived in London for several years, they also wanted to blend this tropical style with a classic, English aesthetic. Drummonds' bathroomware was the perfect choice, offering distinctive statement pieces that fitted in perfectly with the luxury
interiors brief.
Drummonds' freestanding Mersey shower takes centre stage in Greg's bathroom. Not only does it enhance the moody masculine feel of the space, but it also offers spectacular views of the grounds and sea.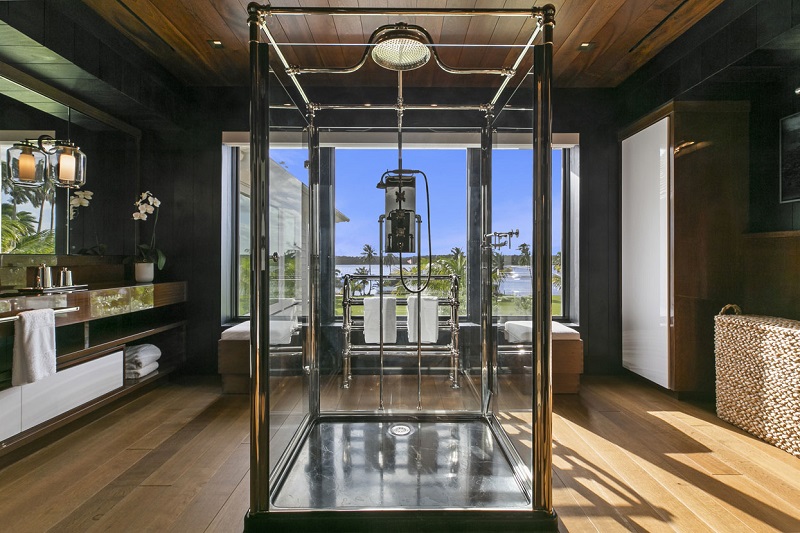 In contrast, Kirsten's bathroom was to have a softer, lighter look, with a freestanding white bath forming the focal point and polished nickel fittings from Drummonds providing beautiful accent pieces. Overall, it's a bright airy space with a tranquil feel .
As well as the main bathrooms, Drummonds' classic bathroomware can also be found throughout the property; the impressive Tyne bath with a nickel interior and painted black exterior adds a touch of drama to the guest bathroom whilst nickel fittings and decorative accessories can be found in numerous other bathrooms and cloakrooms. On choosing Drummonds' products, Kirsten says:
"I wanted something that you don't see too often and Drummonds have a design aesthetic that is very distinctive and unique. I was extremely impressed with the quality and service provided."
Inspired by period pieces and made using traditional manufacturing techniques, Drummonds epitomises classic English bathroom style, creating luxurious pieces that are built to last.