The new BetteFlat is a shower area made of glazed titanium steel, especially for bathrooms that need to provide barrier-free access, conforming to the standard, DIN 18040-2.
It can be installed flush to floor, and 50 percent of its surface can be used to provide space for access to other bathroom items, such as the basin, so it can be particularly useful in bathrooms with small floor plans. In addition, it protects the user with slip resistance to rating group B, is easy to maintain, robust and comes equipped with a sound insulation set. BetteFlat is ideally suited for use in commercial and private residential projects.
In order for the shower area to be considered as accessible according to the DIN 18040-2 standard, it must be at least 120 x 120 cm in size and be of the same floor level. In addition, stability and slip resistance to evaluation group B and a high-contrast design are required. All requirements of the barrier-free standard are met by the new BetteFlat shower area in full, tested and confirmed by DIN CERTCO.
Makes small bathrooms accessible
The BetteFlat can be installed in bathrooms in which the user's movement areas for the shower, washbasin and WC are overlapping. With a gradient of less than two percent, half of its total area can be counted as a movement area. This allows a bathroom of high aesthetic quality to be realised, even with a compact floor plan of only four square metres.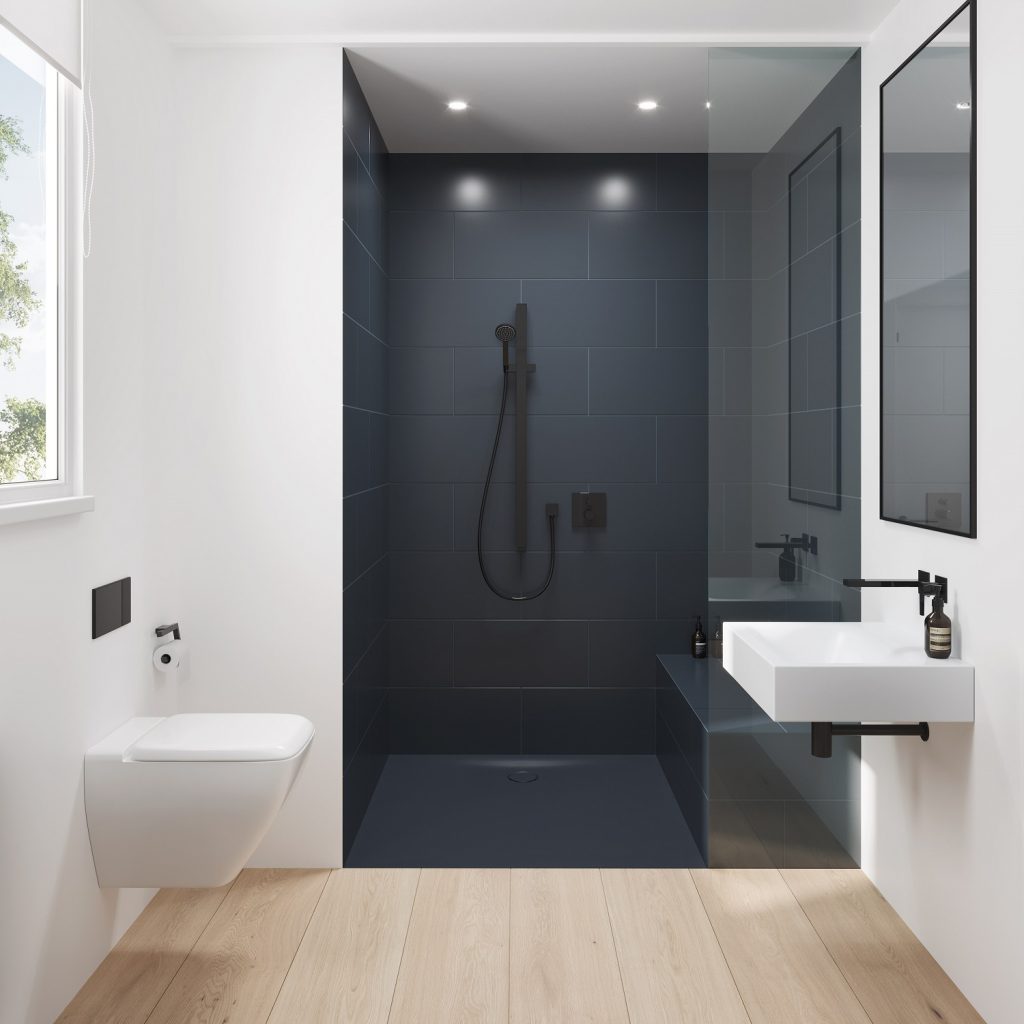 Safety for all generations
Due to the frequency and severity of falls in the bathroom, DIN 18040-2 requires slip-resistant floor coverings with slip class B (GUV-I 8527 "Floor coverings for wet-loaded barefoot areas", rating group B) in the shower area. With its proven Anti-slip Pro surface, the BetteFlat offers standard-compliant safety for people with movement restrictions, but also for families with young children or those future-proofing their bathroom – in fact for anyone who wants to enjoy a carefree shower.
A welcome side effect of the integrated slip resistance is that aids, such as anti-slip mats or pads, which with their uneven and difficult to clean surfaces offer the ideal breeding ground for dirt and germs, become superfluous. On the hygienic and non-porous surface of the glazed titanium steel BetteFlat, dirt and bacteria find it difficult to adhere.
Colours also mean safety
The BetteFlat is available in white, in exclusive matt colours and in Pergamon, Manhattan, Bahamas, Edelweiss, Jasmine and matt black. As a result, the shower area can be used in any bathroom interior design and, as required by the Standard, the BetteFlat can form a visual contrast to the surrounding bathroom floor. For people with reduced vision, this means that they can orient themselves more safely, even in poor light conditions.
The anti-slip surface does not diminish the elegant look of the glazed titanium steel. However, the difference between the shower area and the surrounding floor, usually tiles, is also noticeable under-foot, so that two senses signal entering the shower area.
Ease of care and sound insulation included
In addition, the BetteFlat offers a high level of hygiene, ease of care and durability. The glazed titanium steel is impact-resistant, scratch-resistant, chemical-resistant and UV-resistant – Bette provides a 30-year guarantee on the material. With the BetteInstallation System Universal, the shower area is also sealed according to DIN 18534 and can be inspected at any time, because the shower area can be easily removed.
At the factory, the shower area is also equipped with a basic sound insulation set. If a higher level of sound insulation, in accordance with DIN 4109, is required, the set can be extended with further sound insulation measures.
For further information see my-bette.com/en or telephone 0844 800 0547.