German glazed titanium-steel bathroom products manufacturer, Bette showcased its latest product developments at HIX last week.
BetteAnti-Slip Sense
Bette showcased its new anti-slip surface, which is a new type of surface treatment for maximum slip resistance (in accordance with evaluation group C of DIN 51097) on Bette's glazed titanium-steel shower trays and bath.
According to Bette, it is the only glossy, smooth and easy to clean anti-slip surface to provide the highest level of slip protection on shower trays and on baths, whilst maintaining a glossy finish.
It is almost invisible, and the anti-slip effect occurs when the pressure of the bodyweight and water come together. To achieve the slip-resistance, Bette treats the surface with a suspension containing the finest micrometre-sized ceramic particles, which form a permanent bond with the BetteGlaze surface. They are almost invisible to the eye, and the surface does not become rough as a result. The shower trays and baths retain their glossy looks, smoothness and continue to be easy to clean, as dirt and germs find it hard to adhere to the surface, which has a 30-year warranty.
While the primary role of the new Anti-Slip Sense surface is to increase the slip protection on shower trays and baths, it can also help to make a bath more comfortable. Applied to the entire interior of the bath, it can help the bather to maintain a comfortable position and avoid accidentally slipping down in larger baths.
The new BetteAnti-Slip Sense can be used to provide the highest level of slip protection on Bette's gloss white glazed titanium-steel shower trays and baths. For shower trays in matt colours, Bette offers its almost invisible BetteAnti-Slip Pro.
The BetteAir: the first glazed titanium-steel shower tile
Bette also showcased BetteAir which it says is the world's first glazed titanium-steel shower tile.
BetteAir integrates so perfectly it is hardly noticeable and, at only 10mm high, it can be glued directly to the screed like a conventional tile. The BetteAir can be installed with a minimum installation height of only 97 millimetres. Durable and easy to clean, it has all the advantages of a tile without any of the disadvantages.
BetteAir is supplied as standard with basic sound insulation for quiet showering and can also be equipped with an anti-slip surface: BetteAnti-Slip Pro, or the new BetteAnti-Slip Sense for gloss white, which offers the highest level of slip protection.
The new BetteAir shower tile is available in eight sizes from 900 x 900 to 1400 x 1000 mm and in a choice of 31 colours.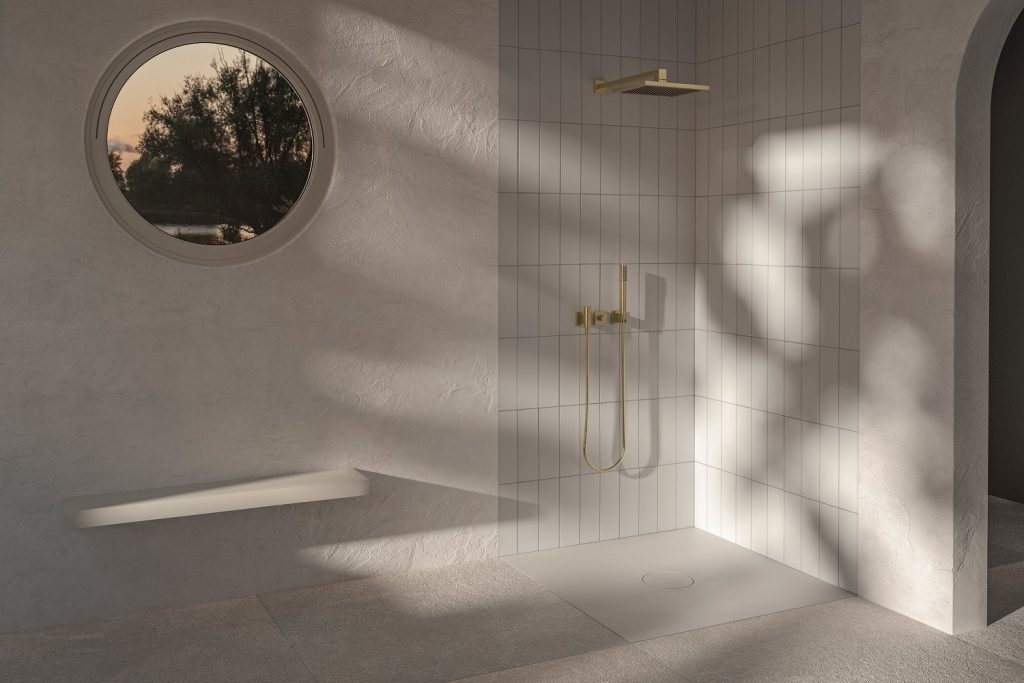 BetteEve: ellipse-shaped baths
Bette has also launched an ellipse-shaped range of baths and showed the freestanding version at HIX.
With the new BetteEve bath collection, the organic, ellipse shape makes its way into the bathroom. Inspired by nature, Bette has made the transition between the edge and the inner body of the bath silky and smooth. Made from durable glazed titanium-steel, it is as if the gentle force of water has smoothed the material over millions of years. Bette was able to achieve the fine curves and jointless transitions in the extremely hard material because of its expertise in the forming and enamelling of steel. The BetteEve is a natural and comfortable bath, which is also comfortable for two to bathe together because the ellipse has two focal points. The BetteEve baths are a generous 180 x 100 cm, with symmetrical back rests on both sides and a central waste outlet.
BetteEve is available in three versions: an oval built-in bath, a built-in bath with a rectangular surround and a freestanding version, the BetteEve Oval Silhouette, which is on display at HIX. All are available in over 400 colours.
Bette is also displaying a selection of its washbasins, which are also made from glazed titanium-steel and are available in over 400 colours.
All Bette shower trays, baths and washbasins come with a 30 year warranty. Made from natural products, they are 100% recyclable.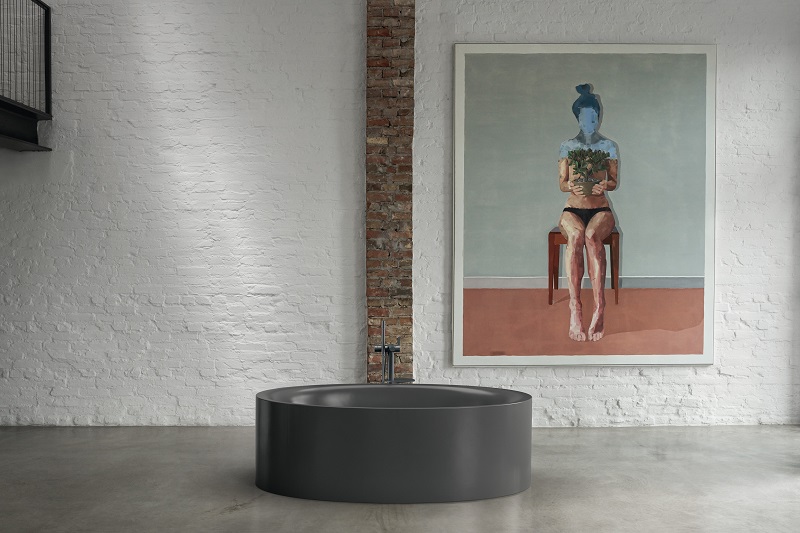 For further information on Bette: www.my-bette.com/en or telephone 0844 800 0547.