Acquabella has launched three new products for 2021. Delivering the perfect mix of tradition, innovation and design, the new products promise a sanctuary of wellbeing.
Arabba Texture (pictured top) is Acquabella's new textile-finish textured shower tray, with this tray Acquabella pay homage to traditional craftsmanship.
Tradition and design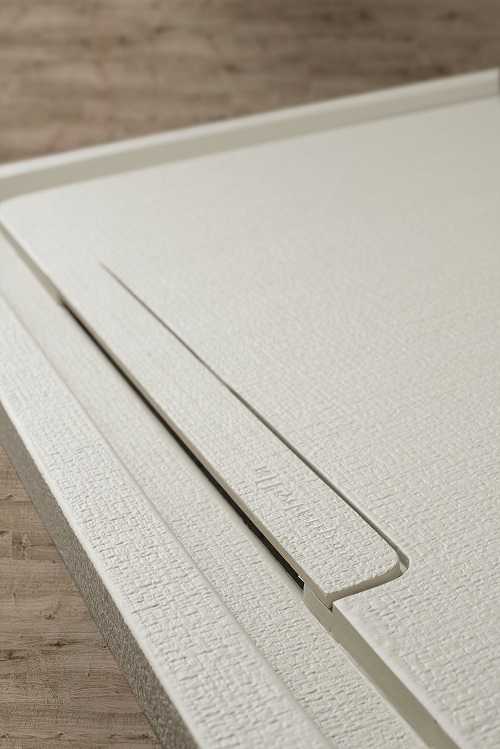 Arabba is a new high definition texture that simulates the look and feel of a handcrafted fabric made with natural fibres that blend with the stone finish.
The Arabba texture perfectly embodies the bespoke irregularities we might see in a work of true craftsmanship. The tactile, non-conformist finish has a 'textile-look' texture that is perfectly suited to the Tempo design.
Unlike other shower trays, the Tempo Arabba encourages water to flow to the sides of the tray, gently running around its perimeter until it reaches a delicate and subtle grate that receives the flow with great elegance.
The Arabba texture complements other Acquabella products, such as panels and countertops, helping designers by delivering a complete collection that is both traditional and sophisticated.
Tomorrow's innovation
Aquabella has also launched the Flow Zero high-flow shower tray and the Mini countertop, both designed to deliver minimalist and contemporary styling,
The Flow Zero shower tray is silhouetted by soft lines that direct the water towards an almost invisible grate under which the water slides, creating a minimalist flow that immerses users in a universe of calm and relaxation. Flow Zero lives up to its name, as its subtle grate easily collects the large amount of water flowing over its surface.
The Flow Zero shower tray was created with a countertop that represents the pinnacle of practicality. Acquabella's new Mini bathroom countertop is compact yet features a deep, wide soft-touch basin. The exterior is coated with the Slate texture, an elegant finish that faithfully reproduces the appearance of slate, while a modern and subtle towel rail completes the design of the Mini countertop, making it the ideal addition to any bathroom.
Aquabella has been internationally recognised in a variety of design awards.