The COVID-19 pandemic has led to an increasing need for hygienic washroom and bathroom solutions. Inclusively designed products with built-in antibacterial properties and touch-free design are now part of the essential war-chest for public and commercial spaces.
A single cough can produce up to 3,000 droplets which can remain on metal, glass or plastic surfaces for up to nine days. A study by Imperial College London showed that viral DNA left on a hospital bed rail in an isolation room had spread within ten hours to 18 other surfaces.
For hospitals, washrooms, hospitality venues and the home, we can expect to see a combination of touch-free solutions and antibacterial coated products become commonplace. Even with the vaccine in place, we will still need to control the spread with an inventory of defensive measures to combat the virus and its mutations.
Reducing touch-points
David Bromell, Head of Marketing, Roca agrees "There is a growing demand for zero contact bathroom solutions which have become a more pressing consumer priority as a result of the pandemic. Roca has introduced a new range of innovative touchless products to deliver the ultimate in hygiene."
From basin mixers that activate automatically when they detect a user, to electronic flush plates with movement sensors, and mirrors with lights that are switched on with a simple gesture – Roca offers a range of touchless solutions which provide an extra layer of hygiene and safety within the bathroom. Infrared sensors allow users to activate the water flow in taps, flush the WC or control the mirror light without the need for contact, avoiding the spread of viruses and growth of bacteria."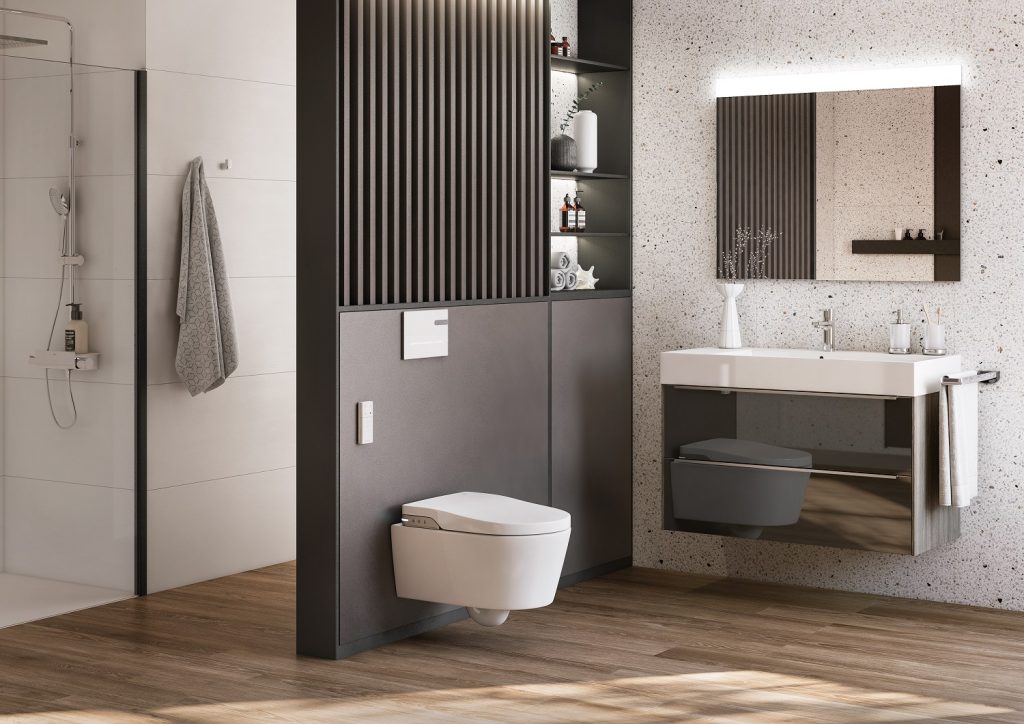 Sensor technology
HiB's in house product team has also focussed on incorporating sensor technology into the design of mirrors, cabinets, furniture and accessories in order to revolutionise the way we interact with our bathrooms.
Wave sensors and sensor activation assist in reducing the spread of potential viruses and bacteria from shared surfaces. The new Dusk cabinet from HiB features a touchless wave sensor to activate the cabinet's top light.
Viral-guards & bacteria elimination
Hand in hand with touch-free solutions, eliminating the growth of bacteria on surfaces is also an essential part of the armoury for Covid-safe design. especially when you consider people touch their faces at least 23 times an hour.
VitrA's ranges are designed to guard against virus and bacteria build-up and incorporate special finishes on ceramic ware and tiles. These built-in antibacterial properties – such as VitrA Shield – help maintain hygiene levels for all environments, whether domestic or commercial.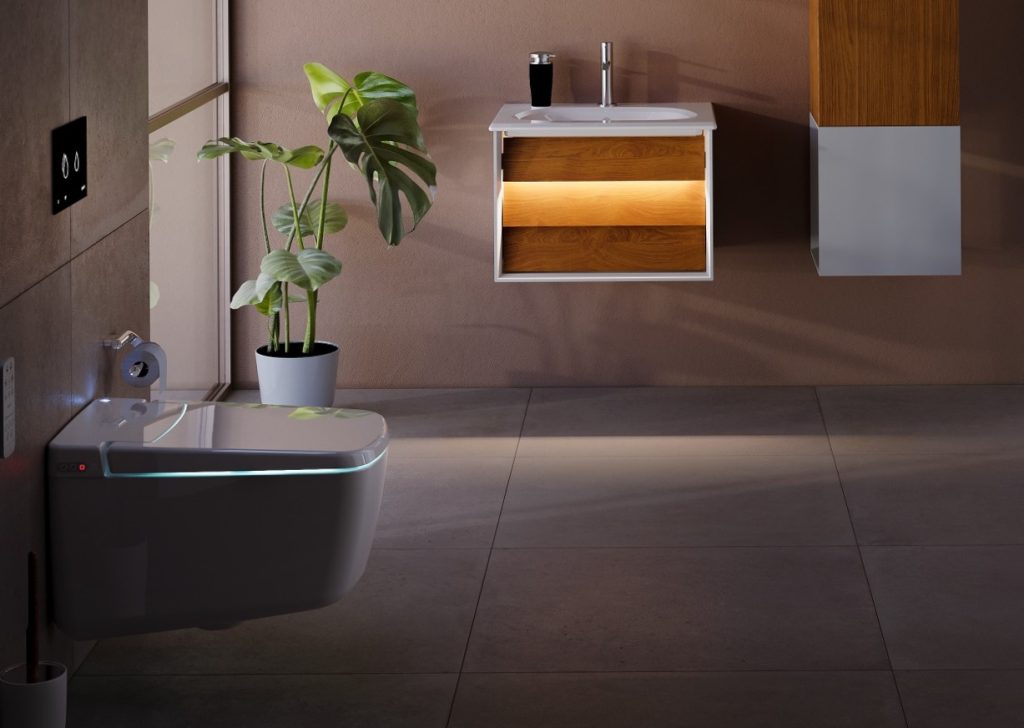 Hygiene stations
A number of easy-to-access hand-sanitisers – especially touch-free versions – not only help create a safer environment, they also give the customer peace of mind.
Stephen Maley, HEWI's UK Sales Director comments "Hygiene is becoming increasingly important in people's minds. The effects of the Covid-19 pandemic has influenced many aspects of our daily lives. Companies, hotels, and all institutions with highly frequented entrance areas are faced with the challenge of raising hygiene standards as soon as customers, guests, patients and visitors enter their facility. "
HEWI (also pictured top) offer a selection of contemporary solutions for all areas.
A material world
Flush-to-floor shower trays leave no place for germs to hide, in addition, Bette uses glazed titanium-steel for all its baths, shower floors and basins. The BetteFloor flush-to-floor shower areas come in a large range of sizes and colours and offer ease of use and durability.
As Bette tell us "The material chosen plays a huge part in determining how quickly and effectively debris from tooth-brushing and washing in basins, and from washing in baths and showers, can be removed. Materials that can become scratched can harbour dirt and bacteria, as can tiled shower areas, so there is likely to be more demand for scratch-proof, non-porous and easy to clean materials, such as glazed titanium-steel."
Whatever the project, a future-proof, holistic approach for germ-elimination – whether designing for healthcare, hospitality or residential – will be key as we continue to fight the war on germs.
If you know of other products in this arena that the Bathroom Review community should know about, then contact the editorial team, we'd love to hear from you.