Roca has introduced a new range of innovative touchless products to deliver hygiene solutions.
Specifiers can select from basin mixers that activate automatically when they detect a user to electronic flush plates with movement sensors and mirrors with lights that are switched on with a simple gesture.
Offering an extra layer of hygiene and safety within the bathroom, infrared sensors allow users to activate the water flow in taps, flush the WC or control the mirror light without the need for contact, avoiding the spread of viruses and growth of bacteria.
Touchless dual flush valve
Promising zero contact and maximum hygiene, the touchless dual flush valve reduces the need to touch flush buttons. With a minimalistic design, the EM1 valve can be simply retrofitted to upgrade an existing push button to an automatic toilet flush button, making it quick and easy to install with minimal effort. There is no electric connection needed and it is powered by 4 AA batteries (not included) that guarantee more than 40,000 flushes. It is also easy to use – with just a simple wave of the hand, the EM1 recognises the required flush (full or half flush volumes) and with the sleek sensor push button, you can flush your WC in an easy and hygienic way.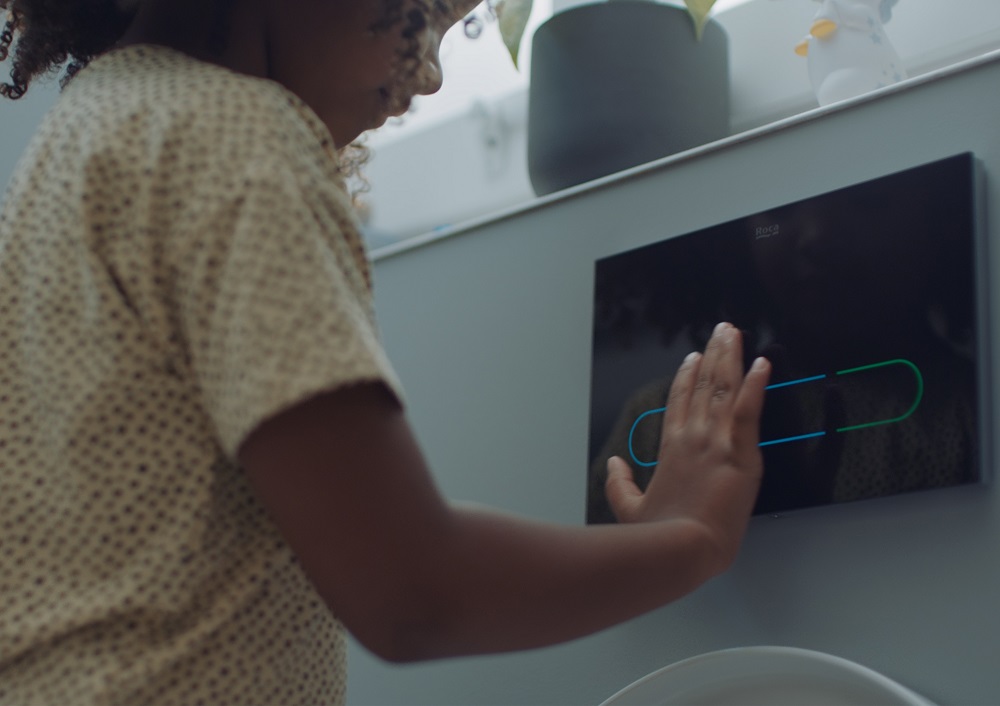 Electronic basin mixers
Roca's range of electronic basin mixers, including the Loft-E range, feature an infrared sensor that activates the water flow when presence is detected and shuts off automatically when presence is no longer detected, avoiding direct hand contact. The lack of contact with the tap improves hygiene and prevents the build-up of droplets and fingerprints on its surface, resulting in a cleaner product for longer.
Roca's electronic basin mixers offer a highly hygienic and effective solution to fight the spread of viruses and bacteria and to reduce the use of water in the home. Easy to install, the electronic mixers are available in a battery or mains operated system which means they can be installed in any bathroom, regardless of the availability of a power outlet in the area of usage.
Touchless mirrors with LED lights
Mirrors with integrated touchless technology, such as the Prisma Comfort model, allow users to activate functions such as the ambient light or the demister device through movement, which means less direct contact from hands, allowing the glass to remain clean and clear.
Electronic operating plates for toilets
Roca's EP-1 and EP-2 electronic operating plates make it possible to activate the toilet flush without touching it. With a stylish, contemporary design and very easy installation, they are automatically activated when moving a hand in front of them, ensuring maximum hygiene and avoiding any contact.
The backlit surface is divided into two stripes which are alternatively activated depending on the type of flush (partial or full. They can be set off by simply bringing the hand closer or by choosing the automatic option in which the toilet is instantly cleaned when the user approaches, or when a specific time has passed after its use.
Roca's Touchless solutions are suitable for both domestic and commercial use, providing an extra layer of safety within every type of bathroom.
More news from Roca