The new Dusk cabinet from HiB features a touchless wave sensor to activate the cabinet's top light, which offers effective illumination across the face. The cabinet's integrated LED lighting features colour changing technology, allowing the user to change the light from cool white to a warm glow, making it suitable for a range of users.
Hygiene has always been a focus for the bathroom, after all, it's one of the main purposes of the space. Now perhaps more than ever, people are aware of sanitation and the importance of hygiene in our everyday lives. Naturally, this has led to a surge in demand for products that not only improve hygiene and reduce the risk of virus or bacteria transmission but is also easy for all members of the family to use.
Dusk is part of a development initiative from HiB's in-house product design team, they have been working hard to incorporate new innovations into the design of mirrors, cabinets, furniture and accessories, in order to revolutionise the way we interact with our bathrooms. HiB continually refines the use of hygiene technology to benefit families who want safe and practical bathrooms that also look and feel great.
One of the biggest developments over the past few years has been the inclusion of touch-free features across product ranges, such as using wave sensors and sensor activation to help users to avoid picking up potential viruses and bacteria from shared surfaces.
As well as providing a solution to hygiene by reducing touch points, inside Dusk's striking black glass side panels with low level ambient backlighting, there are a number of convenient features to enhance the users' experience. Personal devices, toothbrushes and shavers can be charged with ease using the cabinet's integrated 2 pin socket and USB point. A 'keep clean' mat is also included to help maintain hygiene and ensure that the cabinet stays neat and tidy. The silicone mat has been designed to be removable so that it is easy to clean and can be placed at a position within the cabinet which suits the user. Ample storage is available for all members of the family thanks to the adjustable glass shelving, with the central divide(s) on Dusk 60 and 80 offering even more useable space for everyday items.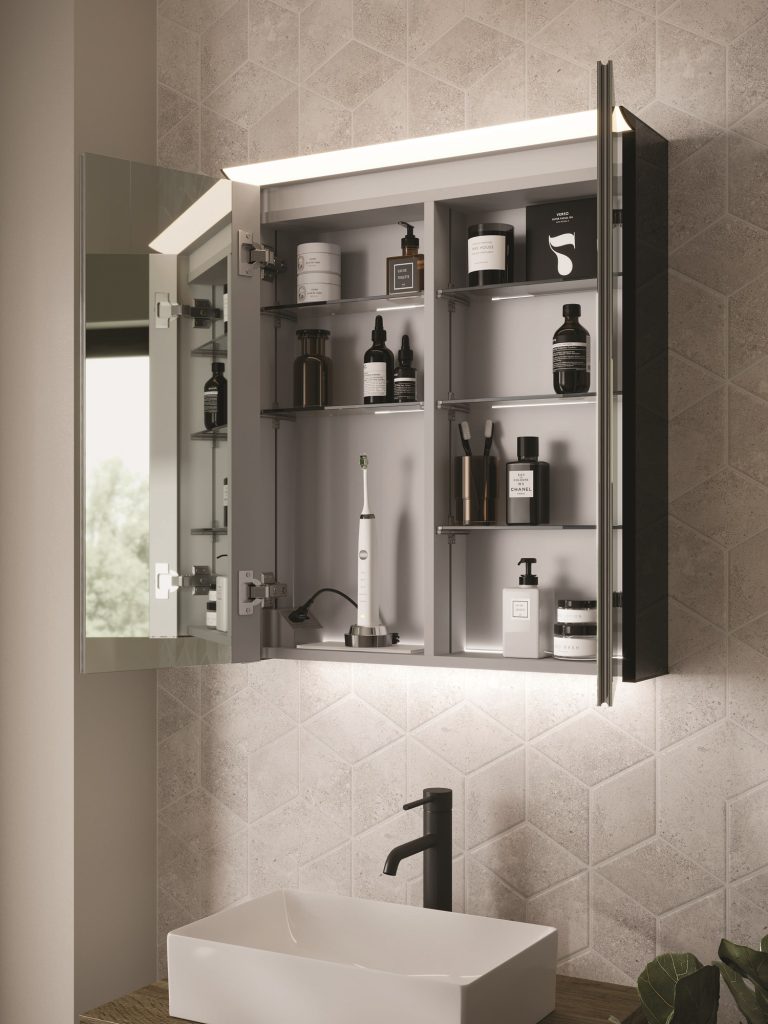 Available in 50cm, 60cm and 80cm widths, Dusk is a sophisticated and stylish cabinet choice for bathrooms of all sizes. For more information about the Dusk cabinet or to see the full range, visit www.hib.co.uk
More news from HiB