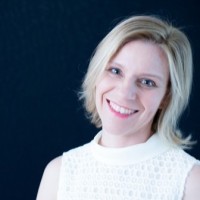 Features by Diane Larner founder and editor of Bathroom Review & Kitchens Review.
Diane Larner launched both titles over 12 years ago and has been writing about the bathroom and kitchen interior design industry ever since, publishing regular features across the two sectors.
---
Maximising space whilst creating luxurious bathrooms, ensuites, and cloakrooms has become ever more crucial for house-builders and developers wishing to stay competitive in the current property market. With a growing number of manufacturers offering a range of space-saving alternatives, from compact baths to combo furniture solutions, the selection choice has never been so good. BR explores the latest innovations on offer.
Cleverly compact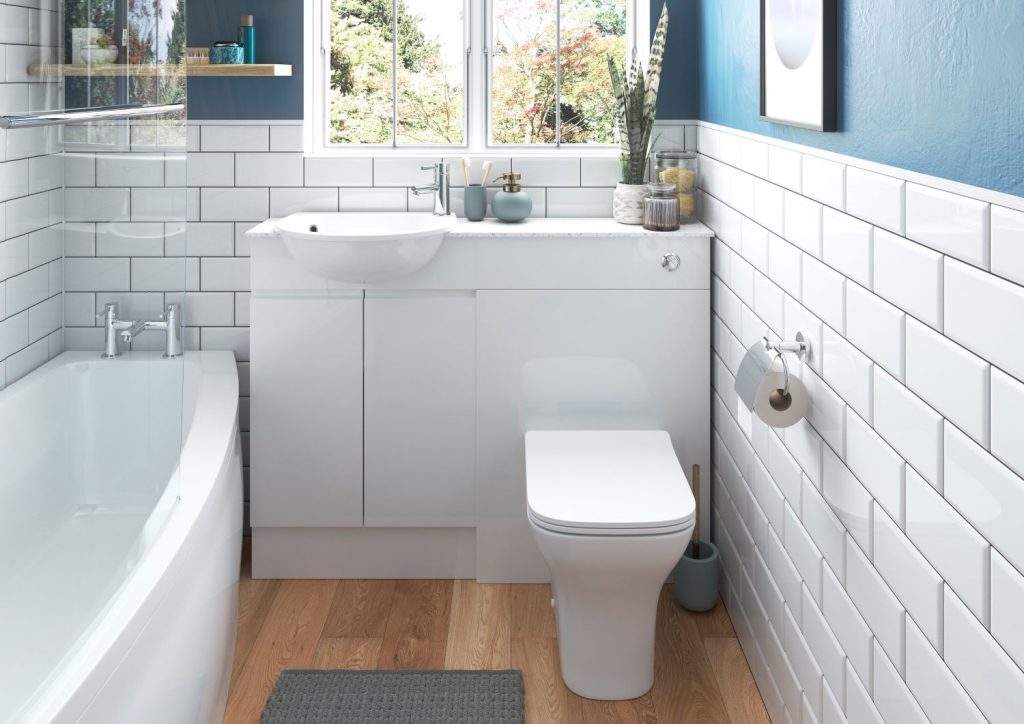 Today's space-saving designs cater for those seeking a complete bathroom experience, including a shower, bath, WC, and storage. Hybrid baths balance luxurious soaking with practical showering, making them an excellent addition to family bathrooms, whilst storage combined with a basin & WC offers an efficient and compact option.
Julie Lockwood, product manager, Bathrooms to Love from PJH, agrees, "Cleverly designed products, compact styles, short projection depths and back-to-wall options are perfect for many small bathroom spaces – whether it's under the stairs, within a compact ensuite or in an awkwardly sized space."
Bathroom to Love offers a variety of clever design solutions, from bathroom furniture to ceramics and showering enclosures to baths. Compact bathroom units, such as the Valesso slimline range with a short projection depth of 222mm (pictured above), come in various cabinet types and widths. They are specially designed to fit into small spaces with a minimal footprint whilst providing flexible storage space. These options work well with slim semi-recessed basins and WCs for super organised and efficient use of space.
Small luxuries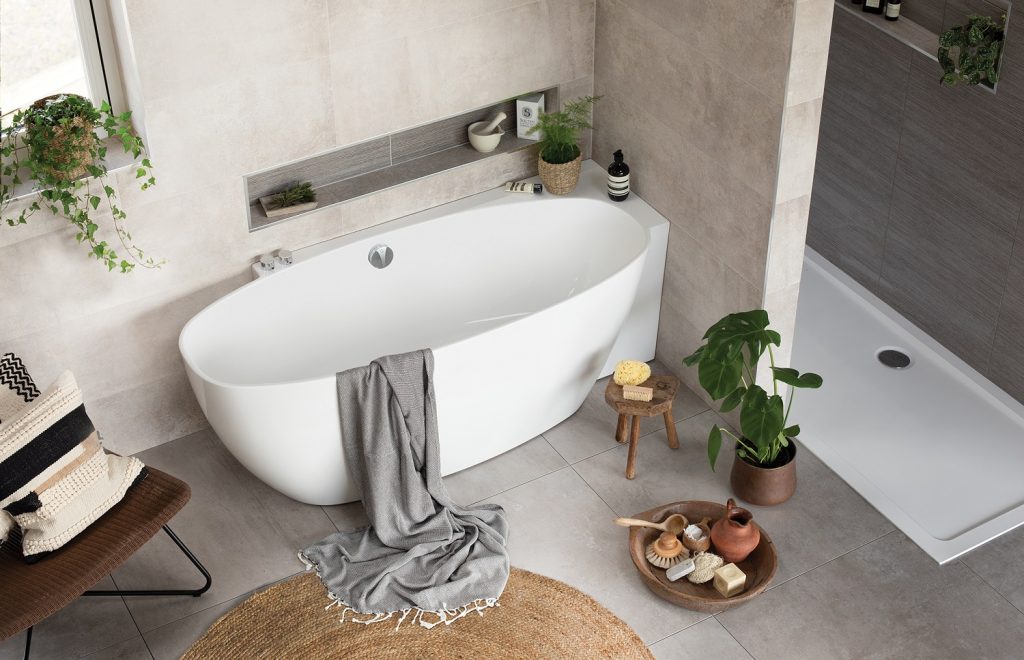 Wellness is one of the biggest interior bathroom trends this year, as consumers seek products promoting well-being and much-needed escapism. Free-standing baths are an industry go-to, but how do you create this luxury style in a small bathroom?
Director of Waters Baths of Ashbourne, Lee Frost explains, "When it comes to a smaller bathroom, try to think outside of the box. Compact shower baths, space-saving back-to-wall baths and smaller freestanding baths can all fuse function and a feeling of sanctuary, mirroring and equalling the quality, comfort, and aesthetic of their standard/oversized counterparts."
Providing the answer to awkward-shaped bathrooms, Waters Baths of Ashbourne's Coast Corner Set Bath (pictured above) cleverly combines the practicality of a corner bath with the modern indulgence of a freestanding bath.
Kaldewei also stocks a variety of freestanding baths for compact spaces and offers the practical necessity of reduced dimensions without compromising the bathing experience. "When creating a bathroom in a smaller space, a bath that has a reduced length is a great option; Kaldewei's Cayono is available in a smaller 150cm length, but its steep sides still ensure a generously dimensioned interior bath." says Adam Teal, head of sales Kaldewei UK.
Kaldewei's Meisterstueck Centro Duo bathtub with central waste in Alpine White (bottom left) also provides compact bathing for two. For visual continuity, specifiers can select Kaldewei's Cayonoplan shower tray (also shown below in Alpine White). The shower tray is available in 22 dimensions, and both are made with 100% recyclable Kaldewei steel enamel.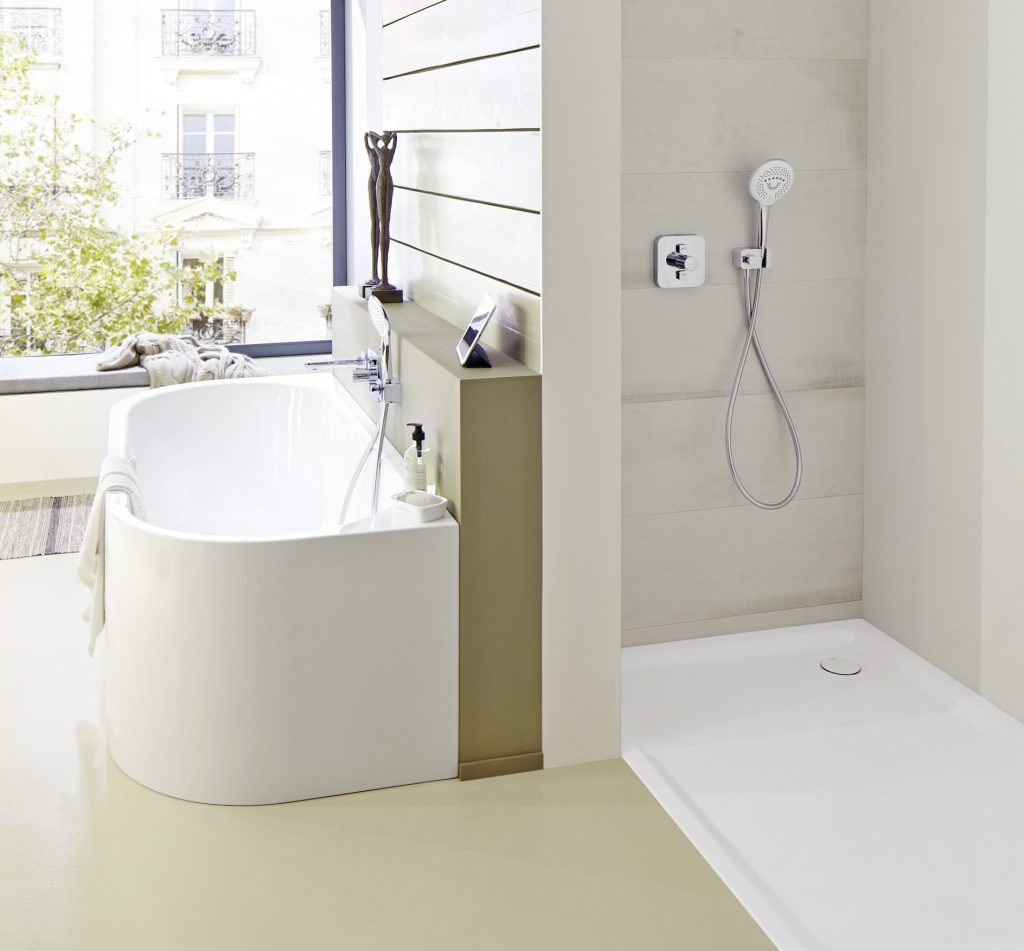 Teal continues, "The OYO DUO freestanding bathtub (pictured above left) is also good in small spaces as the pipework is concealed and the taps are also freestanding. The bath can be placed in almost any location in the bathroom, and the Meisterstueck Centro Duo allows you to create additional space as it fits perfectly against the wall."
Calling for recess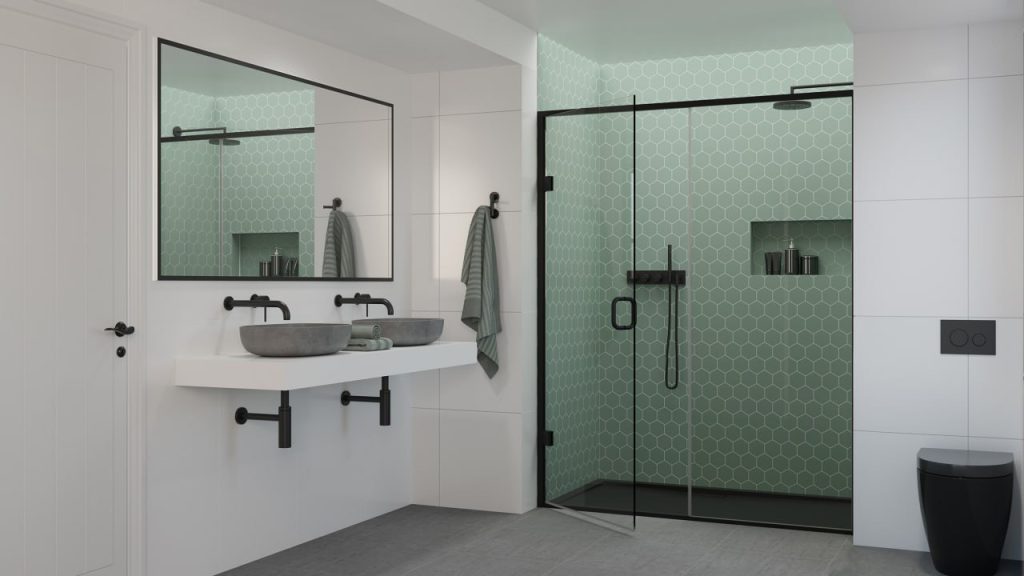 Utilising an alcove, taking space from an adjoining room, or re-purposing cupboard space is an ingenious way to create a walk-in shower without compromising available bathroom space.
TSL agrees, "A recess shower space can look stunning, and whilst it may maximise available space in different size alcoves, it can also deliver a head-turning focal point."
Recess configurations are perfect for bespoke options, and The Shower Lab offers an individualised, customised service to retailers, installers, and architects called M2M. If the client has a sloping ceiling, compact space or over-height ceilings – there are products and services which can work. From customised 10mm toughened safety glass in various colours to special component finishes and custom cuts, M2M delivers.
Short & sweet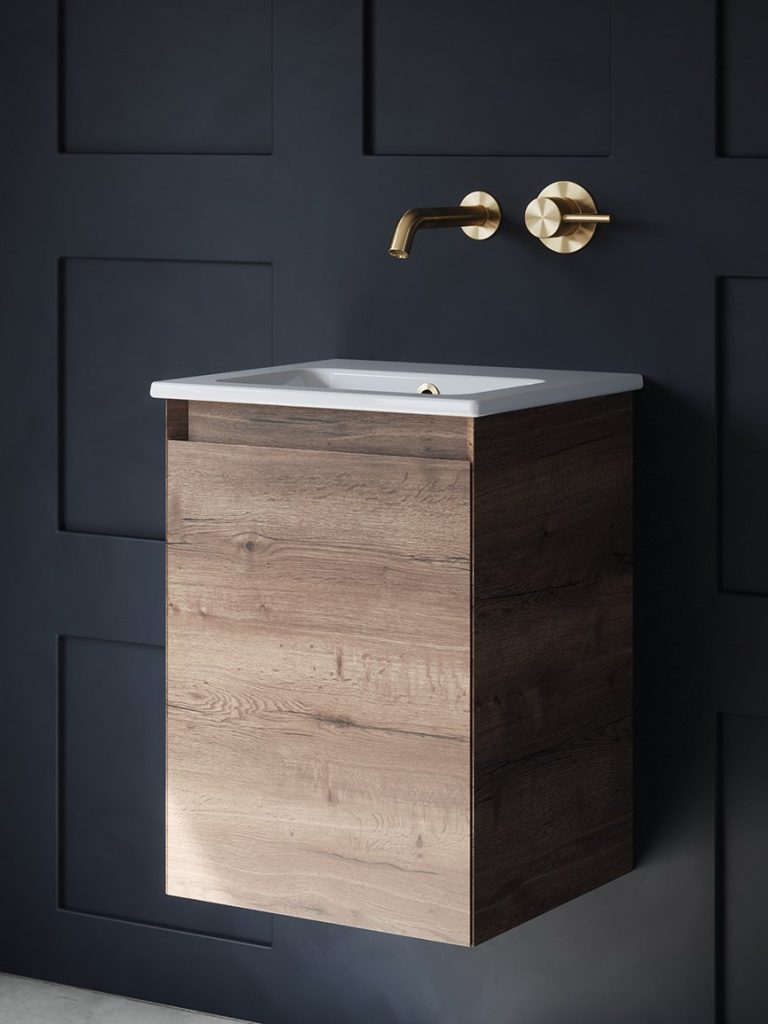 Basin and storage combo units are the perfect solution for small bathrooms and en-suites, offering a range of stylish in-vogue options. Wall-hung units also create the impression of space by keeping the floor area free and clear.
Sarah Collison, Saneux marketing manager, explains, "The trend of bathrooms getting smaller is continuing, and homeowners want products that need to be practical in the space whilst looking good too. It's important to be adaptable and adjust to those changes so that every bathroom, no matter its size, can serve its best purpose."
Saneux's UNI and Monument collections both offer short projection basins. Monument is available in an on-trend fluted design that blends modern and classic styles, whilst UNI features two new short projection basins in 40cm and 50cm sizes. Both UNI basins have a depth of only 36cm, allowing them to fit snugly into cloakrooms or small bathrooms, even when paired with their corresponding vanity units.
We hope you enjoyed this space-saving feature from Bathroom Review. Please look through our feature archive for more helpful information.
If you want to see the latest trends in Kitchen design, please visit our sister site Kitchens Review.