With the size of the average UK bathroom measuring around 4.4m2, the latest designer collection from RAK Ceramics solves the problem of creating luxury results in compact spaces. In fact, RAK-Petit is designed specifically with small bathrooms in mind.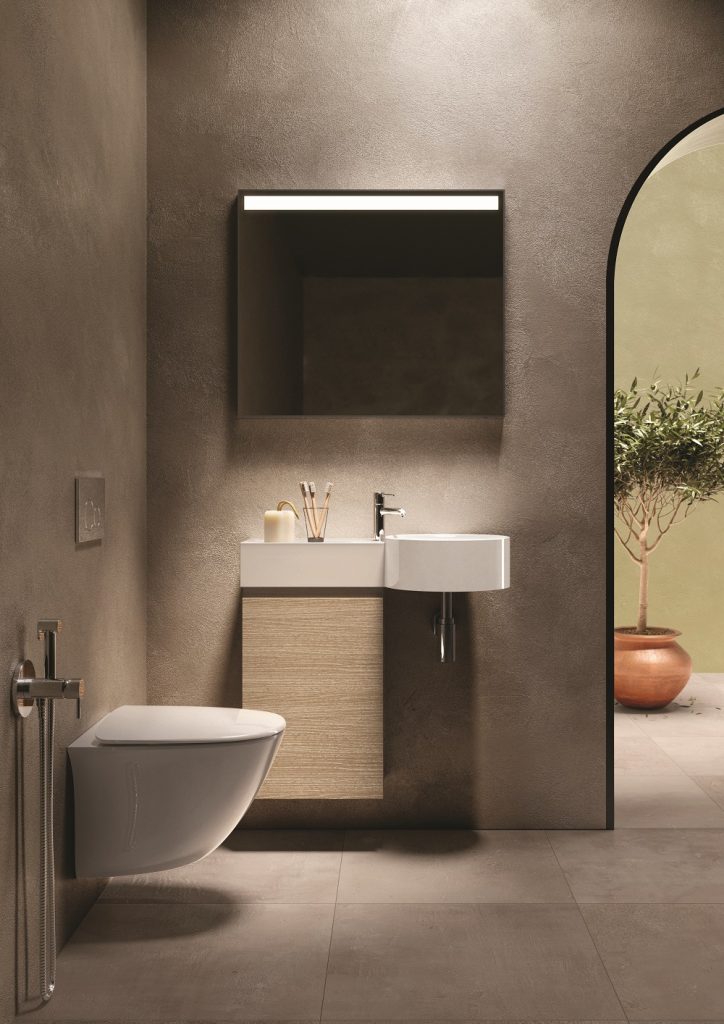 Created in collaboration with award-winning Italian designer Maurizio Scutellà, RAK-Petit is a collection of small washbasins for compact spaces, from cloakrooms and en-suites to small family bathrooms. With minimal shapes and modest dimensions, RAK-Petit washbasins are perfect for small spaces that are also big on style.
The collection includes deep-based washbasins that can be installed alone or combined with RAK-Joy vanity units in the domestic bathrooms, as well as freestanding washbasins that are statement pieces in their own right.
Featuring circular and square shapes, the freestanding ceramic RAK-Petit washbasins in striking Alpine White measure an elegant 360mm wide x 900mm tall. RAK-Petit wall-hung washbasins are equally as stylish, again with round or square basin shapes combined with a ceramic ledge, providing an easy to wipe clean surface for soaps and toothbrushes. Measurements for the wall-hung basins are 765mm x 360mm.
Contact:
RAK Ceramics UK
01730 237850
More news from RAK Ceramics
About RAK Ceramics
RAK Ceramics is one of the largest ceramics brands in the world. Specialising in ceramic and porcelain wall and floor tiles and sanitaryware, plus an extensive range of sinks and taps for the kitchen, the manufacturer produces 110 million square metres of tiles and 5 million pieces of sanitaryware per year. Headquartered in the United Arab Emirates, RAK Ceramics serves clients in more than 150 countries through its network of operational hubs.
At the forefront of design innovation, RAK Ceramics collaborates with some of the world's leading designers to create breath-taking bathroom collections, including RAK-Cloud in partnership with Italian designer Giuseppe Maurizio Scutellà and RAK-Variant, a washbasin concept brought to life by design duo Daniel Debiasi and Federico Sandri.
RAK has also recently introduced colour to its portfolio, RAK-Feeling is a complete collection of shower trays, enclosures and valves, washbasins, brassware, WCs and bidet,
The RAK surfaces collection is just as extensive, with floor, wall and countertop tiles in a wide range of styles and sizes, along with mega slabs for a minimal finish with virtually no grout lines.