2022 is already feeling more optimistic. This sense of promise translates into interior design trends as we experience a gentle uplift courtesy of lighter, Mediterranean tones and softer, smoother materials.
Luxurious interiors that unite functionality and high-end design remain popular. For the bathroom selecting furniture that blends with bedrooms and living areas is key as we lean towards a more cohesive approach to interior design.
Julie Lockwood, Furniture Product Manager, Bathrooms to Love by PJH agrees: "As the bathroom is evolving into more of a 'living space' for relaxing, the role of furniture is becoming increasingly important in helping to create a bespoke space that incorporates the latest interior design trends. Not only can design-led bathroom furniture have great aesthetic appeal, but the range of innovative storage spaces and accessories are essential to keep clutter out of sight and maintain a tidy and efficient 'spa-like' bathroom environment."
In the frame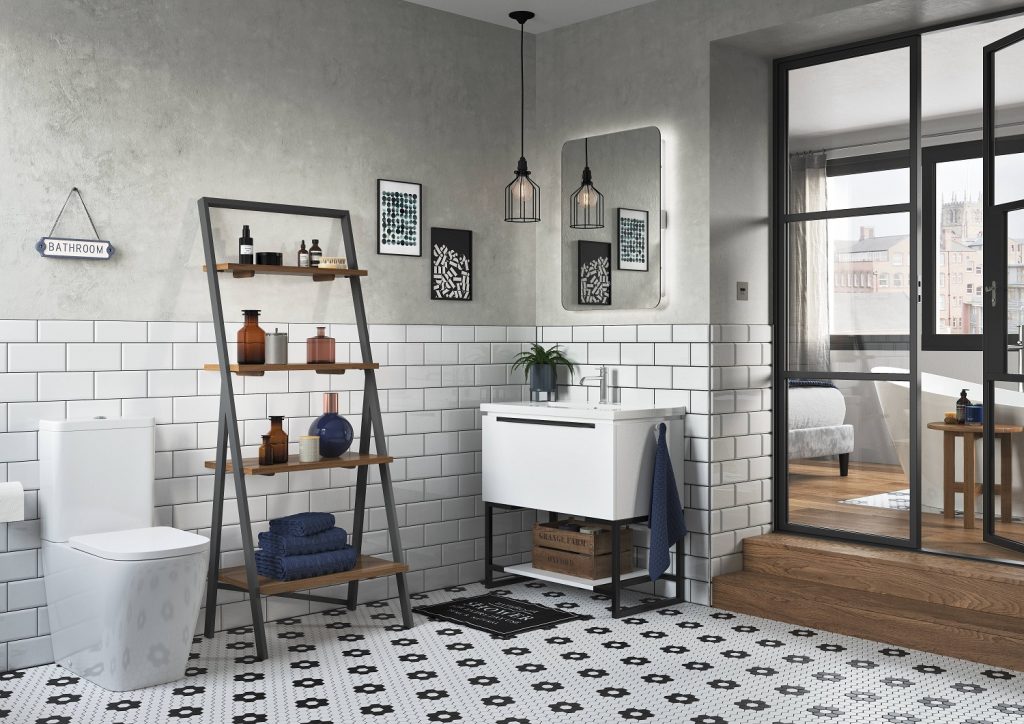 PJH's FRAMEWORK furniture range is a modular furniture design with an individual look. FRAMEWORK takes inspiration from the industrial theme to create a stand-alone statement piece that looks both eye-catching and is highly functional with good storage.
Julie Lockwood continues "Whilst the consumer does still seek bathroom storage space through furniture, they also view the bathroom as a place to unwind and relax so the contribution stylish and individual bathroom furniture 'pieces' make to a spa-like zone is becoming more evident."
Life's a beach
Biophilic design and earthy natural textures will also continue to dominate as calming sage, dreamy whites and subdued browns are introduced to create a natural oasis.
David Bromell, Head of Marketing at Roca agrees: "We can expect to see a less stark approach to design and explains "One of the key bathroom trends we'll see in 2022, is the use of subtle, organic designs and colours inspired by nature, which ensures a timeless design that can be easily integrated into interior schemes. This includes product designs featuring soft, curved lines, with inspiration taken from elements of nature such as the shape of the waves."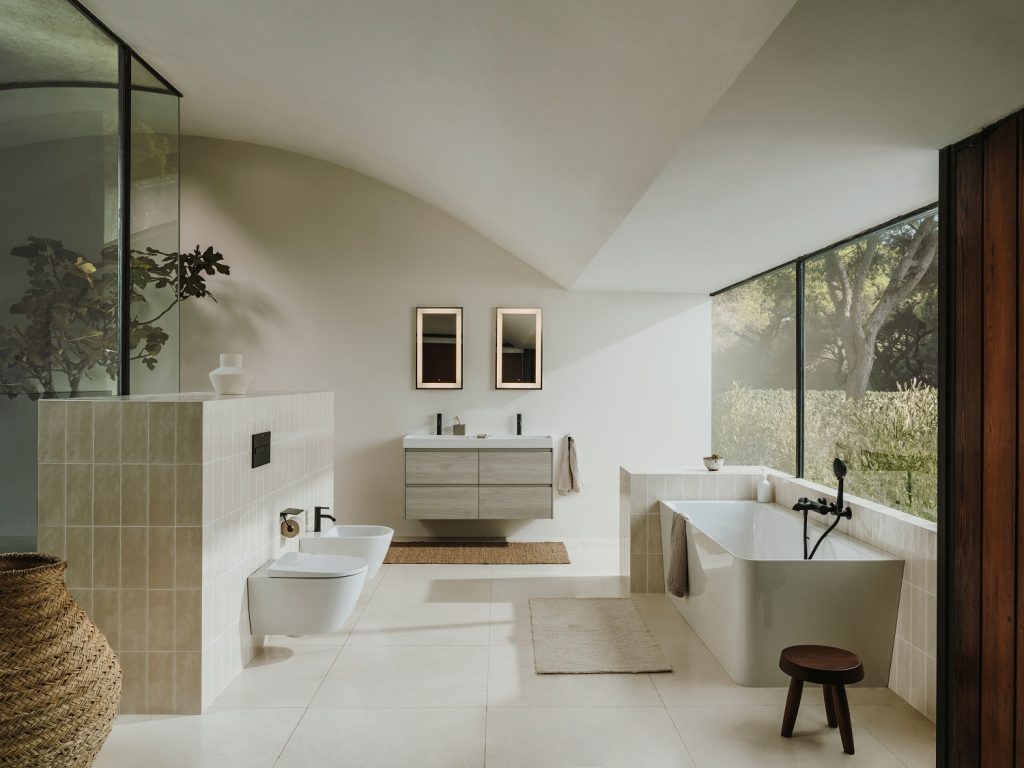 Ona, Roca's newest complete collection, offers solutions to fully equip any type of bathroom space and includes basins and furniture, brassware, baths, accessories, WCs and bidets. Ona is ideal either for main or en-suite residential bathrooms, hotel bathrooms and other public spaces with intensive use.
When it comes to storage, keeping bathrooms clutter-free and organised will remain a key trend and one that fits in with new sustainability goals to reduce our intake of plastic packaging and bathroom products. Ona offers a furniture option for each basin with either one drawer, two drawers or simple doors.
David Bromell continues "In terms of bathroom layout trends, consumers want to maximise their bathroom space, which means offering innovative solutions such as multi-functional storage (mirrored cabinets for example), wall-hung WCs and a wide range of furniture dimensions, such as new compact options to ensure there is a vanity unit for every size of bathroom space."
Firm & round
Silhouetting is a trend we can expect to see more of this year and, with a nod to nature and Feng-Shui, these lightly curved edges, pleasing boundaries and bold outlines bring a satisfying cohesion to the bathroom.
VitrA's Liquid is the perfect example, the Award-winning bathroom collection includes basins, taps, showers, tiles, accessories, and furniture. Inspired by the way water flows, Liquid has soft, curved edges and taps into the desire to create more welcoming interiors.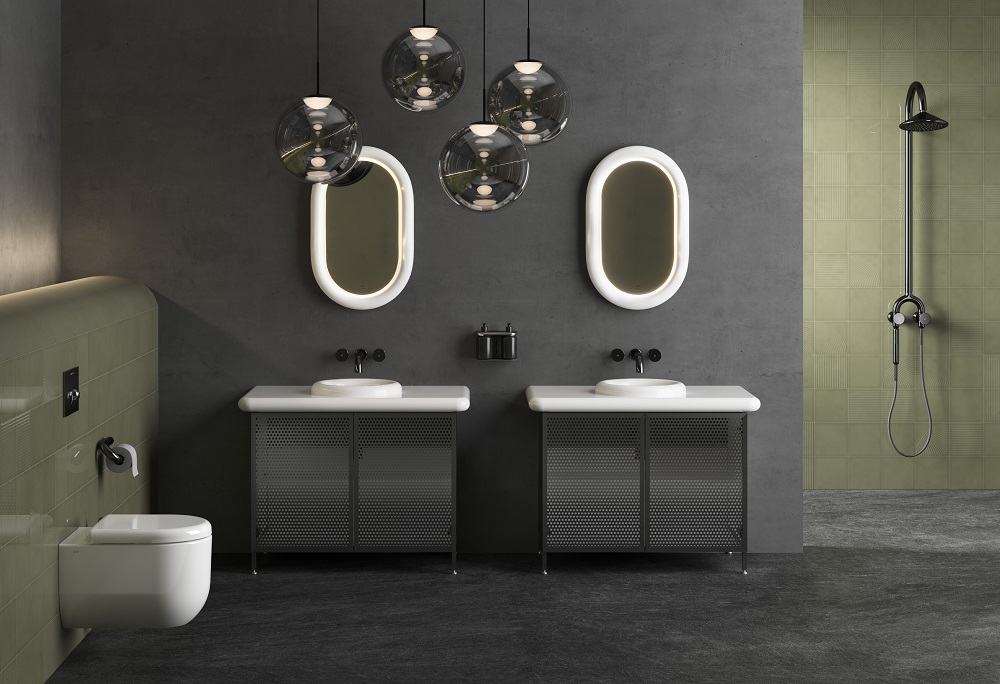 Spick and span
Keeping surfaces clutter-free and streamlined helps homeowners create an orderly hotel-spa feel. The average UK bathroom size is a compact 2.4m x 1.8, or 4.4m2 so bathroom furniture with built-in storage is key.
Freestanding options deliver an elegant look whilst wall-hung furniture is perfect for small bathrooms as the extra floor space gives the illusion of a bigger room.
Artist by Crosswater delivers a range of bathroom storage in four sizes and three different finishes: Onyx Black, Cashmere Matt, Storm Grey and Matt White. The collection can be installed as a wall-hung unit or assembled with coordinating legs and finished with a signature oak worktop.
Sustainability counts
Accountability is fully on the agenda for 2022, with designers and consumers becoming attuned to thinking about product source and end-of-life impact when making a purchase. Increasingly bathroom manufacturers are expected to demonstrate robust initiatives in response to the climate crisis.
Paul Bailey Leader, Category Specialist UK for GROHE at LIXIL EMENA tells us: "Bathrooms are often viewed as the room within the home that uses the most resources and is an area where many homeowners are looking to make sustainable changes.
"To enable homeowners to live more sustainably without compromising on design or features, we need to look differently at the life cycle of products, in a way that we see them as valuable stores of raw materials and to only use materials that do no harm people or the environment. This is the only way to ensure better living for future generations."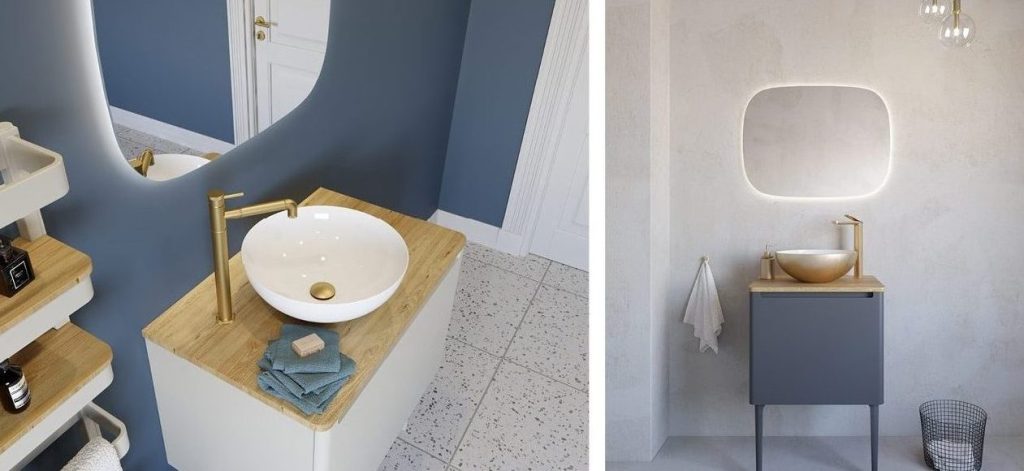 For the latest kitchen design features – visit Kitchens Review