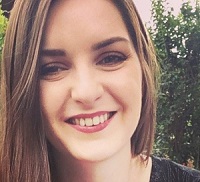 Ellie Clow has worked in journalism for over ten years, specialising in B2B and trade journalism. She has written for financial publications and several leading KBB titles.
---
Guests want to experience luxury in a hotel, and the bathroom plays an unassuming role. Clean, sleek and functional – if one of these key features is absent, an experience can be subpar, which is why the choice of fixtures is so important. Guests want good-looking bathrooms that feel more luxurious than home, with fixtures that are easy to understand and can be backed up by sustainable, water and energy-saving credentials.
"There are few places where bathroom design is more important than in a hotel," says Anil Madan, non-residential marketing manager at Ideal Standard UK and Armitage Shanks. "Whether it's a high-traffic front-of-house washroom or a spa-like in-room ensuite, these spaces have the power to give customers an experience they will remember."
Spa-style bathing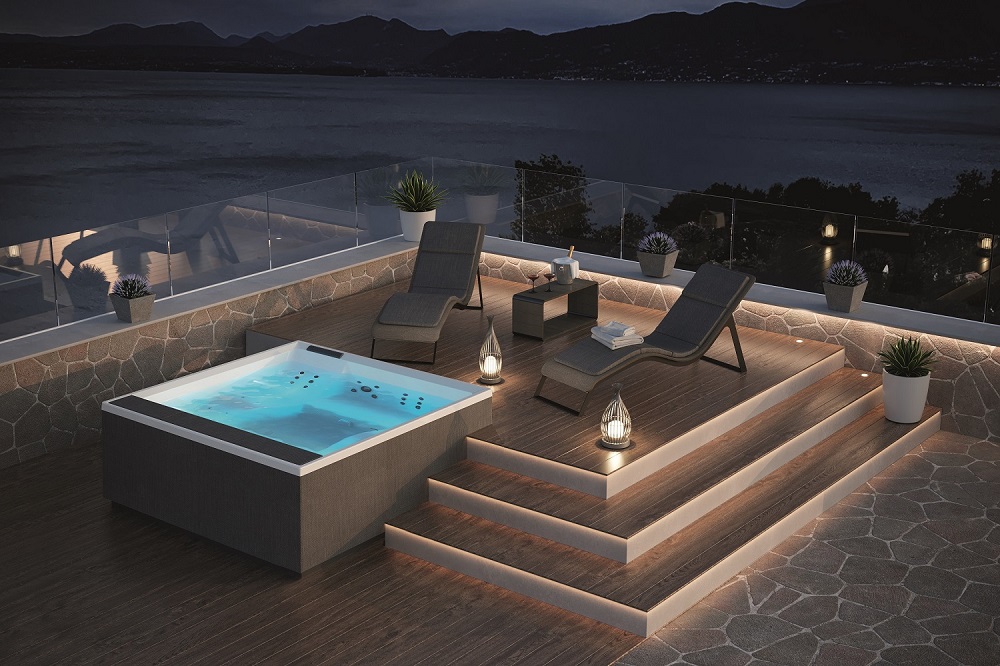 Designing bathroom spaces for the hospitality sector requires a fine balance of function with aesthetics. Products should look and feel luxurious without feeling complicated to use.
"To truly create a calming and luxurious bathroom, making the most of the space is vital," notes Ideal Standard's Madan. "Although large fixtures like freestanding baths take up floor space, they also give an added 'wow factor' to a room – like the new Conca bath, from the Atelier Collections."
Novellini's spa baths (pictured top and above) are the ultimate in luxurious spa-style bathing experiences, featuring hydromassage and a range of features that allow users to tailor their bathing for optimal wellbeing. The brand's visually stunning Divina series – which includes the Divina Outdoor hot tub – is available in four different versions: Hydro Air, Whirlpool, Hydro Plus and Natural Air.
Small and sleek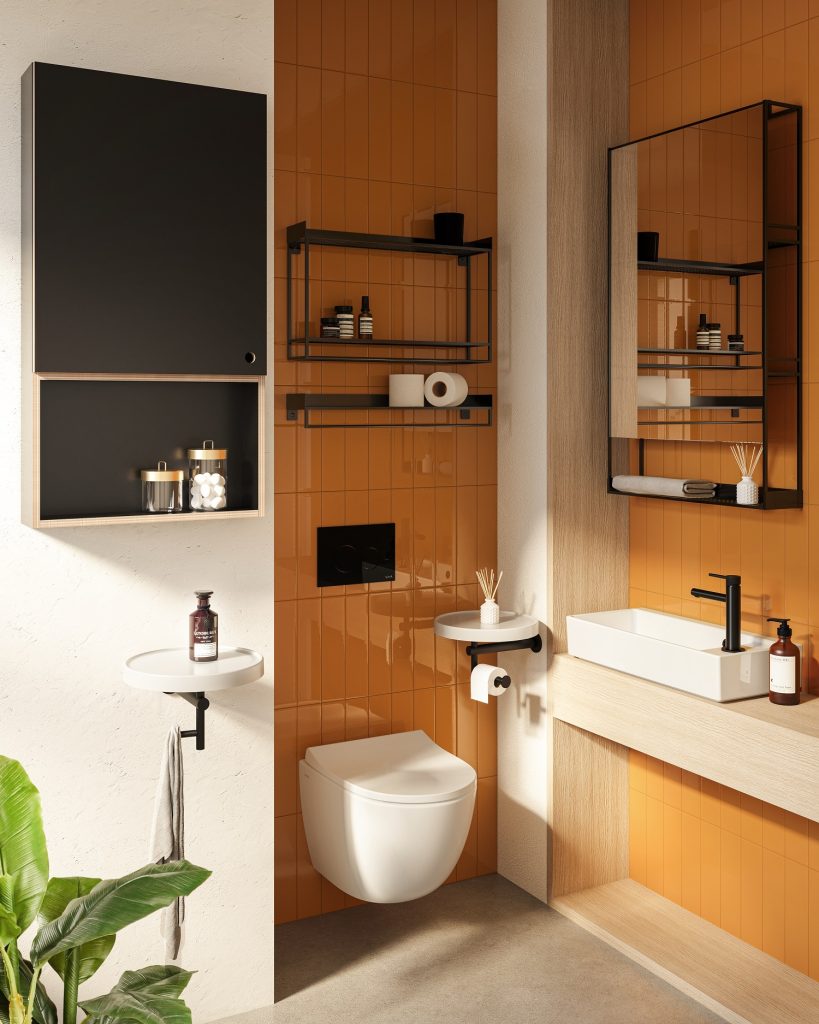 However, not all hotel bathrooms have the space for statement pieces like spa baths, but that doesn't mean they have to skimp on design or style. VitrA's ArchiPlan collection is a modern, minimalist range of products that are ideal for hotel bathrooms on the smaller side, thanks to its narrow-width options. ArchiPlan basins can be wall-mounted or mounted in cabinetry to make best use of all space, while the cabinets' elegant cut-out holes in favour of door handles add to the contemporary simplicity of the design while maximising available space.
Made from eco-friendly and recyclable plywood, the range is hard-wearing and durable with a moisture-resistant finish, making it a long-lasting choice for a high-traffic area. ArchiPlan bathroom furniture is available in neutral and timeless matte colours—white, black and taupe. The range includes wall-hung units in a range of sizes with storage and open shelving options.
Cool and colourful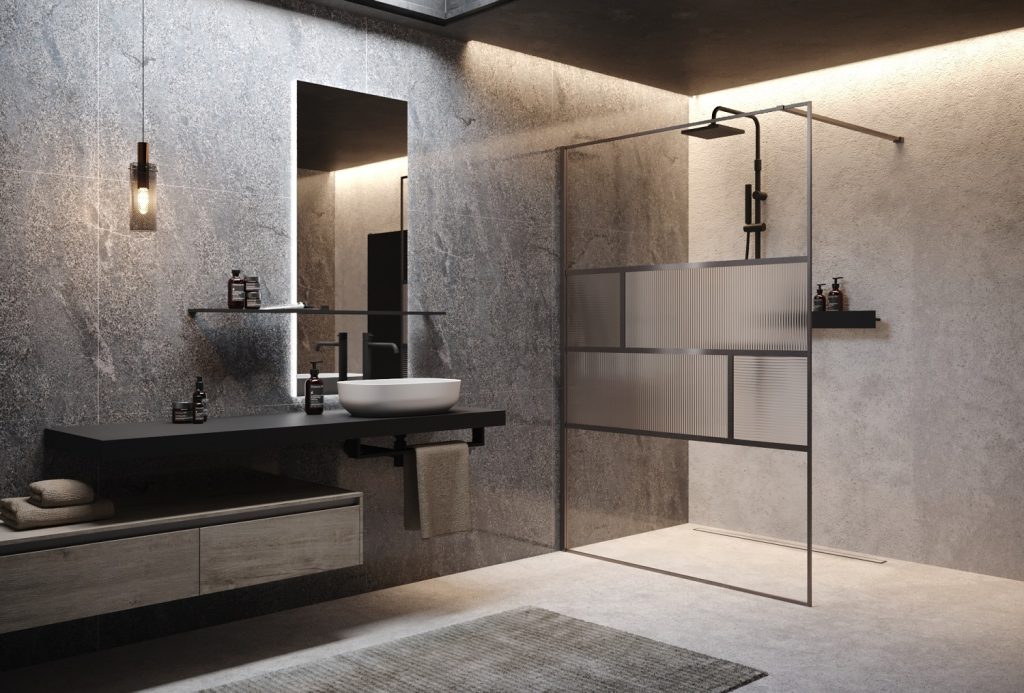 The hospitality sector is looking for minimalist, contemporary and low-maintenance bathroom designs. Wetrooms are favoured for their sleek design and accessibility, and for enclosures, Novellini notes that its low-profile, slate-effect shower trays are in high demand.
Finishes such as brushed nickel, brushed brass, polished gold and rose gold are desired for fittings and enclosure metalwork to tie spaces together cohesively. Says Novellini UK sales director Stuart West: "We have seen demand grow for more outlandish designs and vibrant colours with an 'anything goes' free-thinking attitude to design."
Ideal Standard's Madan agrees: "We're now seeing an increase of coloured fixtures, fittings and ceramics making a comeback in high-level and premium bathroom design."
Summer rain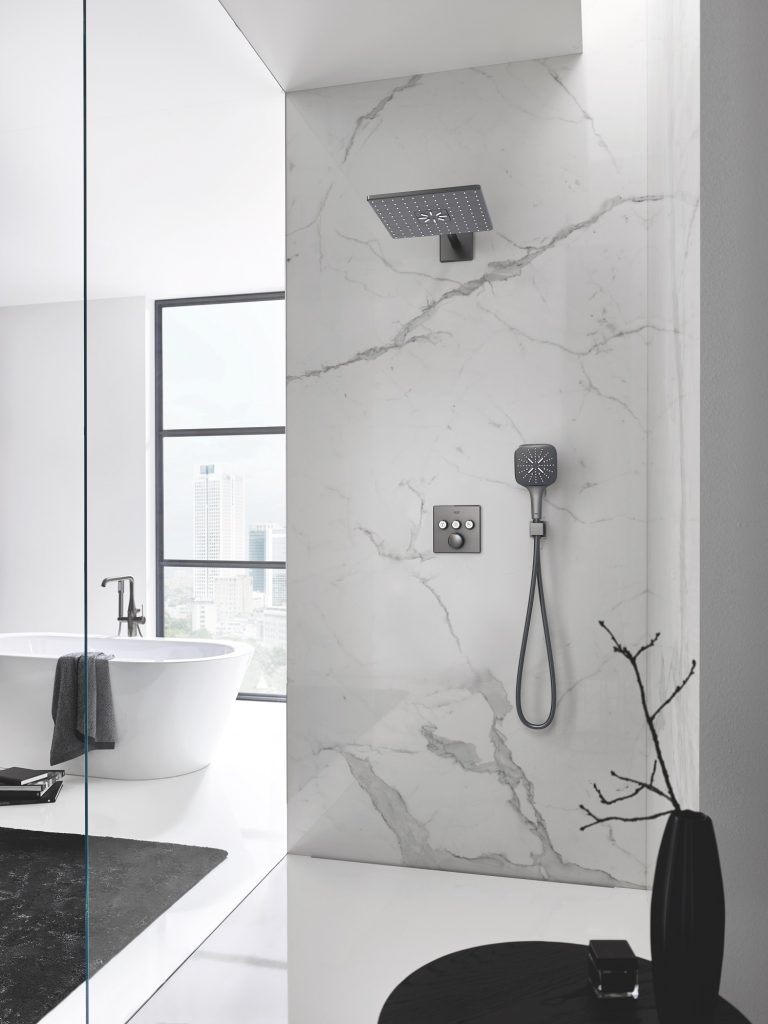 "Alongside sustainability, wellness and health continue to be topics of importance when it comes to hotel bathroom design, and what both guests and designers are looking for when it comes to luxurious, spa-inspired spaces," says Paul Bailey, leader of product management at Lixil EMENA and Grohe UK.
"A rainfall style showerhead offers a modern, eye-catching aesthetic whilst still offering luxurious functionality, and can provide additional features too such as a choice of multiple spray patterns so users can alter their experience according to mood."
Grohe's Rainshower SmartActive 310 shower offers a choice of two spray options that can be switched between or combined—the Grohe PureRain spray which feels like soft summer rain, and the Grohe ActiveRain pattern, which provides a stronger massaging spray.
The product's StarLight chrome finish is long-lasting, to keep it looking new and attractive through heavy use, and the showerhead is available in an array of finishes to support designers with specification. Grohe's super-insulated Inner WaterGuide directs hot water away from the surface, preventing them from overheating and making the product safer for guests.
Sustainable spa experience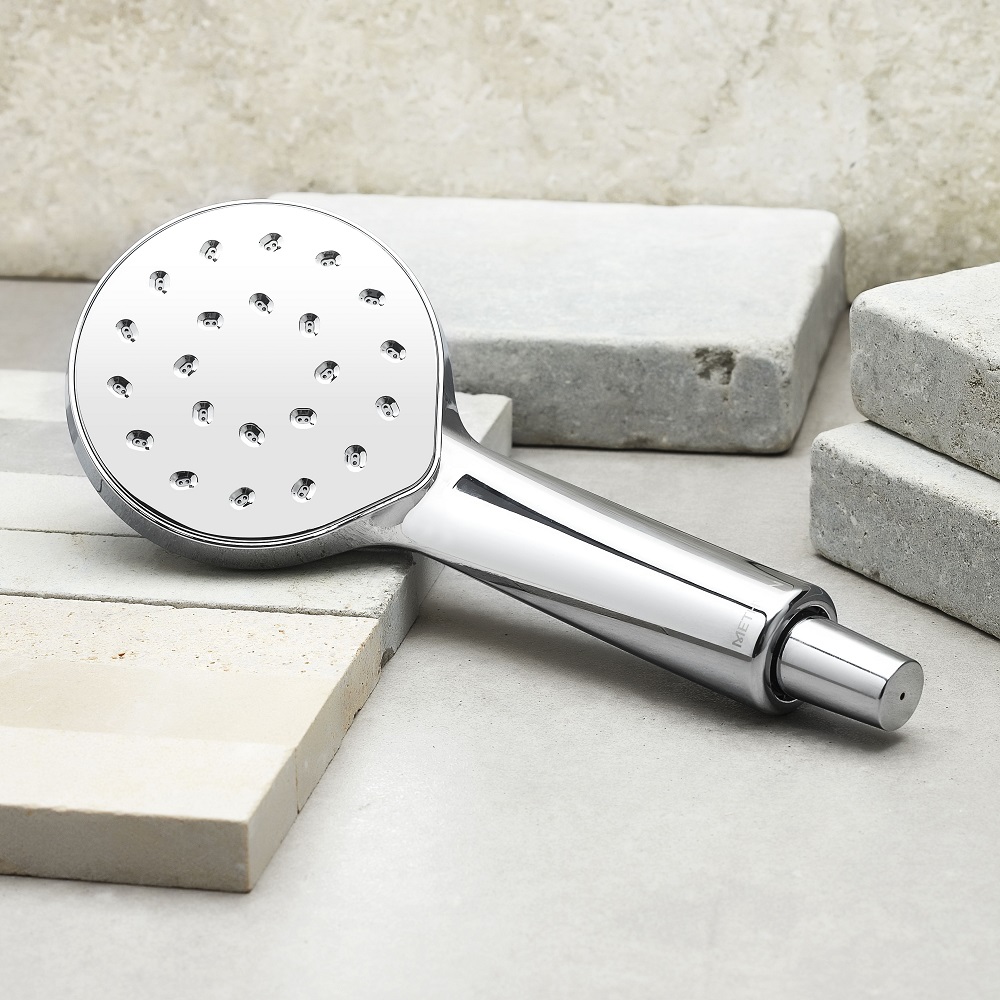 Water efficiency underpins everything in bathroom design, and this is especially important for the hospitality sector – not just to bring peace of mind to customers, but to be as cost-effective as possible.
As a BMA Sustainability Awards finalist, Methven offers shower and tapware products that can reduce carbon footprints, save thousands of litres of water and allow hotels to make financial savings.
Its award-winning Methven Satinjet uses twin-jet technology to create optimum water droplet size and pressure with over 300,000 droplets per second, resulting in an immersive, full-body shower sensation.
The brand's Kiri and Kiri MK2 showerhead designs (pictured above) are also ideal for hotels, with a choice of chrome and contemporary graphite finishes, while the range also features the Kiri Low Flow which reduces the standard 8l/min flow to 5.5l/min to offer high performance without compromise for end users.
Motu (below) is a comprehensive collection of basin mixers, bath fillers, bath shower mixers, wall-mounted basin mixers and bath fillers that are also designed to suit a variety of specifications.
For the latest kitchen design features – visit Kitchens Review