All GROHE EcoJoy™ products are systematically designed to save water and energy so that precious resources are conserved. These products, equipped with water-saving technologies, offer the perfect water experience without the need to compromise. Reducing water and energy consumption goes hand in hand with convenience and attractive design. Less water, perfect flow.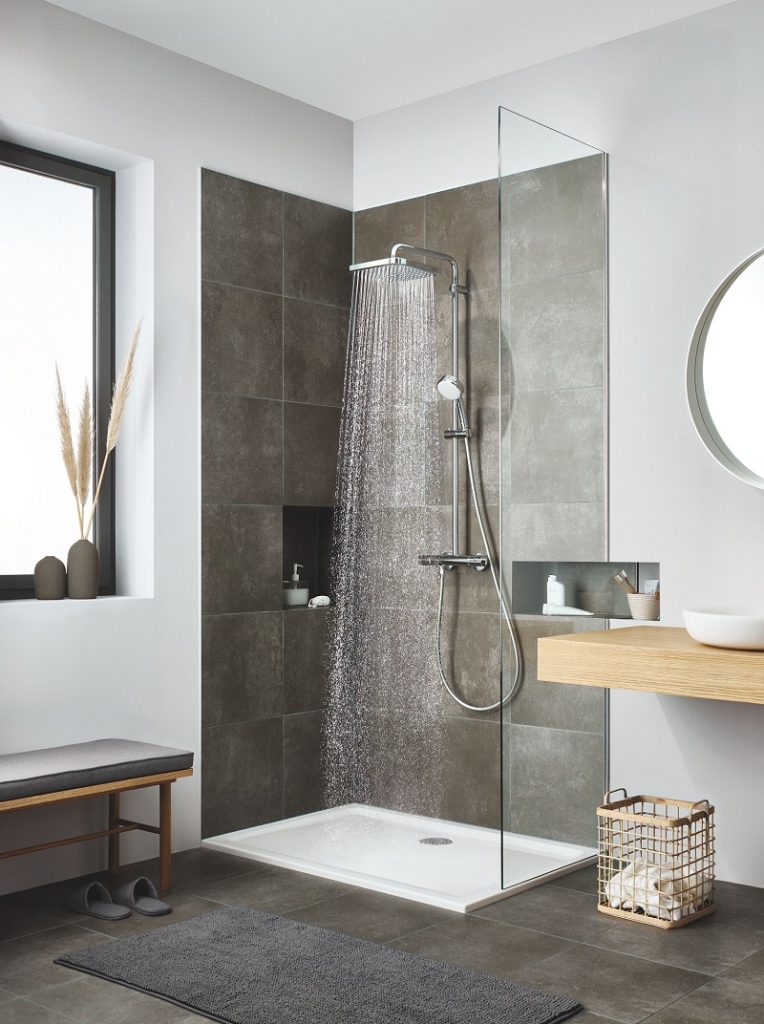 Designed to be wall-mounted, this exposed shower system features a Tempesta 250 Cube head shower, a Tempesta Cosmopolitan 100 hand shower, thermostat, shower rail with 390mm swivable shower arm and gliding element to adjust the hand shower, plus a 1750mm Rotaflex Twistfree hose.
At 250mm the head shower creates a generous showering area and has an appealing slim profile. The spray pattern is the gentle, refreshing Rain Spray. There are 2 spray patterns to choose from on the 100mm hand shower – the soft Rain and the powerful, targeted Jet Spray. Both showers feature water-saving GROHE EcoJoy – limiting flow to 9.5l/min on the head shower and 5.7l/min on the hand shower – for reduced water consumption but the same great performance.
The shower system delivers water at a constant temperature with no nasty surprises, thanks to GROHE's TurboStat technology makes sure that the water is a constant temperature with no unpleasant fluctuations. The GROHE SafeStop override button is set at 38°C to prevent scalding and keep the whole family protected. And the GROHE SafeStop Plus temperature limiter can be set to limit to 43°C for an extra level of safety. Switch between head and hand shower and adjust the volume, all via one handle, with the AquaDimmer function.
More news from GROHE