This year's Sleep + Eat theme of Social FlexAbility perfectly aligns with Flair's continually expanding product ranges. At this year's event, Flair presented several solutions that offer a host of meaningful design innovations for the hospitality industry. These included the newly launched ETO collection and the multi award-winning ORO shower door range.
A warm welcome to ETO…
ETO (pictured below) is the latest shower door concept launched by Flair in Summer 2019. Designed with purpose, the robust construction of the ETO collection is coupled with clever functional features that ensure long-lasting high performance. The uniquely crafted handle is beautifully precise and features a cleverly integrated towel hook. The sleek chrome profiles and countersunk interior hinges complement the ETO handle design, creating an elegantly contemporary aesthetic.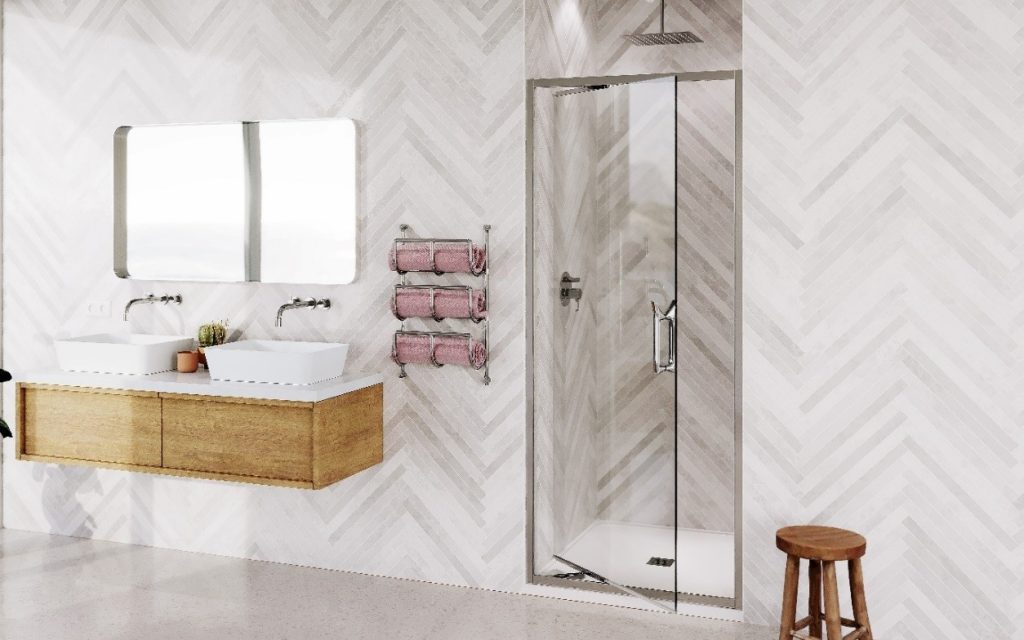 ORO Collection – Carefully Considered Design Details
With its minimalist aesthetic, the frameless ORO collection (pictured Top) is a union of design innovation and functional perfection. Its elegant hand-crafted handle is formed to feel seductive in hand and is truly one of a kind and distinctly individual.
Each ORO enclosure is created from 8mm toughened glass with hydrophobic coating, which resists against the build-up of lime scale and grime. The two metre glass panels are secured with minimal yet robust chrome wall extrusions that are designed to recede and accentuate the gracefully tall glass structure.
The flush-mounted door hinges on the inside of the shower allow users to easily wipe clean the glass without obstruction. All mechanical detailing is cleverly concealed to reduce visual clutter and add to the minimalist aesthetic. 
ORO Ultra Frameless Hinge and Inline door
Setting the standard in frameless design, the ORO Ultra Frameless series is the newest addition to the ORO range and radiates style and contemporary elegance. A generously proportioned shower enclosure, this modular design is ideal for larger showering spaces. With durability in mind, the frameless corner side panel is supported by a minimalist chrome stabilising bar.
If you wish to learn more about Flair offerings, please do get in contact with us at sales@flairshowers.com / 00353 42 966 8000.