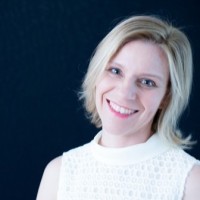 Features by Diane Larner founder of Bathroom Review & Kitchens Review.
Diane Larner launched both titles over 12 years ago and has been writing about the bathroom and kitchen interior design industry ever since, publishing regular features across the two sectors.
---
As the pace of life picks up, we find ourselves once again caught up in a whirlwind of activity. Yet, lessons have been learnt from the slowdown we all encountered during the Covid-19 pandemic, and this gentle acquiescence has permeated the world of design. Our homes are a place of sanctuary, and the bathroom remains a stress-free zone where natural, earthy colours and materials are favoured.
Marianne Shillingford, creative director of Dulux UK agrees, "Bathrooms are the true sanctuary of the home. Apart from when we are asleep; showering or a long hot soak in the bath are probably two of the very few screen-free times of the day we can truly switch off.  With this in mind, bathroom trends in colour and materials are being designed to help us truly savour the moments we have to ourselves.  Sensory surfaces that demand to be touched are teamed with enveloping colours that we can dive into.  Less of the shiny, bright and sharp, more of the smooth, dimmed and silent. "
Time to play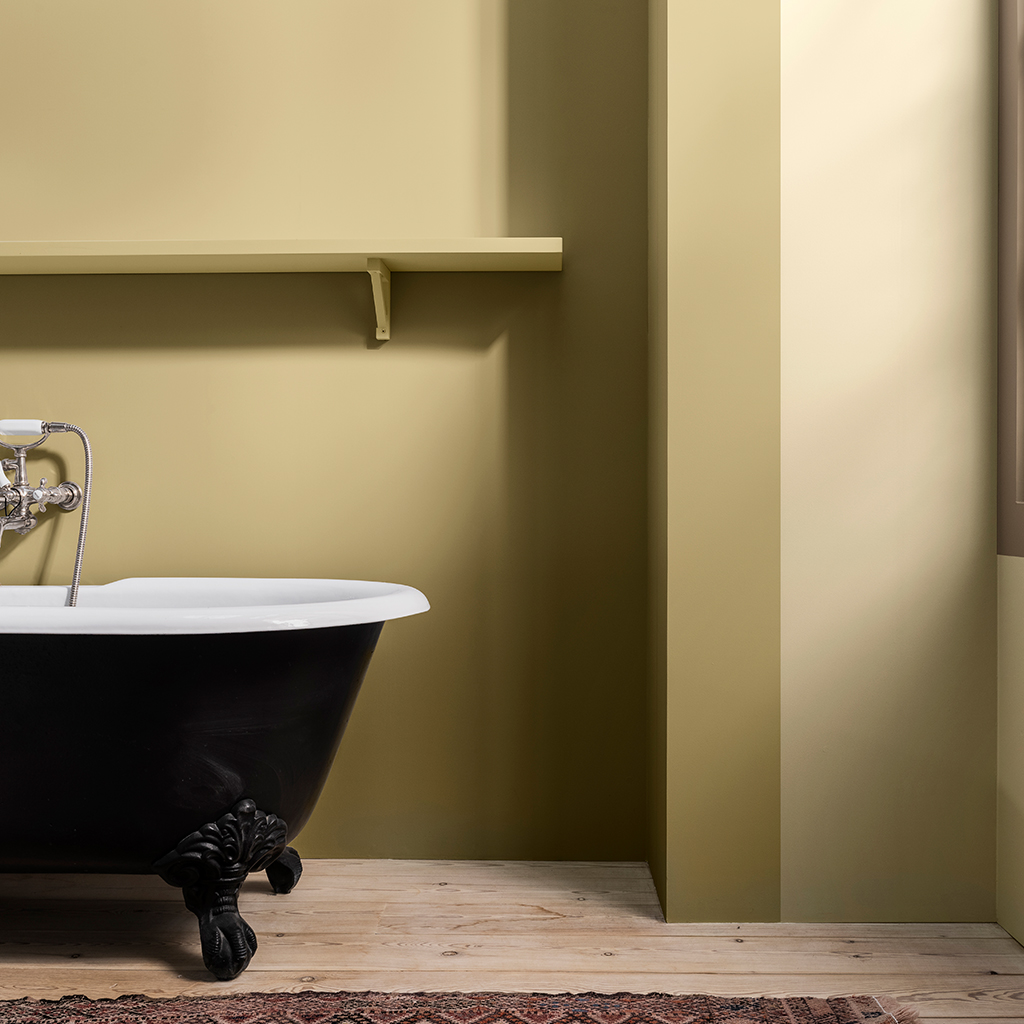 Selecting a biddable colour scheme that reflects the natural world also brings a sense of order with tranquillity. Marianne continues: "We're re-evaluating our relationship with nature and sensing the importance of learning from it not just about it. We're understanding afresh that nature is the source of everything, bringing us solace, inspiration, materials and a myriad of blueprints for living."
Wild WonderTM is Dulux's Colour of the Year 2023 and delivers a soft gold shade with hints of green inspired by fresh seed pods and harvest grain. Dulux say its upbeat glow connects us with nature, creating a sense of energy and positivity.
Sense & sensibility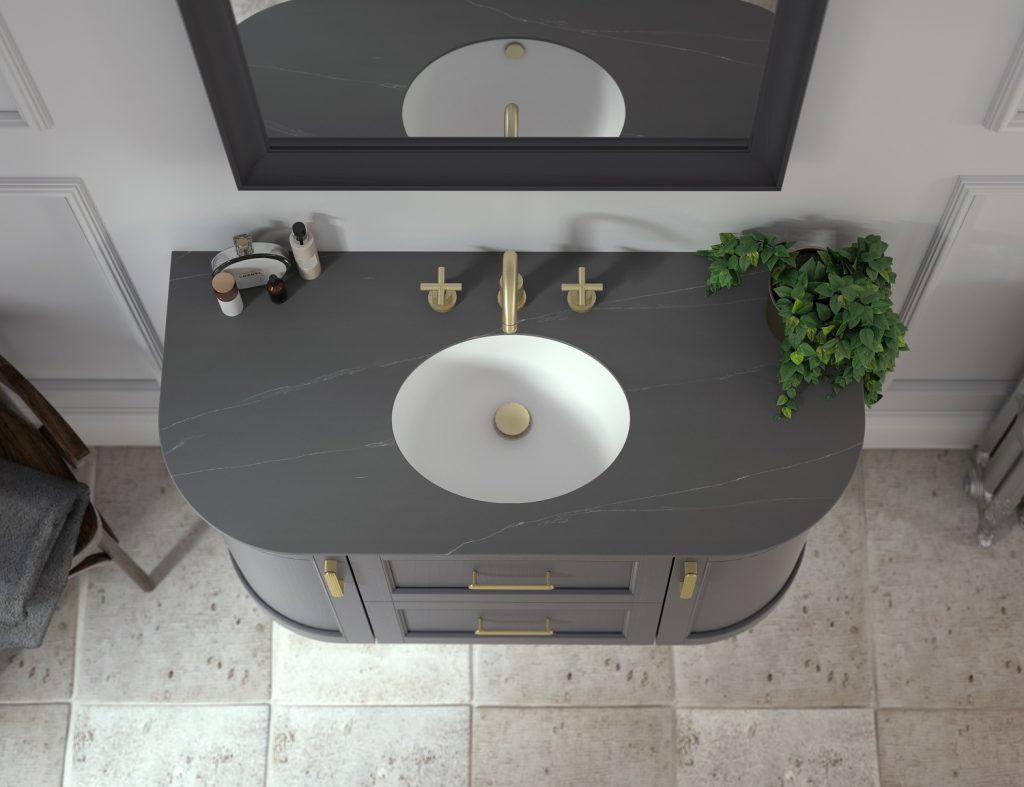 In addition to soothing colour schemes, rounded or curvy shapes are easy on the eye and add a wholesome sense of well-being to bathroom designs. Marble worktops work well with tile and wood surfaces and add a touch of elegance and sophistication.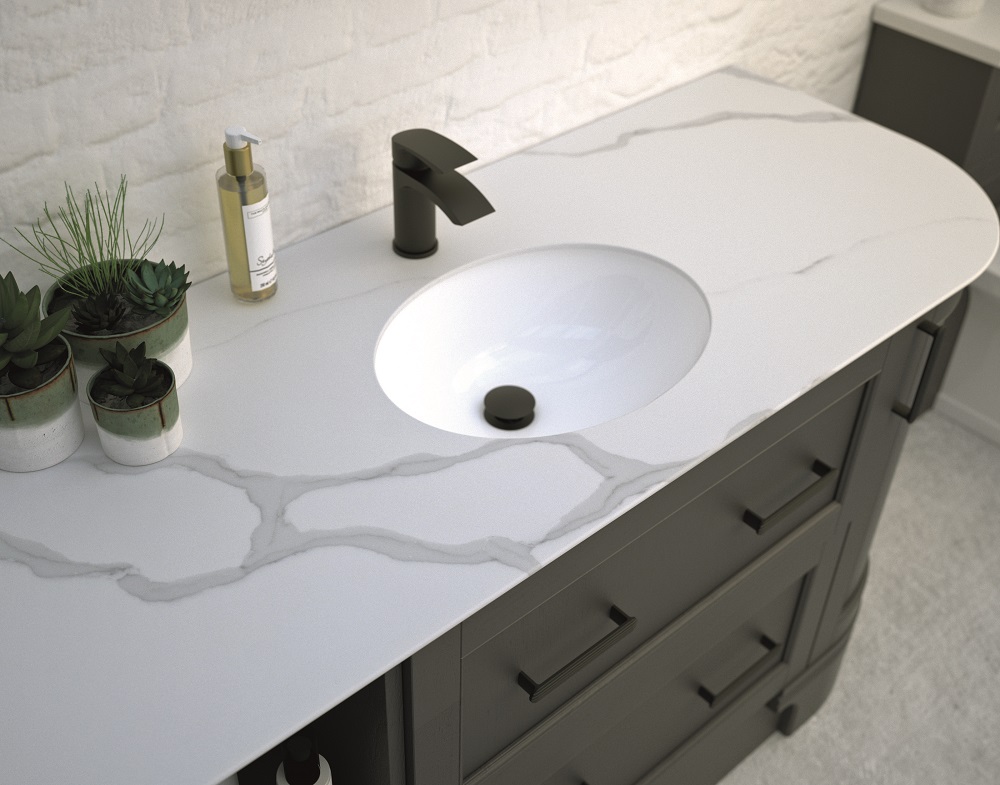 Utopia has added four new decors to its exceptionally popular 20mm solid surface worktops range.  Available with a choice of inverted chamfered or chamfered profile, the new decors include three on-trend veined marble effects: Imperial White, Palladian Grey and Tempest Black, plus Metropolitan Grey, a granite effect worktop. 
Pairing rounded, compassionate shapes with organic, wood effect flooring or natural tiles also helps create a genial space to recover and renew.
Amanda Telford, marketing manager at CTD Tiles, concurs, "The trend for natural materials and nature-inspired colour palettes shows no sign of wavering in 2023. Whether it's through wood-effect floors, sage green walls, or the incorporation of lots of organic textured accessories, this trend is timeless. It can be incorporated in several different ways."
Richard Shore, head of product design at Utopia, agrees but says vibrant colour is also firmly on the menu as a complementary alternative to muted tones: "Curves, colour and texture will be setting the design world alight this year. Shapely forms and surfaces in expressively dynamic colours, alluringly textured, will be the weapons of choice in this full-frontal assault on our senses."
All shapes & sizes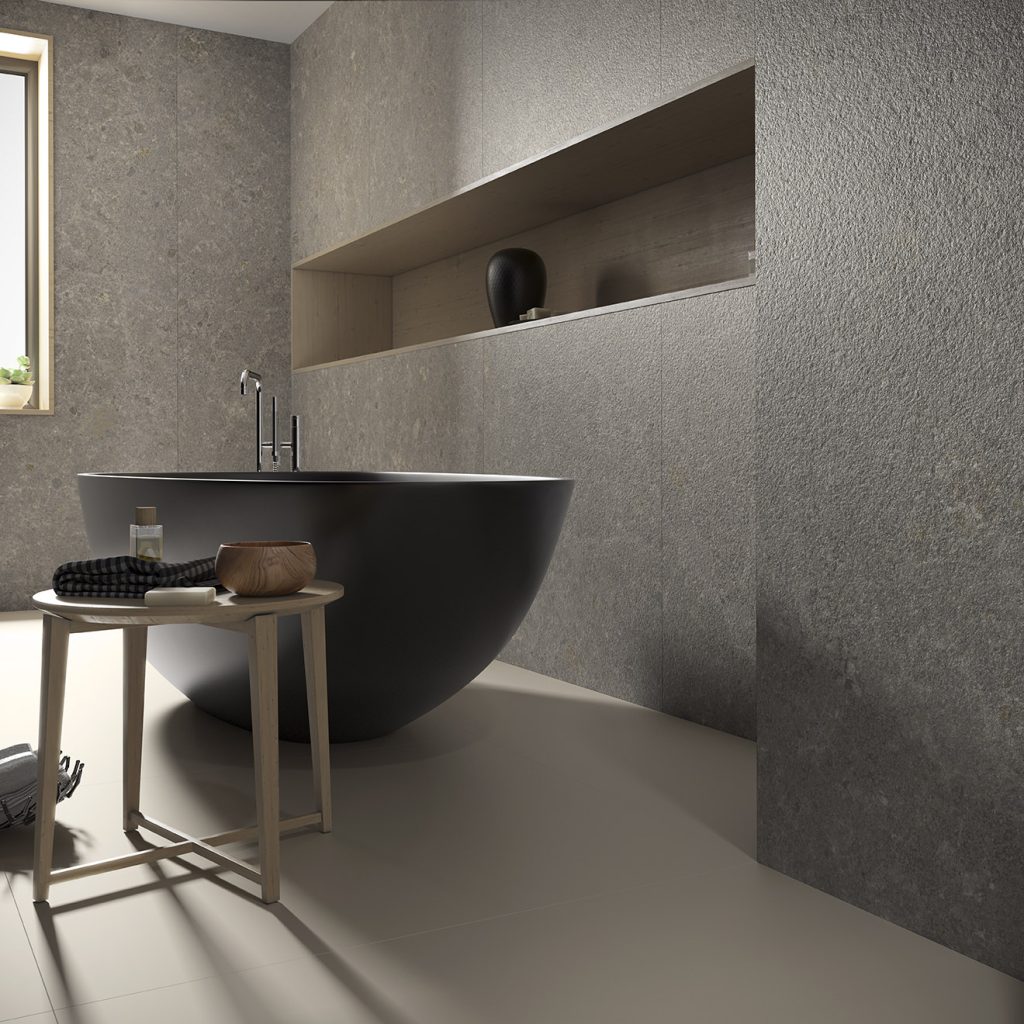 Regarding floors and walls, a single surface solution offers character and can be tailored to include inset shelving and storage. Large format tiles build multi-purpose functionality (such as added hygiene), creating a spacious and aspirational feel that taps into minimalist trends.
Simon Boocock, managing director of CRL Europe, explains: "Elegance, simplicity, and functionality are key to the minimal bathroom currently making compact spaces look and feel much bigger and creating a modern, almost hotel-inspired appearance. Wall cladding, large format surfaces and feature walls tap into this trend, providing a seamless, easier-to-install and maintain alternative to tiles."
Surfaces such as Ceralsio Ceramic and Inalco MDi from CRL Stone are available in a large slab format. They can be cut to the exact size to fit the space, achieving a bespoke solution with minimal grout lines and a seamless finish, even in awkwardly shaped spaces, with lots of corners and angles.
Carefully co-ordinated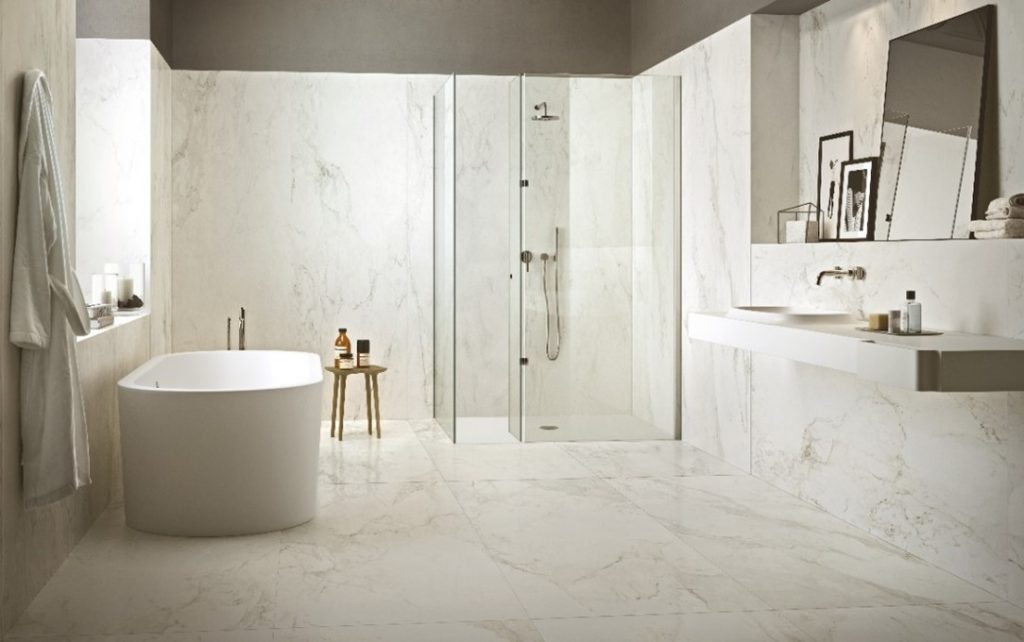 For shower rooms and wetrooms, a uniform aesthetic is easily achieved using large-slab technology. These bespoke solutions can be designed to fit any space and are offered in matt and gloss marble finishes. They also offer a cost-effective solution for residential or commercial applications.
Anthony Barker, sales director, Optidek explains, "Large format sheets require specialist fabrication off-site, yet will still be more cost-effective than specifying tiles and grout for apartment schemes because they are easier to transport and fit. Most of all, these durable non-porous marble-look surfaces provide an on-trend spa-like aesthetic for bathrooms or wet rooms and can be matched with floor tiles in the same material for a stunning overall effect."
Optidek, the wall coverings specialist, has partnered with Florim, the Italian porcelain stoneware brand, to launch the Magnum Collection, an exclusive range of 6mm thickness surfaces in the large format 2360mm x 760mm Magnum slabs.  The collection features four colourways in matt and gloss marble finishes and is curated by Optidek to appeal to kitchen and bathroom designers, architects and interior designers.
Saving time & energy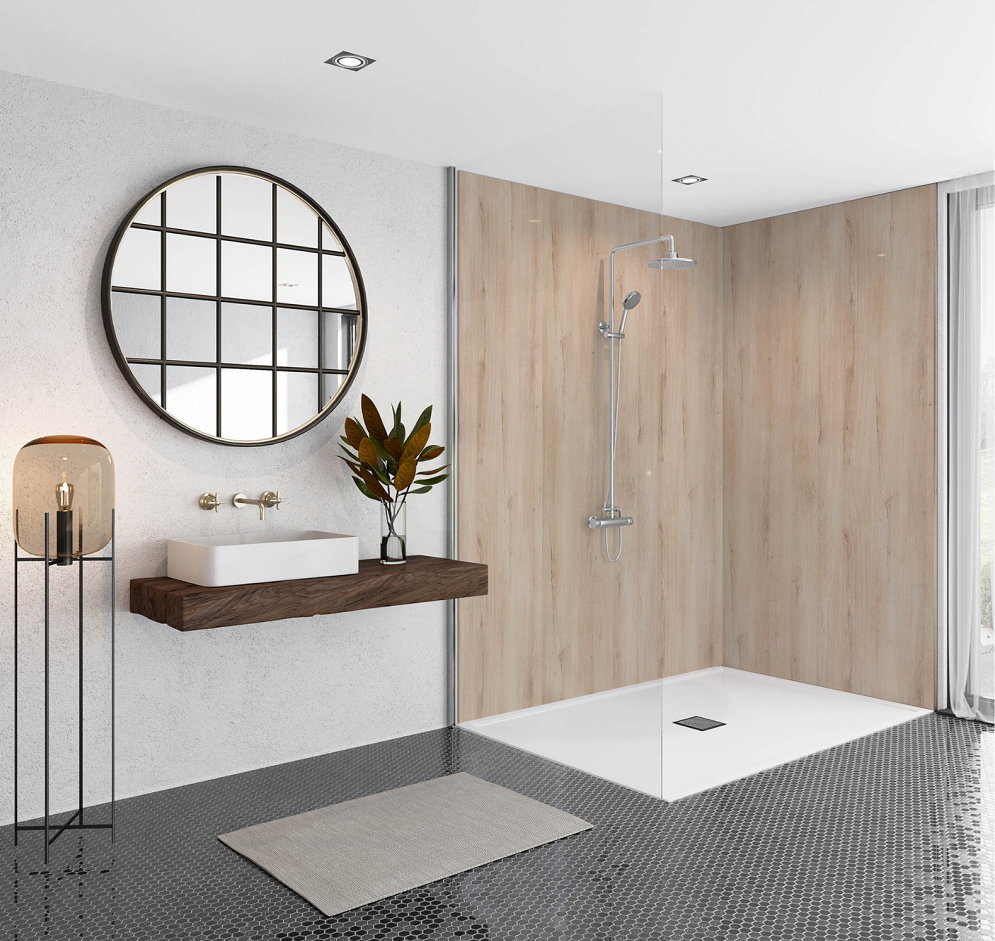 Mermaid tell us that the rise in energy costs means tiles are proving more expensive for homeowners. Energy costs traditionally represent around 50 per cent of a tile's overall cost, and the recent surge in energy prices has forced manufacturers to increase product price points. Likewise, the same energy price surge has caused homeowners to abandon tiles for cost-effective methods of bathroom refurbishment.
Helen Ray-Dennett, senior marketing communications manager at Wilsonart UK, comments, "We started this year with predictions that home improvements would be put on the back burner because of the ever-rising cost of living. However, growing interest in cost-effective bathroom refurbishment methods shows promise. Homeowners want to be able to refresh their bathroom spaces, but in a way that's friendly on their pockets – as such, retailers and merchants must consider this when planning for the year ahead."
The Elite range is Mermaid's premium bathroom panel. With a 100% waterproof core, no trims are required, allowing for a completely seamless finish. An interlocking tongue and groove system is used to connect panels, which easily slot together without any gaps, eliminating the need for grout and the risk of mould that comes with it.
We hope you enjoyed this Feature on Bathroom Surface Design from Bathroom Review. Please look through our feature archive for more useful information.
If you are interested to see the latest trends in Kitchen design, please visit our sister site Kitchens Review
Pictured very top – Tempest Black worktop from Utopia.