VitrA's water saving bathroom sanitaryware, taps, mixers and flushing solutions make it easy to keep bathrooms hygienic and safe and save resources all without compromising on style. Committed to reducing the use of non-renewable resources in manufacturing, all VitrA products are made in line with the Blue Life philosophy, set to the highest sustainable standards.
Washing hands is so important during Covid 19, add in faces and dental hygiene and the result is every household uses a great deal of water at the bathroom sink. VitrA's innovative water-saving designs mean bathroom owners don't have to compromise on style when becoming more water conscious.
A medium water pressure mixer, the Suit U design comes with an integrated water aerator: a small attachment that sits on the end of the tap. Adding streams of air into the water flow, less water is used in the same amount of time, a simple way to take control over water usage. All encompassed in a stylish, modern mixer, it's easy to create a bespoke bathroom that's environmentally conscious.
Reducing flush volumes:
VitrA Sento Wall-Hung WC Pan with Twin 2 dual flush Plate in Gold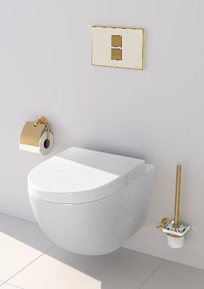 WC's are the main culprit for water wastage in the household since we flush an average of 7.7 times a day per person. Some of VitrA'S wall hung frames are manufactured with dual flushing options, meaning a single flush can use as little as between 2.5 and 4 litres of water, minimising wastage. The Sento wall hung WC is a contemporary, modern model which would effortlessly add style to any bathroom, while having a positive impact on a home's environmental footprint.
Guilt free bathing: VitrA Balance Bath
With a growing focus on well-being and having a space to relax, a soak in the bath is known to be stress reliever, but a huge water consumer. However, smartly designed by VitrA, the Balance bathtub is shallower than a standard bath using less water to fill. By altering the sloped end of the bath to 45 degrees, the user can still run a deep bubble bath whilst saving a significant amount of water. Available in three sizes.