Utopia's exclusive Contemporary Fitted Furniture range is available in both fitted and wall mounted configurations, with the emphasis on tall mirrors, contemporary finishes and feature metallic accents.
This range is all about the experience – touch, colour, light and elegance. Contrasting colours and textures are key to the new collection with four carefully selected door finishes. Door and fascia colours can be mixed and matched with a sensational metallic trim. From this palette it is possible to create an amazing number of combinations.
The base cabinets feature a clever stylistic touch that gives perfect proportions and creates a floating effect when illuminated. A comprehensive range of wall and mirror cabinets allow a floor to ceiling fit offering exceptional storage capacity.
For the ultimate in seamless elegance, there is the 'all in one' Coralux worktop and basin. With its stunning fluid lines and tactile beauty, this combined worktop and basin solution can either be fitted wall to wall or freestanding. An alternative basin option is either a Quantum Round or Quantum Square semi-recessed ceramic basin.
Once again, pioneering the use of new and exciting materials, Utopia is offering a brand new 12mm compressed laminate worktop to complement this new range. The laminate is imprinted with the colour and texture of natural materials such as marble and slate. These incredibly realistic worktops can also be used as a splashback between the worktop and underside of the wall cabinet.
The Contemporary Fitted Furniture range along with the rest of the Utopia Bathroom Collection of products can be viewed either in our main range brochure, online or by using our stunning Visualise tool on the website.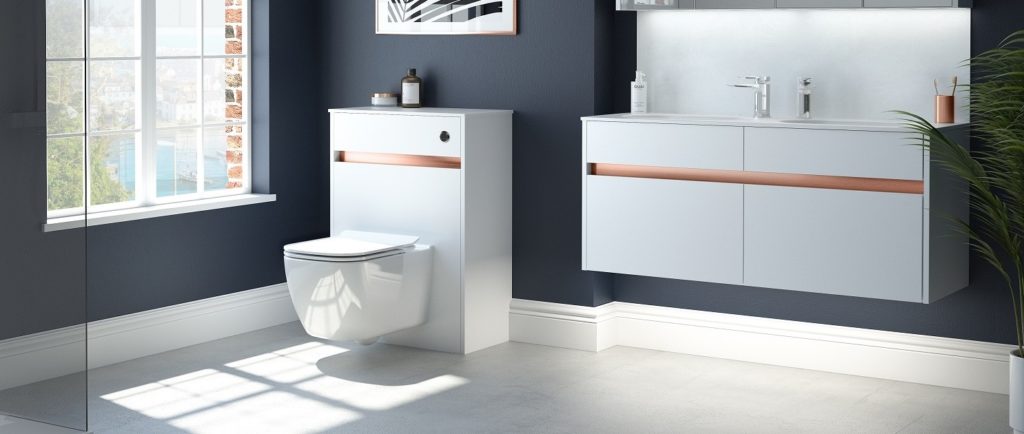 For further information please contact enquiries@utopiagroup.com