A freestanding bath can provide a focal point within any bathroom space, combining a touch of luxury with a practical bathing experience. The Ariane and Raina freestanding baths are created using Roca's innovative Stonex® material. This strong and durable mineral composite is highly resistant to physical wear, aggressive chemicals and fading. The warm, smooth and glossy texture of Stonex® adds a layer of sophistication to the bathroom space.
"We are delighted to further extend our freestanding bath portfolio" comments David Bromell, Head of Marketing at Roca. "The bathing experience is so personal and remains the focal point in achieving a sanctuary-like space where you can un-wind and renew. By expanding our collection of bath options, we are enabling this individual approach, both to wellness and the overall bathroom design."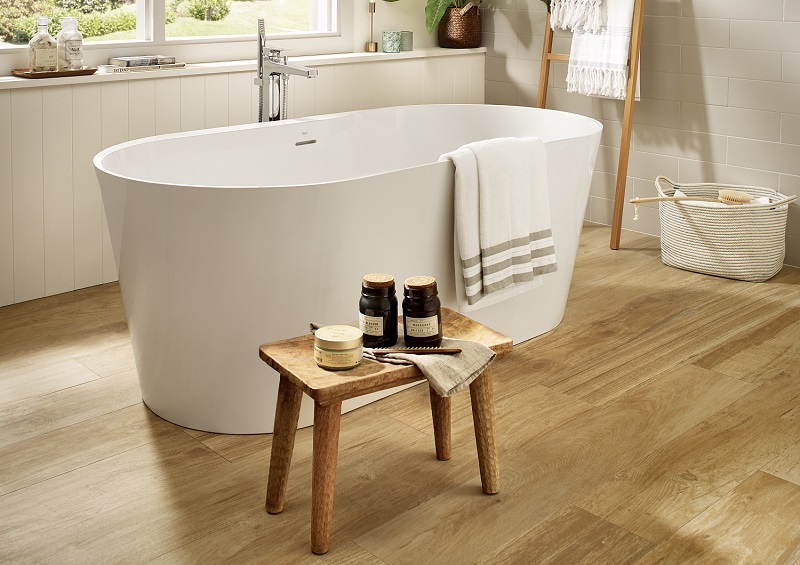 Ariane (pictured top) has a stunning oval design, to complement a range of decors. The bath creates a visual statement with its deep sloping sides and comforting shape, to help create a luxury bathing experience. The bath has generous proportions of 1650 x 750mm and holds up to 240 litres of water, providing deep and luxurious bathing.
Raina offers beautiful simplicity. The oval shape and slender lines create a harmonious and calm space to enjoy. With proportions of 1590 x 790mm, the bath offers a stylish focal point for any contemporary bathroom space. With a range of innovative materials on offer, including Stonex®, Roca remains at the forefront of inspirational bathroom design.
For more information visit www.uk.roca.com.