COVID-19 has affected every sector across the globe, and the hospitality industry is among the hardest hit. Research* suggests that recovery to pre-COVID-19 levels could take until 2023—or later and like so many industries, hospitality will also see both subtle and substantial changes in the post-pandemic era.
The consumer is embracing the need for safeguards while travelling, staying in hotels, and eating in restaurants. On the list of things that will make them feel pandemic-safe, are contactless check-ins and check-outs, smart-phone ordering at tables, masks, and visors and critically, robust hygiene protocols. After the kitchens or food delivery areas, it is in bathrooms, washrooms and WC's that consumers will judge whether an establishment has taken hygienic safety seriously. Businesses that can highlight both stringent procedures and the best in hygienic bathroom design will be in the best position to get back to pre-pandemic trading.
Specifying Bathroom Confidence for Customers
Throughout the COVID crisis, VitrA products have been available and fully supported an essential consideration for bathroom specifiers that need products that are proven and backed up with full service along with spares in this intensely hard-working sector. VitrA is recognised as an innovative manufacturers of complete bathroom solutions and tell us they are well equipped to help hoteliers and restaurateurs meet the many challenges that COVID-19 has created. Whether that be reducing touch-points with no contact flushing and water delivery or guarding against virus and bacteria build-up with special finishes on ceramic ware and tiles, VitrA can create bathrooms that are both safe and design-led.
What Gives a Bathroom User Confidence?
Confidence comes from reducing touch points and from the human senses, feel, smell, sight, and sound. Not only does the bathroom need to look and be clean, but an ambient aroma of a clean smell is confidence giving also. Reducing physical contact is essential. Quick, quiet no-touch flushing on WCs, responsive no-contact basin taps that turn off as quickly as they turn on and all without the need for physical touch are reassuring to visitors.
Speed of Cleaning Saves Times and Money.
Cleaning protocols are likely to add time and money to housekeeping budgets. With due consideration and compelling design meeting, the COVID cleaning procedures can be made quick, easy and reduce room turnaround. Wall-hung WCs and bathroom furniture speed up the daily housekeeping routine, by making it easier to reach the hard-to-reach areas. Tiled walls and floors are easy and straightforward to clean as there are no skirting boards.
Tiles with a built-in antibacterial like VitrA Shield offer a valuable back up to cleaning. On all WCs and basins, VitrA adds a unique glaze to reduce the growth of bacteria and limescale, this VitrA Hygiene glaze is available as standard on all ceramic sanitary ware products.
In addition VitrA Clean coating is available on several ceramic basins, vanity basin tops and WC products. The coating increases the surface tension, ensuring the water flows smoothly from the surface. All that is required to keep the basin clean is a wipe with a damp cloth and mild detergent.
The rim around a conventional toilet pan is the place where water enters and is usually open, creating the perfect place for bacteria and limescale to accumulate. VitrA's Rim-Ex technology offers the latest in WC bowl design. With a rimless, smooth internal pan, there is no hiding place for bacteria to multiply and limescale to build-up. Rim-Ex ensures the best in hygiene and offers the added benefit of speeding up cleaning time. Tests undertaken by Akdeniz University, in Turkey, prove that Rim-Ex is 95% more hygienic than a standard WC pan.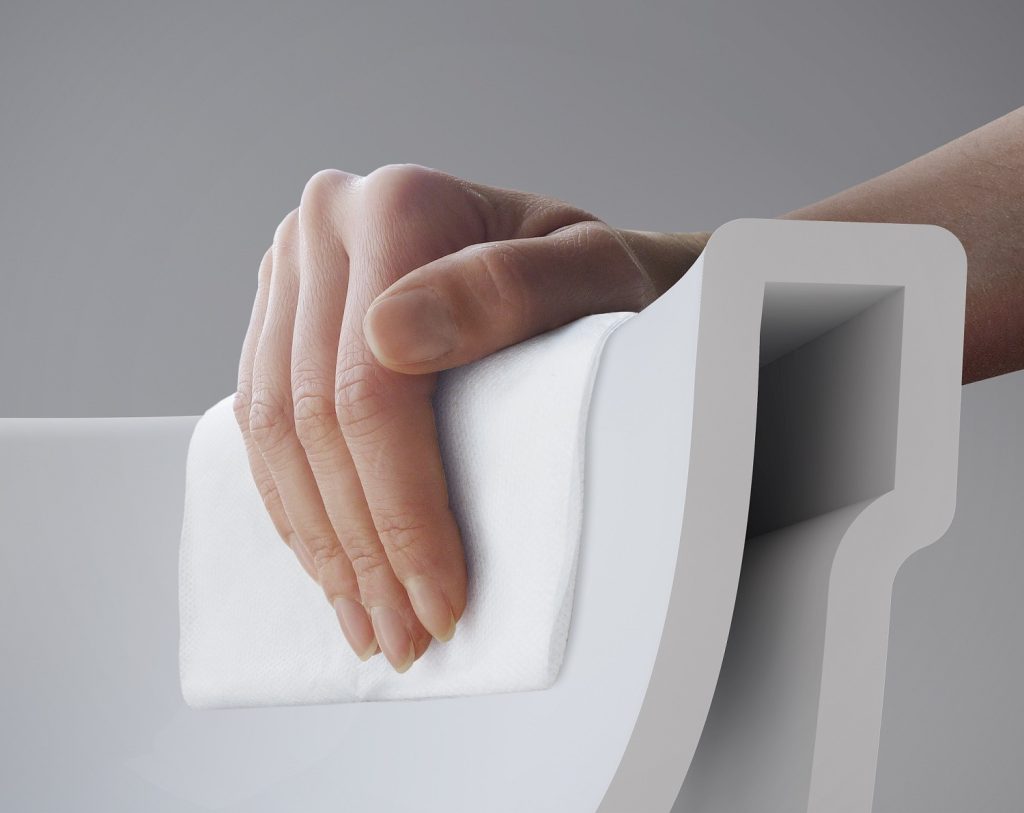 Pictured – VitrA RimEx technology eliminates the rim on a WC, making it far more hygienic and faster to clean.
Making hotel bathrooms safe
VitrA provides complete bathroom solutions for all hospitality settings with excellent hygiene and easy cleaning features – features that have historically been part of the VitrA design ethos.
More news from VitrA