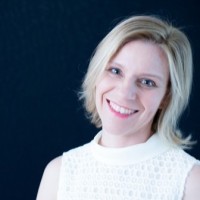 Features by Diane Larner founder and editor of Bathroom Review & Kitchens Review.
Diane Larner launched both titles over 12 years ago and has been writing about the bathroom and kitchen interior design industry ever since, publishing regular features across the two sectors.
---
As we step boldly into 2023, the latest design schemes are ahead of the game, bringing a welcome burst of colour and style into our homes. Today we look at five bathroom furniture collections.
Earth & sky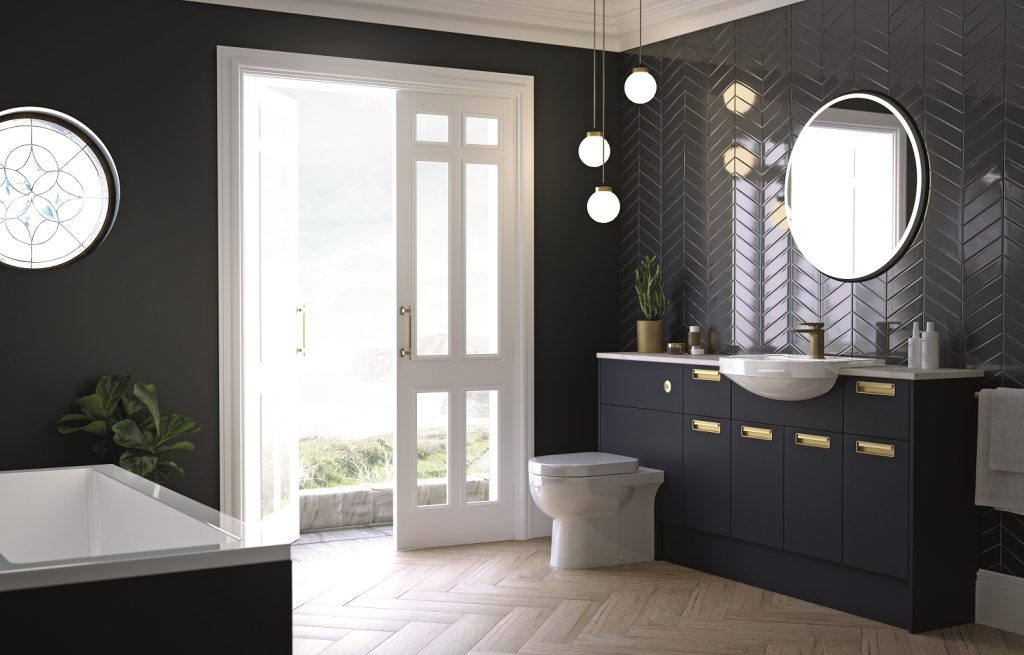 There is no shortage of earthy bold hues on the colour catwalk; however, for 2023, we can expect to see a vibrant new take on the familiar deep greens and blues as dynamic new shades such as vibrant luxe greens, inky blues and blueberry reds are approved by the style council.
Richard Shore, head of product design at Utopia, agrees: "There is certainly no lack of confidence when it comes to colour trends for 2023.  Bold and expressive colours at a darker more intense level of the spectrum are appearing in what would normally be considered conservative settings. Dark blues, vibrant greens and rich terracottas are now mainstream options."
At the same time, nature is still to be found in abundance for more neutral palettes with gentle sage greens and light watery blues. Utopia expresses this contrast perfectly with its latest Arabella slab door – available in 23 of Utopia's Original fitted furniture finishes, it also comes with four different handle options. Pictured above in Azure Blue and below in Glacier Grey.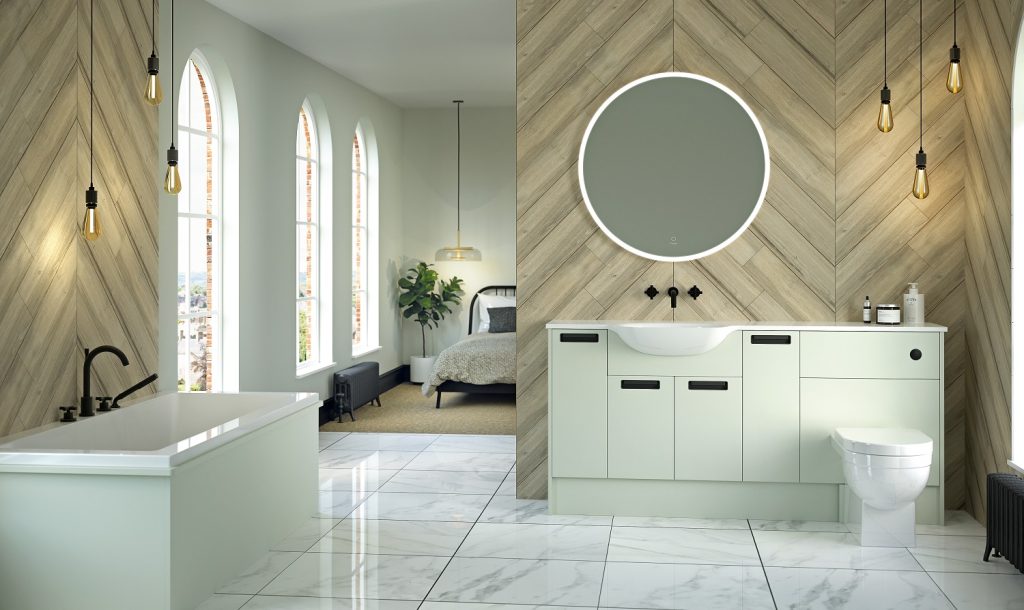 Express wishes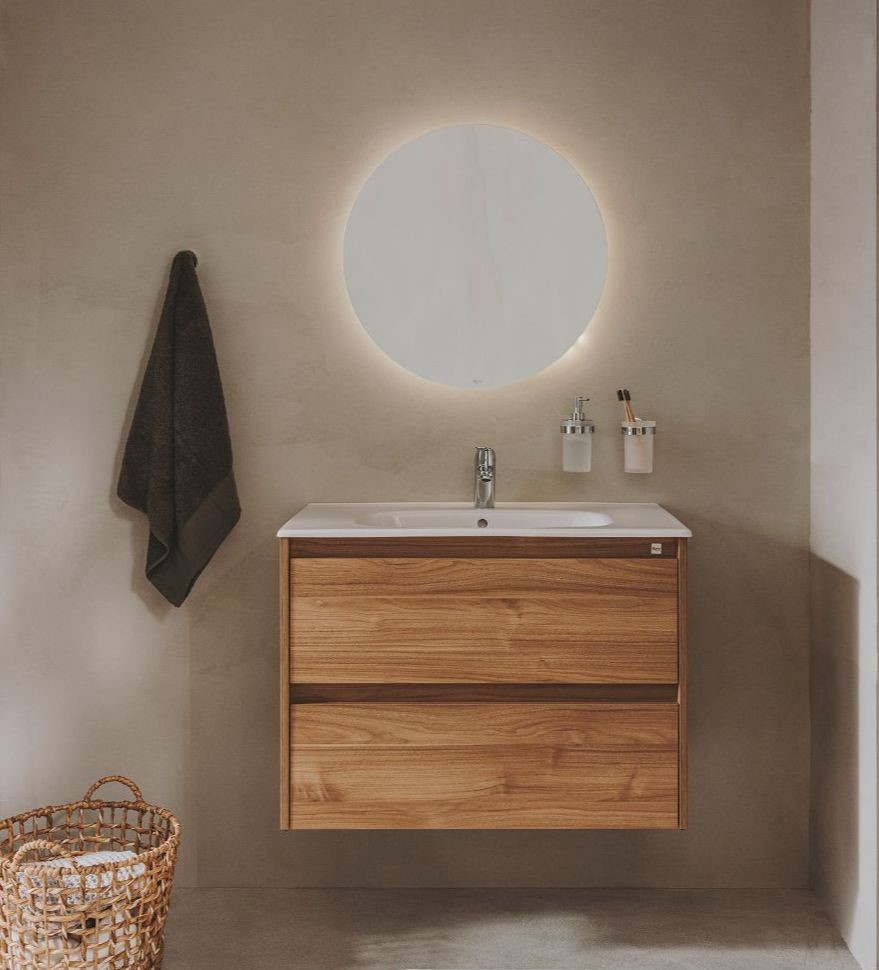 Homeowners are looking for designs that chime in with individual lifestyle demands, whether creating multi-generational spaces, building in plenty of storage or conjuring a home-spa environment.
Natalie Bird, marketing manager, Roca tells us, "Homeowners are increasingly looking to express more of their personality in the bathroom: it is no longer a utilitarian space devoid of colour and texture. Bathroom furniture reflects this and is available in a range of colours. Most popular for 2023 will be nature-inspired hues that tie in perfectly with the ongoing trend for spa-inspired bathrooms."
Roca's Tenet handleless vanity units come in five glossy and wood finishes or three wood-effect finishes: Nordic Ash, City Oak and Walnut. Tenet is also compatible with pieces from Roca's other ranges and is designed to suit bathrooms of all sizes and styles.
Exploring space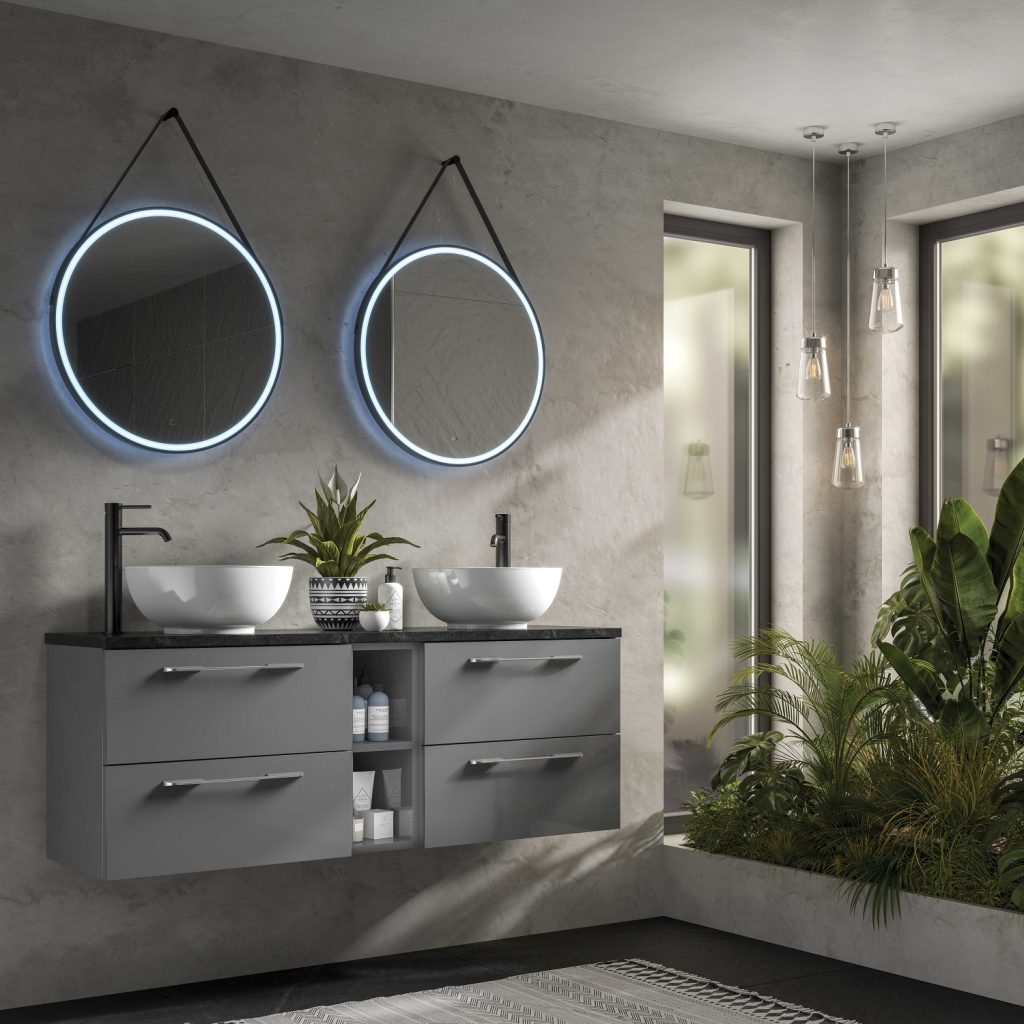 Creating a bathroom haven configured to individual needs or is required to fit into a restrictive space is challenging for house builders, architects and designers. Building in storage that looks good but maximises usable space is a crowd-pleaser and one of the reasons well-designed bathroom storage remains so popular.
Ash Chilver, HiB sales director, says: "Furniture is one of the key foundations for a strong bathroom design. Along with the bath and shower, it is arguably one of the most used areas in the space. Because of this, special attention needs to be paid to the details to ensure that it maximises style potential but also serves its practical purpose."
HiB has been increasing its Novum range to offer flexibility to suit individual styles. Ranges such as Fabrica (pictured very top) are offered with wall-hanging and floor-standing options and are ideal for use with a wash basin or vessel basin with countertops to complement either choice. Matching brassware and handles can help to complete the look. The Tranquil compact bathroom furniture range (pictured above) can also be adapted to suit several bathroom designs and trends, thanks to the multitude of handle, brassware and basin options.
Textured living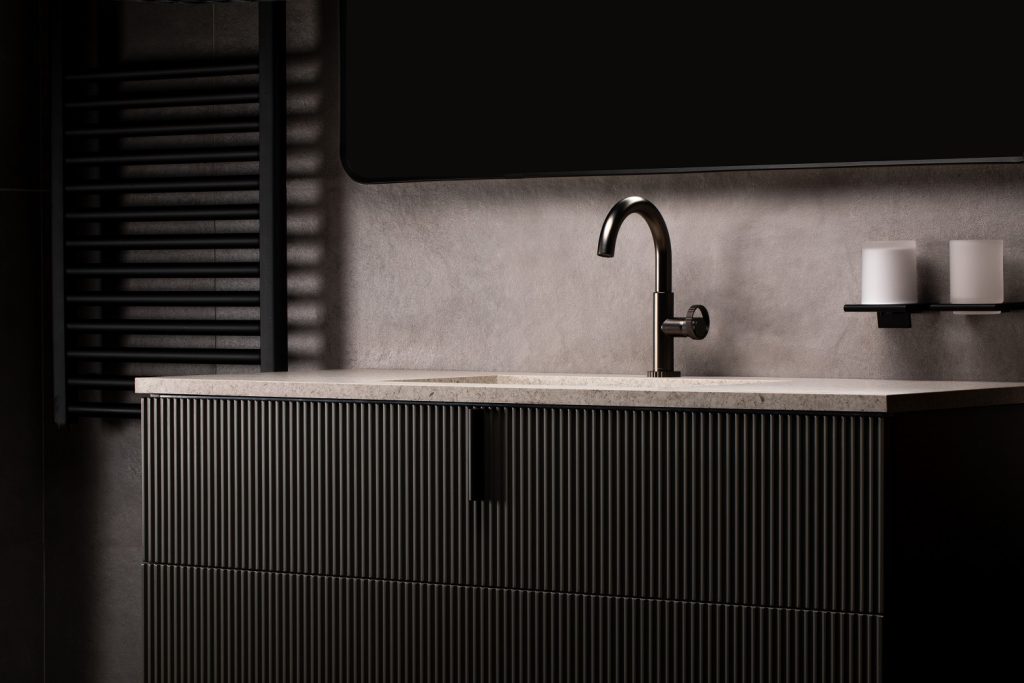 Texture raises depth and serves as the highlight of a design scheme. For the bathroom, textured surfaces are rapidly gaining popularity since they complement the trend of bringing the outdoors in while creating a sense of warmth and well-being.
"Look to furniture for an amalgamation of some of the hottest trends in bathroom design as a whole. Nature-inspired materials such as wood and stone create the necessary serene and calming ambience, while a bold use of colour offers the perfect accent for consumers who want to add personality and character to their bathroom," says Sanipex Group specification and design manager Ashley Sinclair, noting that combining these options with the metallic finishes on furniture hardware will echo those being seen on brassware.
Orology by Bagnodesign is a high-class bathroom furniture collection with a distinctive and wonderfully tactile grooved detail. The wall-mounted furniture creates a luxurious impression and can be chosen in four on-trend colourways: Matt White, Ebony, Dark Grey and Ocean Blue.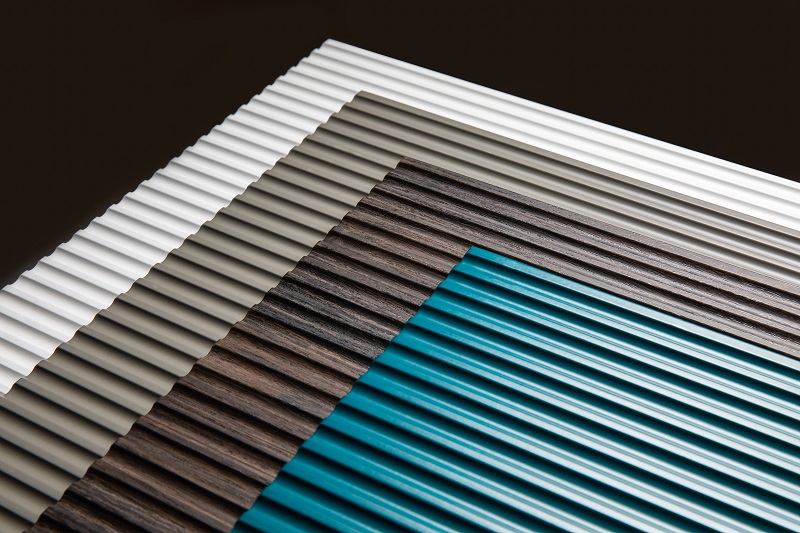 Custom made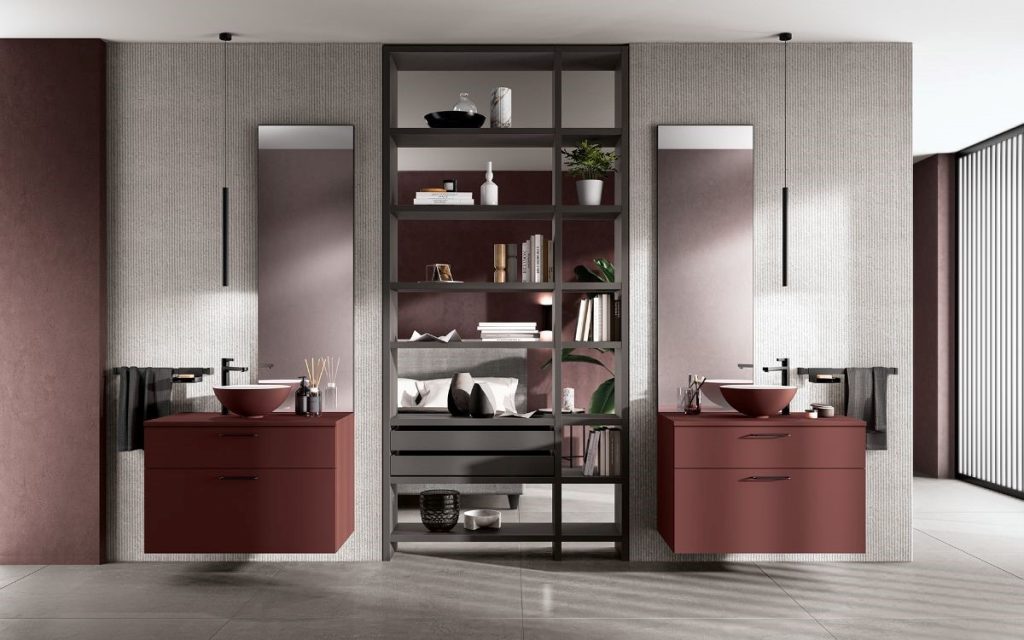 Modular furniture remains popular as it allows designers to configure bathrooms to suit individual requirements and delivers flexibility for design schemes.
Scavolini's Aquo is a truly modular collection that allows customers to select from a huge range of furniture and an array of finishes and colours. The refreshed collection comprises wall units and vanities suitable for countertop and under-mount wash basins and wall or counter-fitted taps. There is also a choice of vanity tops, from classic options – glass, stone and ceramic – to high-tech materials, including Cristalplant, Mineralmarmo, Corian, Fenix and Ocritech.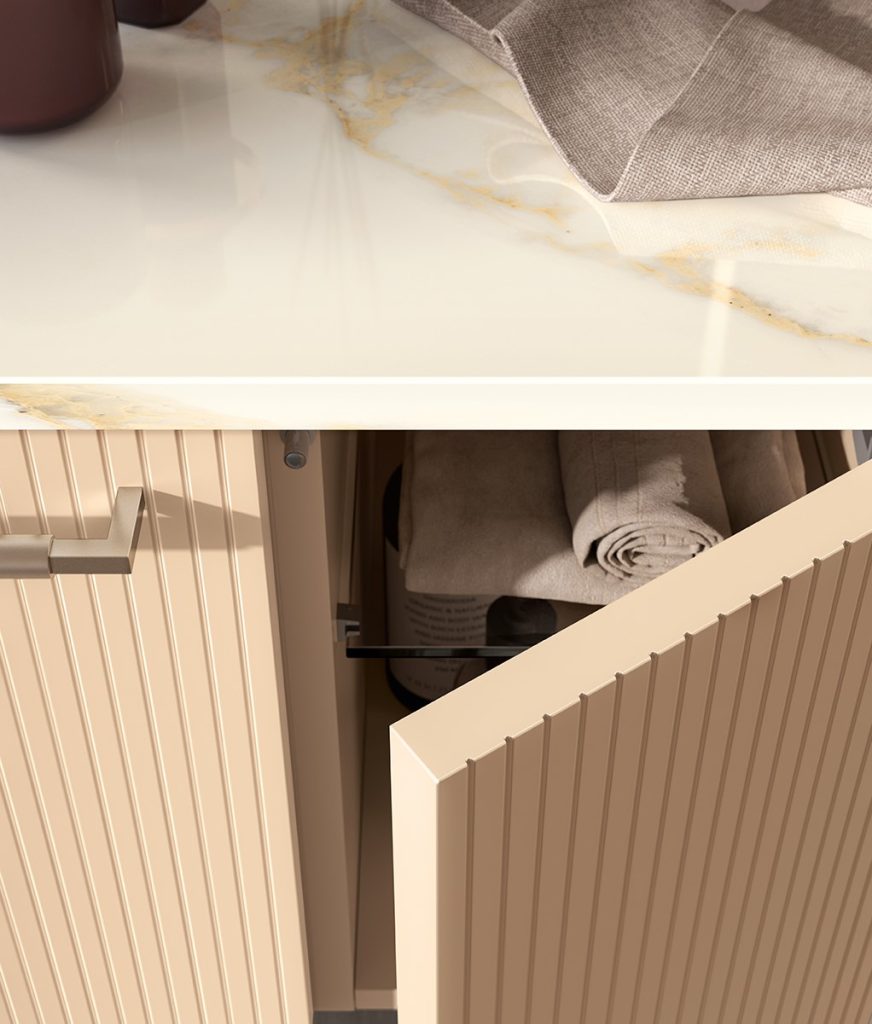 For the latest kitchen design features – visit Kitchens Review.